February 18, 2019
Culture
Culture
CityMag's Festival 50
A guide to the abundant Adelaide festival season, because there's literally too much to choose from.
The first week of the Adelaide festival season has officially come and gone, and if you managed to purchase a ticket or two then there's only well in excess of 1300 more shows you could potentially slot into your calendar.
Obviously such a feat is a physical and fiscal impossibility, so we at CityMag decided to dive into the deep end of the Fringe and Festival program pamphlets and wade our way back to shore with a couple of keepers in hand to recommend.
Below we've listed 50 (FIFTY!) things to see and do before the madness subsides.
If you're interested in a show, click on the title to buy tickets.
---
FOOD!
Everywhere
Crucial to an evening out during festival season is the pre-, post- or pre-and-post-show meal. A bunch of eateries have set up camp in The Garden of Unearthly Delights, Gluttony, in city laneways, and leant against East End pubs, giving plenty of opportunity to venture beyond your usual safe bet bars and restaurants.
Tiger Mountain is back propped up against the Exeter, and with Adelaide's 'Sandwich Mafia' in tow; Sugateca is slinging pizzas and good vibes in the laneway next to Sugar; New York Fold has set up camp in BRKLYN, if you're after an 18-inch slice; Roberta's at RCC Fringe has brought a casual Italian eatery to the grounds of University of Adelaide; and all your favourite festival pop-ups are spotted around, including a new pop-up from Shibui pumping out ridiculous (delicious) desserts.
---
Yabarra: Gathering of Light
Adelaide Fringe – Karrawirra Pari River Torrens, 15 February – 17 March
Yabarra: Gathering of Light is an immersive Kaurna storytelling experience involving large-scale light and sound artworks along the Karrawirra Parri River Torrens.
Every night of the Fringe, audiences can experience free audio and visual artworks that share Kaurna stories and illuminate the surrounding riverbanks, grasslands, and the river itself.
Foliage will become faces; water screens will create an interactive waterscape with our aquatic life; animals that once inhabited the river such as the snake, dingo, quoll, platypus, bilby and echidna will be illuminated, sharing their stories and connection to the land; immersive light installations will share knowledge of the six Kaurna seasons; and traditional songs, sounds and narration will guide you on an unforgettable journey.
---
Grand Finale
Adelaide Festival – Festival theatre, 15-17 March
London-based choreographer Hofesh Shechter has broken the mould of contemporary dance with Grand Finale, which combines the energy and audacity of a live music gig with the emotion of a dance show and the intellectual rigour of theatre. Almost universally welcomed by four and five-star reviews, Grand Finale is a high intensity meditation for our times that deals obliquely with concepts like group think and the increasing irrelevance of truth.
Hofesh was undoubtedly influenced by the seismic political shifts happening around him while creating the piece, but says those influences express themselves in sometimes unfathomable ways. "In a way it is completely abstract, and in other ways it makes us think about very specific things," he says.
---
Man with the Iron Neck
Adelaide Festival – Dunstan Playhouse, 8-11 March
The combination of tragic subject matter and physical theatre requires perfectly measured writing and direction to be successful. Early reviews of Man with the Iron Neck indicate the creative team of Ursula Yovich, Josh Bond, and Gavin Robins have struck that ideal balance with this show, which explores the fallout after a suicide amongst a tight-knit group of friends.
The work takes its name from the legacy of The Great Peters – who would leap off bridges with a rope tied around his neck and survive. The old-world stuntman becomes an obsession for one of the piece's characters, whose probing of the barrier between life and death through the lens of extreme physical feats promises to be strangely poetic.
---
Zizanie
Adelaide Festival – Space Theatre, 14-17 March
Internationally-acclaimed dance legend Meryl Tankard has choreographed this work in collaboration with the artists of Adelaide's Restless Dance Theatre. A musing on Grayson Perry's eminently quotably line, "weeds are just flowers in the wrong garden", Zizanie draws on the beauty to be found in difference.
Featuring costume and set design from Jonathon Oxlade – known recently for his ongoing work with Windmill Theatre Company – the piece plays in a space of colour, joy, and whimsy that is rarely explored in the world of contemporary dance.
---
The Second Woman
Adelaide Festival – Space Theatre, 10 March
The Second Woman's set-up is deceptively simple. Over 24 hours, in front of an audience and a crew who film and live-project the onstage action, Nat Randall repeatedly performs one 10-minute scene.
In each iteration of the scene, almost everything remains the same – except, while Nat lines up again and again to play the character of Virginia, the role of Marty is always inhabited by someone new. The scene replays 100 times and there are 100 different Martys.
Every performer who takes on the role of Marty is male-identifying and local to the city where the performance is taking place. Each is given a script to learn, but never offered the chance to meet Nat or rehearse the scene with her.
As the scene repeats, the constancy of its trappings – the dialogue, the plot points, the staging – magnify the decisions made by Nat and the men she performs alongside.
Read more here.
---
Quilty
Adelaide festival – Art Gallery of SA, 2 March – 2 June
Much of Ben Quilty's career as an artist has been spent dredging up dark and poignant beauty from the depths of human civilisation's most hostile environments. As the official war artist in Afghanistan, Ben spent three weeks embedded with Australian troops; accompanied by writer Richard Flanagan, he toured with refugees through Lebanon, Lesbos and Serbia; and he met with Andrew Chan and Myuran Sukumaran – two of the Bali Nine – at Kerobokan Prison in Indonesia while campaigning for their removal from death row. Curated by Lisa Slade, Quilty will be the first major survey exhibition of the artist and is not one to be missed.
Opening night will also see Sydney hip hop band The Herd take to the AGSA forecourt for their first performance in Adelaide in six years.
---
FEMME
Adelaide Fringe – The Mill, 13-14, 16 March
From the catwalks of Paris, to the office boardroom, FEMME is a new solo theatrical dance work by choreographer/performer and co-founder of art and maker hub The Mill, Erin Fowler.
FEMME draws on Erin's experiences as a fashion model and business woman, and charts her "search for self within the cacophony of gender and sexual conditioning that surrounds us."
---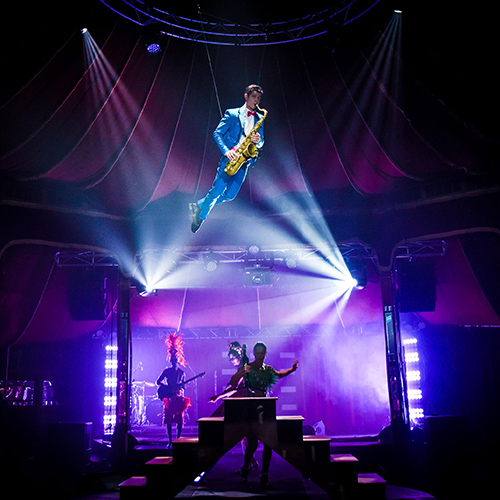 LIFE – The Show
Adelaide Fringe – Spiegeltent, The Garden of Unearthed Delights, multiple dates 15 February – 17 March
Life – The Show combines theatre, music, dance, and cabaret into a 90-minute blockbuster that promises to feel more like a film than a stage show.
Life stars a range of acclaimed performers including international clowning royalty Helena Bittencourt and Goos Meeuwsen (Cirque du Soleil), jazz crooner Fantine, drumming sensation Attis Clopton, and flying saxophonist Blaise Garza (Violent Femmes).
It's the sort of lineup that makes the Marvel Universe feel a little less super and our world a little more spectacular.
Read more here.
---
Card Ninja
Adelaide Fringe – Corona Theatre, The Garden of Unearthly Delights, multiple dates 15 February – 3 March
While the Card Ninja's own bio describes the show as "a riotous display of Ninja skills, comedy and card stunts," we are here for just one reason – to see Javier Jarquin cut things in half with cards that shouldn't be able to be cut in half with cards. Simple pleasures.
---
House of Mirrors
Adelaide Fringe – The Garden of Unearthly Delights, 14 February – 17 March
In a similar – albeit much refined – vein to the classic carnival tradition, House of Mirrors at the Garden of Unearthly Delights will delight and discombobulate Adelaide this Fringe as we walk through the 15 tonnes of glass and 40 tonnes of steel in this one-of-a-kind sculpture.
The House of Mirrors was first commissioned and produced in 2016 for the Museum of Old and New Art (MONA) in Tasmania as part of their winter festival, Dark Mofo.
The exhibition has since traveled around Australia, Singapore, and Auckland, visiting a total of eleven cities and has had over 300,000 people pass through it.
Read more here.
---
Reverend Billy & The Stop Shopping Choir
RCC Fringe – Bonython Hall, 1-3, 6-10 March
Reverend Billy & The Stop Shopping Choir is an OBIE Award-winning collective of "wild anti-consumerist gospel shouters and Earth-loving urban activists" stopping by RCC Fringe this March.
"People talk about one of a kind, but Reverend Billy truly is one of a kind. He's an incredibly serous activist and agitator who's been arrested many, many times for protests," RCC Fringe's artistic director, David Sefton says.
"The Stop Shopping Choir is a proper show with a true heart, so it's politics and entertainment mixing in a way that proves they can."
See all of David's top RCC Fringe picks.
---
Matt Tarrant: MORE Unsolved
Adelaide Fringe – The Flamingo, Gluttony, multiple dates 19 February – 17 March
Not only was Matt Tarrant the highest selling solo act of 2018, he was on bloody Survivor!
Obviously Fringe fans are more inclined toward magic and the mentalism than recollections of time spent on Saanapu, Somoa, so head along to MORE Unsolved!, his 2019 show featuring brand new experiences, and some old Tarrant favourites.
---
Manus
Adelaide Festival – Main Theatre, AC Arts,  7-10 March
Stories from Australia's offshore detention centres in Nauru and Manus Island vary wildly.
Via the media, Australian Government representatives like Tony Abbott describe conditions as "pleasant" while, simultaneously, normally apolitical bodies such as Médecins Sans Frontières call for immediate evacuation of all refugees from offshore detention.
Missing from this contradictory picture is the voices of the detainees themselves.
A precious few filter through – journalist Behrouz Boochani's book No Friend But the Mountains is a prominent exception. Largely, though, the voices from behind the razor wire don't find their way to our ears.
Iranian theatre director Nazanin Sahamizadeh's play Manus resolutely fills this gap – constructing itself solely using direct quotes gathered from those held in detention.
Read more here.
---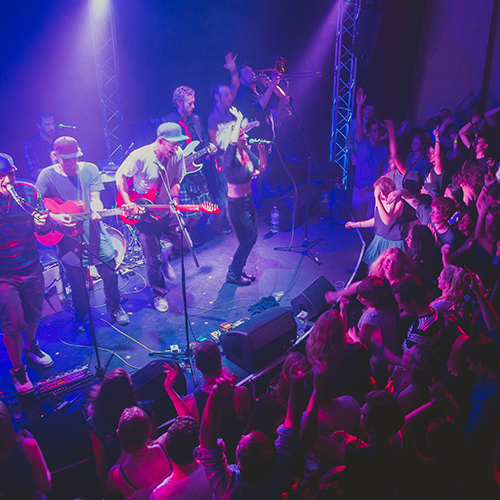 Alex Rossi and Friends: The After Party
Adelaide Fringe – Fortuna Spiegeltent, Garden of Unearthly Delights, multiple dates, 15 February – 17 March
Alex Rossi's music is a true product of the Minneapolis Sound – a genre of music pioneered by Prince in the late '70s and made famous throughout the '80s for its combination of synths with R&B and funk.
This show in particular is exciting to the Minneapolis native because it brings back a formula that worked so well in Edinburgh five years ago.
"I'd taken another project to Edinburgh in 2014 called Rhythmic Circus. It was fun but I was keen to also just do more of what I do back in the States, which is front a band and play straight music," says Alex.
The gig turned into an after party that happened repeatedly throughout the Fringe season in Edinburgh and brought other acts on stage to party with him such as Thom Thum and Lady Rizo.
Read more here.
---
Bernie Dieter's Little Death Club
Adelaide Fringe – Wonderland Spiegeltent, Gluttony, multiple dates, 15 February – 17 March
It's Fringe season, and therefore you're going to walk into a cabaret at some point – even if it's not your natural inclination – so you might as well make it "the darkest, funniest and most debauched kabarett club this side of Berlin!"
Soak in the Weimar-punk jazz band, circus and fire-breathing sideshow at, what is strenuously touted as "its most inappropriate, provocative and hilarious best."
---
Matriarch
Adelaide Fringe – The Third Space, Live from Tandanya, 21-24 February and 27 February – 3 March
Matriarch is a powerful one-woman performance by Sandy Greenwood which pays homage to her mother, grandmother and great-grandmother, exploring issues such as cultural identity and inter-generational trauma.
The play explores cultural identity, inter-generational trauma and what it means to be a fair skin black woman in contemporary Australia.
Read more here.
---
PitchFork
Adelaide Fringe – Foyer, Gluttony at Masonic Lodge, 5-7 March
The Australian String Quartet and Post Dining are two groups pushing the boundaries of what and where one can expect to experience their respective fields – music and food, and so SIGN US UP.
PitchFork will be an intimate and interactive show, presented in the historic Masonic Lodge, and the result is bound to be something pretty special.
Read more here.
---
Pussy Riot: Riot Days
RCC Fringe – The Attic, 27 February – 3 march
Hosted in The Attic, iconic Russian protest punks, Pussy Riot, tell their story in performance, film and music in a "searing piece of gig theatre."
The show is mostly in Russian, with English surtitles (and with sprinklings of English swears strewn throughout, lest we miss the potency of their anger in translation).
The band will also perform a live show on the Maths Lawns, which has "never happened in Australia and it will probably never happen again," RCC Fringe's artistic director, David Sefton says. Tickets for the Thursday, 7 March live show are available here.
See all of David's top RCC Fringe picks.
---
Beach House
RCC Fringe – Maths Lawns, 6 March
The last we saw of Baltimore duo Beach House was on their 2016 Australian tour, and it's oh so good to have their dreamy tunes back on our shores – at the University of Adelaide's Maths Lawns, no less.
The show is around for one night only, so get in and grab tickets while they're still around.
---
Matt Vesely and George the Robot Perform a Very Normal Stand Up Comedy Routine
Adelaide Fringe – Vines Room, National Wine Centre, multiple dates 15-27 February
If you happened to catch a screening of Windmill Theatre's film adaptation of Girl Asleep in 2015, you may remember the Closer Productions short film, My Friend is Stuck on the Ceiling. It was very fun, had that beardy guy from Please Like Me in it, and was written by the above mentioned Matt Vesely (South Australia's own).
This show sees Matt share the stage with George, a barely functional, immobile robot with a fatal system error, and aspirations to become a comedian. It'll be a laff.
---
Djuki Mala
Adelaide Fringe – Umbrella revolution, The Garden of Unearthly Delights, multiple dates, 20 February – 17 March
For several years in a row, people have asked you if you've seen this show, because they saw it and it was great. Don't disappoint your mates again – see this show and properly contribute to the annual Fringe debrief conversation.
Billed as "Indigenous dance sensations and [a] landmark dance/theatre company that took the world by storm," this will be the the last time Djuki Mala's self-titled show will be presented in Adelaide.
---
Stranger Than Fiction, in conversation with Annabel Crabb
Adelaide Fringe – The Flamingo, Gluttony, 15-16 March
Annabel is a National Treasure.
We're biased, certainly, because we love claiming her as an Adelaidean to friends on the East Coast, but if you're anything like us, a night in conversation with Annabel talking politics is exactly the kind of evening that comes to mind when you're asked to describe your ideal last day on Earth.
---
Last Year's Eve
Adelaide Fringe – Mainstage, Bakehouse Theatre, 11-16 March
This is the story of Hugo, who came to the country as a refugee at age eight. After 15 years, he's packed his bags, ready to leave the country and never return.
The work has been described as "a very moving and beautiful contemplation on the meaning of home," and, to be honest, in the last week of Fringe, we at CityMag are ready for a cry.
---
Glittery Clittery
Adelaide Fringe – La Cascadeur, The Garden of Unearthly Delights, multiple dates, 15 February – 3 March
CityMag spoke glowingly of this show last year, and we'll speak glowingly of it again.
Glittery Clittery is a celebration of women and all that makes womanhood lovely, and tough, and ridiculous, and amazing. Through cabaret, the show reaffirms and calls out the continual shittiness of the patriarchy, while also celebrating the little perks in life, like non-tactile orgasms, the clitoris, and pockets.
---
Rhye
Adelaide Festival – The Palais, 10 March
"A mosaic of expansive vocals, R&B-influenced percussion and buzzing synths, Rhye blends sensuality with musicality," says the Adelaide Festival website.
Yes, that is absolutely true, but it does nothing to explain the feeling of exploring the cavernous depths of Rhye with eyes closed and body in free sway. This will be an incredible show atop the barge AKA The Palais and you better not miss it.
---
Old Stock: A Refugee Love Story
RCC Fringe – Elder Hall, 19-23 February
Inspired by the true story of playwright Hannah Moscovitch's great-grandparents, both Romanian Jews, immigrating to Canada in 1908, this Klezmer-folk music-theatre hybrid is a humorously dark folktale, exploring how to love after being broken by the horrors of war.
RCC Fringe's artistic director, David Sefton, describes the work as "if Fidler on the Roof had been written by Tom Waits."
Very intriguing.
See all of David's top RCC Fringe picks.
---
Schuldfabrik
Adelaide Festival – 29 King William Street, 1-4, 7-10, 13-17 March
This is, admittedly, a bit of a whack concept, but all the more reason to give it a go, we reckon.
Schuldfabrik will set up camp on King William Street and sell soap made from donated human fat sourced from liposuction procedures.
The proceeds from every bar purchased go towards digging wells in a village in the Democratic Republic of the Congo, turning the glut of developed nations into a source of foreign aid.
Conceptual, eh?
---
Penny Arcade: BITCH!DYKE!FAGHAG!WHORE!
RCC Fringe – Scott Theatre, 15-17, 19-23 February
Penny Arcade is no stranger to Adelaide; her show LONGING LASTS LONGER received the 2016 Fringe Award, and this show, BITCH!DYKE!FAGHAG!WHORE!, first played in this city 25 years ago as part of Adelaide Festival.
The undisputed queen of the New York underground, Penny Arcade's world-famous sex and censorship show is among the most exuberant performance events to ever emerge from NYC's East Village.
While the show has been around a while, "extraordinarily it's still totally a revolutionary piece of freethinking, feminist, sexy, erotic, outspoken, political agit theatre," RCC Fringe's artistic director, David Sefton says.
See all of David's top RCC Fringe picks.
---
Shôn Dale-Jones Trilogy: The Duke, Me & Robin Hood, The Ladder
RCC Fringe – Little Theatre, The Duke: 26 February – 3 March; Me & Robin Hood: 5-10 March; The Ladder: 12-17 March
This is a cheeky threefer listing: Shôn Dale-Jones is presenting a trilogy of monologues, the last of which is a brand new work debuting at RCC Fringe.
"He's one of the world's great monologists, and it's a must-see trilogy," David Sefton says.
The Duke is a "funny, poignant and playful… show gently challeng[ing] our priorities in a world full of crisis;" in its follow-up, Me & Robin Hood, "Dale-Jones gives you the chance to make the world a better place;" and in The Ladder, see the "work in progress version of the concluding part of his trilogy."
See all of David's top RCC Fringe picks.
---
The Presets
RCC Fringe – Maths Lawns, 1 March
Sydney electronic duo The Presets will be gracing the Maths Lawns as part of RCC Fringe's Dusk Till Dawn gig series, where entry is free if you get in before 9pm, and $15 from thereon after.
You know what you're gonna get – big dance tunes.
Turn up early and hang with your people.
---
Damian Callinan: The Merger
Adelaide Fringe – The Studio, Holden Street Theatres, 14, 16-17, 19-24 February
In August last year, The Merger – originally conceived as this stage show – debuted on the big screen at the Melbourne International Film Festival.
The film has continued to show across the country, as has the originating text, which is a "one-man tour de force" in which Damian Callinan's character, Troy Carrington, sets out to save his local small-town footy club – doomed to either fold or merge with a rival club – by recruiting refugees to the team, "unwittingly [taking his] community on a journey of change."
---
Orbital & Severed Heads
RCC Fringe – Maths Lawns, 3 March
RCC Fringe artistic director, David Sefton, describes this double-billed show as "a labour of love," on his part. "They're both bands I'v adored as long as they've existed," he says.
Apparently he's not alone – key to Orbital being booked for the gig was knowing they would share a stage with Severed Heads, David says.
Orbital and Severed Heads are "two of the most influential names in the world of electronic music," with "Orbital's impressive live show… rightly acknowledged as one of the greatest live music spectacles you can ever experience," while "Severed Heads are… Australian cult legends whose influence is universally acknowledged."
Sounds pretty great.
See all of David's top RCC Fringe picks.
---
Ange Lavoipierre: Final Form
Adelaide Fringe – Ferguson Room, National Wine Centre – 14-17, 19-22 February
This is comedian Ange Lavoipierre's debut solo hour, and in her own words it is "genuinely quite… unusual."
The show sees the same material played three times over, with each rendition modified to pander to a different member of the audience, "first my dad, then a professional mentor, then an ex."
"All three are members of the audience who I assign lines to, effectively coercing them into offering me outsized encouragement, while I try to please each of them and reconcile the contradictory versions of my personality," Ange says.
"Two parts fever dream and one part personality quiz," Final Form explores "the lengths we all go to in order to be liked, and how honest it's possible to be with the world."
---
Bourgeois and Maurice
RCC Fringe – Little Theatre, multiple dates, 19 February – 10 March
Billed as "one of the UK's most subversive musical acts," Bourgeois and Maurice is "fantastically loose, fantastically camp and hilariously funny," RCC Fringe's artistic director, David Sefton says.
The show is the duo's Adelaide Fringe debut, and promises to be "an hour of riotous, razor-sharp musical comedy."
See all of David's top RCC Fringe picks.
---
Motez
RCC Fringe – Maths Lawns, 22 February
Adelaide's own Motez is appearing as part of the Dusk Till Dawn lineup – the gig series run by RCC Fringe in which all shows are free if you get in before 9pm, with tickets set at $15 for stragglers coming in thereafter.
Let the producer's silken R&B influenced coast you into late night party mode.
---
The Tiger Lillies present Edgar Allan Poe's Haunted Palace
RCC Fringe – Elder Hall, multiple dates 26 February – 10 March
The Tiger Lillies, known as "the perennially popular kings of bad taste," have brought to RCC Fringe a "new theatre piece [that plunges] into the dark and sinister world of the king of gothic horror."
Long-time favourites of RCC Fringe's artistic director, David Sefton, the show is "classic Tiger Lillies."
"My love of The Tiger Lillies is fairly well documented in this country and every other country I've worked in," David says.
"Just great theatre, great music, dark as all get out and extremely entertaining. Very funny."
See all of David's top RCC Fringe picks.
---
Tokyo Electrock Stairs: Twilight Suddenly
Adelaide Fringe – Space Theatre, Adelaide Festival Centre, 21-22 February
Twilight Suddenly is the latest work by hip hop-influenced choreographer KENTARO!!, and is Japanese dance troupe Tokyo Electrock Stairs' first performance in Adelaide.
The performance is a fusion of dramatic elements and dance styles from hip hop and contemporary dance, and is arranged to KENTARO!!'s original music.
---
Quality Novelty
RCC Fringe – Bonython Hall, multiple dates, 19 February – 3 March
Quality Novelty brings together the holders of 15 world records, spanning eight nationalities, led by hula hooper Marawa the Amazing in "a dazzling night of world class novelty and variety."
"It's got this very serious intent to bring all these people together who are in the Guinness Book of Records for all of these crazy hula hoop and roller skating stunts, but to make a quality show out of it," RCC Fringe's artistic director, David Sefton says.
"It's a really nice idea and I'm really pleased we've got it."
See all of David's top RCC Fringe picks.
---
Rich Batsford: In Transience
Adelaide Fringe – Hartley Concert Room, Elder Conservatorium, 14 & 16 March
If you're in the mood for some "meditative solo piano music" performed by a musician who is training to become a member of the Triratna Buddhist Order, then Rich Batsford is your guy.
"My goal with creating music, which is heavily influenced by my Buddhist spiritual practice, is to create something beautiful and open up a space for enjoyment, reflection and connection," Rich says.
"In naming my concert 'In Transience' Im recognising that whilst impermanence can often bring us pain and sadness, particularly when we are parted from people we love, or things we desire, without it there could be no positive change, no wonder, hope or beauty."
---
Briefs: Close Encounters
RCC Fringe – Bonython Hall, 5-10, 12-16 March
There is no more succinct description of this show than this, from David Sefton:
"The most men's bottoms you're likely to see in one place at one time," he laughs.
"Just fabulous. A great energy, it's politics, and it's saucy, and it's circus."
See all of David's top RCC Fringe picks.
---
Cirque Alfonse: Tabarnak, Barbu
RCC Fringe – Bonython Hall, Barbu: 19-24 February, 26 February – 3 March; Tabarnak: 5-10, 12-17 March
They are the troupe that needs no introduction in Adelaide.
"Cirque Alfonse are already beloved of Adelaide Audiences," David Sefton says.
"Barbu is still one of those shows people talk about, seeing people in underpants and roller skates and beards going down Rundle Mall – it's those people.
"Genuinely, they're what Fringe really should be about because they're so much fun."
See all of David's top RCC Fringe picks.
---
The Long Pigs
Adelaide Fringe – Tandanya Theatre, Live from Tandanya, 6-10, 13-17 March
Clowning has a dark side, and The Long Pigs does "hilariously dark and frighteningly funny" in droves. Set in an abattoir-style workspace, the three pigs are working hard to rid the world of every last red-nose clown.
Described as "a profound, stylistically and visually arresting performance, rooted in physical and black comedy about prejudice, ethnic cleansing (clown style), suspicion of the 'other' and the horror of the 'unknown stranger.'"
The Long Pigs is the kind of show you'll need a drink and a long shower to forget.
---
Finale
Adelaide Fringe – The Peacock, Gluttony, multiple dates 19 February – 17 March
Finale is a "performance of unconventional feats and a wicked sense of humour," underscored by driving drums and performed by eight friends, "all top-class artists and musicians," in a circus event that jumps from one grand finale to the next.
It is a "breathless, wild, and exuberant display," that ends with a drink under the disco ball.
That's our kind of night.
---
Dreamgun: Film Reads
Adelaide Fringe – Owl Room, Masonic Lodge Gluttony, 15-17, 19-24 February
Dreamgun's Film Reads podcast sees a bunch of smart-arses run through classic '80s, '90s, and early '00s movie scripts, adding throwaway jokes here and there, and the live show they're bringing to Adelaide for Fringe is exactly that concept.
With glowing reviews from likes of comedy legends David O'Doherty ("I love Dreamgun so blooming much") and Dara O'Brien ("Hilarious live read-throughs of brilliantly written film classics"), and if it sounds like something you'd enjoy, choose from the following: Back to the Future (Tuesday, 19 February), Harry Potter (Wednesday, 20 February), The Matrix (Thursday, 21 February), Jurassic Park (Friday, 22 February), Back to the Future (Saturday, 23 february), and Titanic (Sunday, 24 February).
---
The Marvellous Snake Boy
Adelaide Fringe – The Third Space, Live from Tandanya 16-17, 20-24 February
Snake Boy, played by Alexander Richmond (Holt! The Musical), was raised by a family of red-bellies in the Australian Outback, and now, at age 18, he's ready to integrate into human society.
At the beginning of each performance, The Marvellous Snake Boy begins with the lead character having little knowledge of how human language and movement work, and over the course of the show's 50 minutes, the audience will teach him language, love, and compassion via musical numbers and interactive sketches.
For anyone with an aversion to the word 'interactive,' Alexander stresses that, though the show has an interactive element, he has worked hard to construct a character that "does not pick on the audience, and instead tries to coax them in to join the fun."
---
WOMAD
WOMADelaide – Botanic Park, 8-11 march
As part of our upcoming autumn print edition (on the streets in early March), we reached out to some of our go-to music heads for some recommendations. It's no surprise that WOMADelaide made the list.
The Porch Session's governor, Sharni Honor, reckons you should head along.
"Look, you just can't deny how brilliant this festival is. And that line up," she says.
"Highlights include: Khruangbin, TEEKS, Fat Freddy's Drop, Kaiit, Julia Jacklin, Thando & Mojo Juju
to name a few. Great golly goshbags. That's a time."
---
A Bedtime Story with DPR
Adelaide Fringe – Loft, A Club, 8-10, 12-16 March
Dice Paper Role is a Dungeons & Dragons comedy podcast, and throughout early March, they will be bringing their live show to the people of Adelaide, offering all in attendance a unique fantasty-oriented bedtime story, told within the world of the role playing game.
The show capitalises on what Dice Paper Role member Emil Freund characterises as an uptick in interest in Dungeons & Dragons.
"People want a real connection," Emil says.
"You're on a train and everybody's on their phone, at home it's TV or an iPad. Dungeons and Dragons is the perfect antidote for that, it's properly old school: you, your friends, and your imagination…what could be better?"
---
Flight
Adelaide Fringe – The Garden of Unearthly Delights, multiple dates, 15 February, 17 March
"In the unlikely event of a sudden loss of cabin pressure, alternative scenarios will be provided. There are many worlds in which this plane lands safely." That's the opening pitch for Flight, the new experience from UK production company Darkfield, which promises to be both unsettling and disorientating.
Like Darkfield's previous scream-inducing Fringe show Séance, Flight is being presented in a shipping container in the Garden of Unearthly Delights and makes use of binaural sound technology to create a 3D listening experience. However, it delves into the realm of science rather than the supernatural, playing on the audience's paranoia that their next flight may be their last.
It is, says both the presenters and reviewers, a deeply unsettling yet exhilarating experience.
Read more here.
---
Tom GK: Hearing Loss, The Musical!
Adelaide Fringe – Miller Leeway, Tuxedo Cat, 17-24 February; Main Room at A Club 19-24, 26-28 February
Six years ago, Tom GK had a dream gig reviewing music for the Daily Telegraph in the UK that was thwarted by his rapidly deteriorating hearing.
Hearing Loss, The Musical details Tom's experience losing his hearing as a result of a genetic disease – neurofibromatosis – in the most unlikely medium: a musical.
With no hearing in his left ear and a hearing aid in the right, the show explores the very bottom of life after diagnosis, to the hope and happiness of finding the medicine that has allowed his life to, so far, continue with the hearing and mobility that could otherwise be threatened.
---
Sanaa Festival
Light Square, Adelaide, 23 February
African street festival, Sanaa, returns in 2019 with a huge roster of artists playing light square from 2pm through until midnight.
The lineup includes local Playback 808 artists Dyspora, Elk, and Elsy Wameyo (pictured), who recently played the Girls Rock Adelaide stage at this year's St Jerome's Laneway festival.
After midnight, the party kicks on at the Publishers Hotel on Franklin Street.
---