Plate and Cup
Here's what you'll be eating at the Lucky Dumpling Market
OzAsia's Lucky Dumpling Market kicks off next week. Start planning your OzAsia pre-show meals and knock-off snacks now.
There are a great many reasons to get excited when OzAsia rolls into town – predominantly, of course, the array of arts and cultural events it brings (see our OzAsia 2019 highlights article here).
But then there's all the food.
The Lucky Dumpling Market will roll back onto the Riverbank for its third year, with a collection of old favourite food trucks and pop-up stalls plus some LDM first-timers.
"Last year brought a huge gathering over the three-week festival and we have curated a program that is bigger and better," says event director, Daniel Michael.
"It's an Asian food mecca for Adelaideans and our visitors from interstate and overseas, and brings so many cultures together as well as foodies and avid music-lovers alike."
The Coopers bar, Lucky Wine Bar and Lucky Sake Bar will each be returning, and there is a stacked roster of free music performances (see here for details), but f or a head start planning your afterwork snacks throughout the Lucky Dumpling Market's tenure (from 17 October through 'til 3 November), scroll through CityMag's guide to the Lucky Dumpling Market 2019 below.
---
New vendors
Thavej Thai
A spin-off street food offering from the Soi38 team, owner Terry Intarakhamhaeng describes the Thavej Thai offering as "the kind of Thai food that you find at local markets in Thailand."
There will be small snacks, curries, and a lunchtime-style pork noodle dish taken from "the most popular noodle stall at Thavej market in Bangkok."
---
Jalan Jalan Malaysian Street Food
Taking inspiration from street food from around Malaysia, Jalan Jalan will be offering nasi kerabu with the traditional blue rice (coloured with butterfly flea flower), as well as rendang, Malaysian fried chicken, sambal squid, Assam-style dumpling laksa, and a Malaysianfruit and tofu salad called rojak.
---
Soza's Sri Lankan Street Food
A staple at many food-truck events and lunchtime pop-up locations throughout Adelaide, this is Soza's first foray into the Lucky Dumpling Market, where they will be slinging Sri Lankan fare, like kottu (flat bread chopped with curry, vegetables and egg) and hot butter squid.
---
Chef Kim Korean
The mobile outpost of Hazelwood Park restaurant Chef Kim has appeared previously at Gluttony (under the guise of K-Chicken), and you can expect a pretty similar menu of Korean cuisine (read: Korean fried chicken) as well as some Korean dumplings, to match the Lucky Dumpling Market moniker.
---
Returning vendors
The Filipino Project
It's been difficult to get your Filipino fix since the team from The Filipino Project moved out of their Nino's Lamesita space on North Terrace, but thank your lucky stars they're still popping up around Adelaide. Get the sweet chargrilled barbecue pork ribs with that real good glaze and follow it up with a very Instagrammable ube soft serve cone.
---
Ragini's Spice
Adelaide chef Ragini Dey is your portal into proper Indian food – recipes made with historical context but always with a modernist eye and sense of fun. This year the Ragini Spice stall will be serving up charcoal-cooked butter chicken, fall-apart Indian-Texan beef ribs, naanchos (including a vegan version), and a brand new food concept, the naanoodles: "organic charcoal noodles served with either butter chicken or palak, a purée of spice spinach."
---
Bubble Bus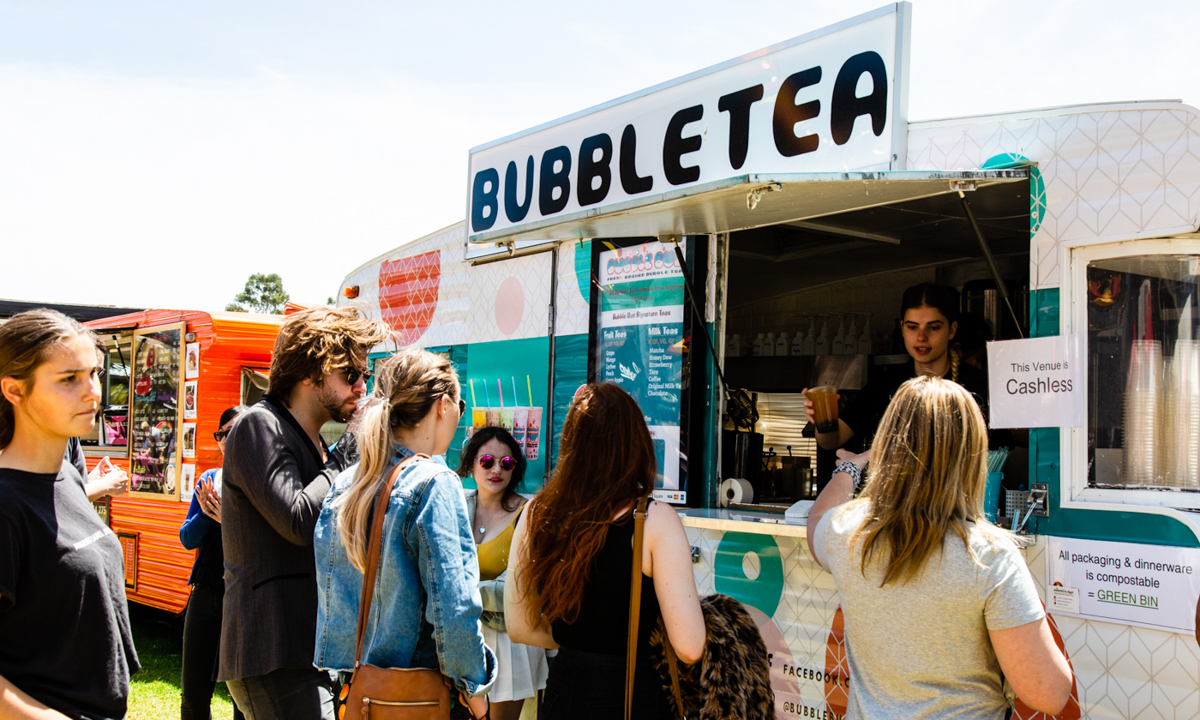 By now you know we don't mind a bubble tea stop. And what would an Asia-centric arts festival food market be without a bubble tea option? Bubble Bus are on board to serve fresh brewed bubble tea.
---
Humpty Dumplings
Your reliable vendor of fried or steamed dumplings in three varieties: pork, chicken and prawn, and vegetable; as well as dumpling laksa soup; laksa-dunked dumplings; and edamame beans.
---
Bao+
This is the mobile sister stall of King William Street patisserie, Astonish, and will be serving Modern Taiwanese street food, gua bao, influenced by popular Asian flavours like Korean fried chicken and crispy pork. For the sweet-toothed, there is the very extra bao fried ice cream.
---
Shibui
The standout dessert stall of whatever marketplace they're popped up at, Shibui have already caused a social media storm (of the positive, hype-driven kind) twice this year, at Gluttony and at Tasting Australia, and the same is likely to occur again at Lucky Dumpling Market. No one is forcing you to 'gram your glorious dessert, but, come on, look at it up there. You're gonna want to.
Along with the Shibui favourites – redskin soft serve, fair floss clouds, and bubble tea soft serves (in White Rabbit candy and Thai milk tea flavours) – they will also be bringing recent dessert trend fried mochi donuts to the market.
---
Sky Doodles
A pilot from the 1920s who has travelled through time and landed in Adelaide's food market scene creating incredible feats of fairy flossery, all in the pursuit of a life in the clouds. Or so the story goes. Look for the guy – Eddy Doodles – in the vintage aviator hat spinning sugar for mystified onlookers.
---
Toly Vietnamese
Always appearing with a theatrical display of charcoal cooking, Toly will be set up to serve "bold" Vietnamese flavours, and an example of "steaming and barbecuing at its peak." Watch your dumplings get coal pan fried right in front of you.
---
Chez Coffee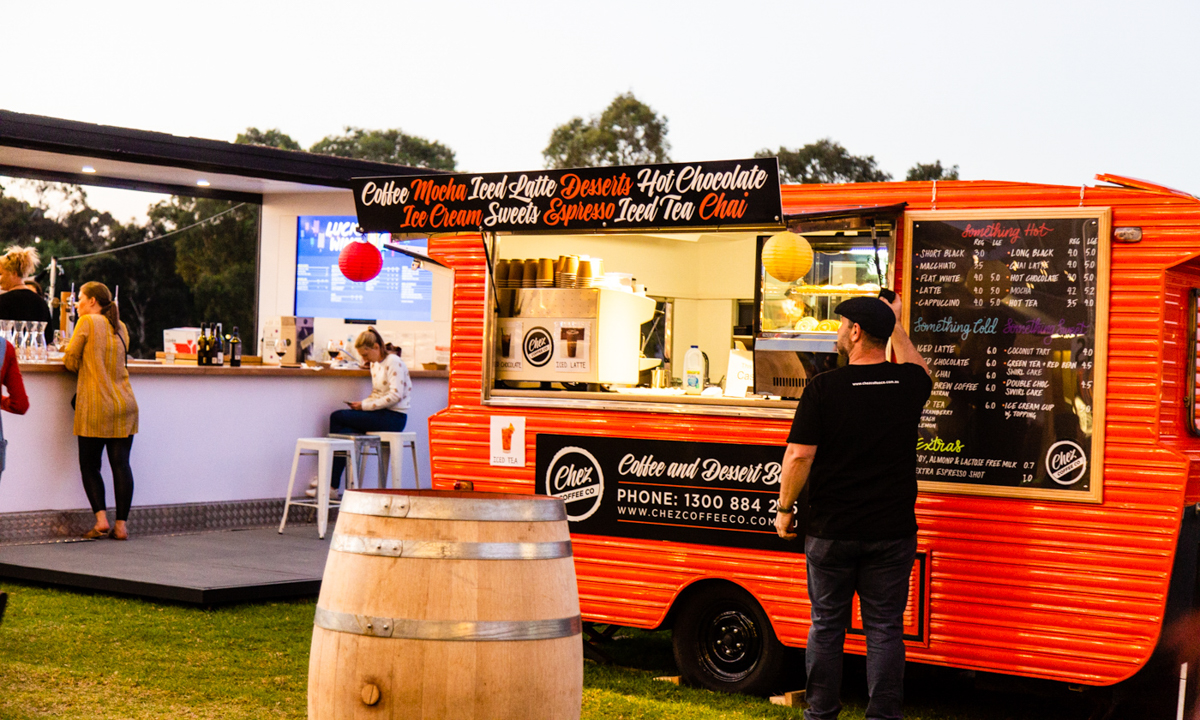 Caffeine is a necessity, no matter where you are. Chez has got you covered for all your flatties, shorties, long blacks, mochas, iced lattes, hot chocolates, or whatever your order is, as well as a selection of desserts.
Connect:
Instagram
---