Plate and Cup
LIVE: From the Exeter
An hour-by-hour account of the Exeter Hotel's first day of trade in 70 days.
SPECIAL REPORT: COVID-19 ADELAIDE
Throughout COVID-19, CityMag has reported on the impacts and the innovations the pandemic have wrought on Adelaide. In what is the most significant, 'return to normal' moment since the virus hit pause on our city, pubs have been permitted to welcome up to 80 patrons back through their doors.
Follow CityMag's live reportage on our Instagram Story as we cross between our three reporters on location in the beer garden, the front bar and the band room.
Our 'live' blogs about how cafés, bars and restaurants are re-opening in the city have seen huge readership since their inception and it is in that tradition that we bring you this live and updating story from the Exeter Hotel on Rundle Street on its first day trading in 70 days!
---
The Exeter – June 1, 10:30AM
"This is the perfect song," says Kevin Gregg – owner of The Exeter Hotel – as he turns the hi-fi on and slowly brings up the volume. "Isn't it the perfect song to open up with?"
The tinkle of steel strings reveals, Hotel California by The Eagles. We nod. It's a perfect first song.
Among the first to arrive in the pub is resident Sunday DJ Mark Kamleh, AKA DJ Mimosa.
"I'm excited," says Mark. "This is the first licensed venue I've drunk in. I didn't want to be too eager, I didn't want to be the first to drink anywhere, except the Exeter!"
"You're standing in the 'Snake Pit'," says Mark pointing to the right-angled piece of bar CityMag has set up on. We're on the western side of the bar.
The Exeter's first post-shutdown beer went to Manuel Pincho, a poet from Portugal, Kevin tells us. He's the first official recipient of a beer at the Exeter. He doesn't pay for it.
"Pay later," says Kevin.
Mark Kamleh gets the second beer poured after the 70 day shutdown. He cheers with Manuel and says with a wry grin, "is this legal?"
Mark plans on posting up at the pub all day, with many pours on the horizon.
Artist Billie Justice-Thomson buys the third beer while Manuel the poet takes up post out front of the Exeter, smoking a cigarette. We catch him as he exhales and says "I feel so comfortable here."
Normally, at this time of year Manuel would be back in his native Portugal, chasing an endless summer, but restrictions of movement across the globe hampered his plans.
It makes it all the better to have places like the Exeter, and the Belgian Beer Café (Manuel's next stop), to feel a sense of ease.
Back inside, we can tell people are excited and nervous. Kevin explains everyone needs to take a seat with their drink. "No drinking at the bar," he says.
And with that, he moves from the Snake Pit to what we've just learned the pub refers to as Mayfair.
Slowly, the pub is filling up.
---
The Exeter – June 1, 11:30AM
An hour and a half into the day of trade and three bottles of Krug have passed over the bar.
The first went to Christsophe Zauner, Jacqueline Lodge – who, as we assume you know, work a block over at Hey Jupiter – with their Exeter compatriot Emily Palmer, a resident who lives above Hey Jupiter.
Christophe has been coming to the Exeter for seven or eight years, since he moved to Australia, and the pub's been a long-held favourite before heading to Palace Nova Cinemas nearby.
"But the cinema isn't running anymore, so I can't go," he says before running out the door, back to work. "We are going to tag team," he says, laughing.
The reason Christophe is here today is to support Kevin, his neighbour. Christophe always gets the paper for Kevin – so the publican can take up his post at the front of the bar and do the crossword.
Kevin always pours his loyal neighbour the best drop.
In the front bar we notice another patron perched over the paper. It's George Aldridge, a cartoonist who's been coming to the Exeter for 15 years. He often exhibits in the Ex, and always makes the trek from his Kent Town studio for a schooner of Coopers Stout or lunch.
The reason George is here today is for the company, and also because he's "turned into a piece of the furniture," he explains.
There's a pile of coins in a zip lock bag George's table. His drinking money, he says. He values it at $65.
"Whenever I come here I drink with the coins, but because I haven't been here in so long, the bag has ballooned," he says.
By now the room is buzzing. Patrons are easing comfortably into their seats. You almost forget there's a pandemic.
KWP! copywriter Patrick O'Reilly is the first of his advertising clan to be poured a pint of Coopers XPA – they've got a table at the back. Patrick's been an Exeter regular since he was was first legally allowed to drink, but this habit set deeper into his bones when the agency moved across the street in late 2018. What he missed the most about the pub was "the choice."
Colleague Nat Parsons says she missed tap beer the most, because it tastes better. She's drinking Coopers with Charlie Chenoweth and Maddie Papilion.
---
The Exeter – June 1, 12:30PM
Kevin Gregg has confirmed that he is – as promised – wearing a clean pair of "almost new" shorts. He's come over to CityMag's temporary bureau to point out the man with long locks almost touching the floor.
"You see that man with the long hair? He's one of the gun sound engineers of the world," says Kevin.
Par for the course at The Exeter, really. CityMag can only hope that one day we've got Kevin Gregg hyping us up with similar praise.
Behind the bar, Angus Bawden is a mathematical science student at Uni of Adelaide and one of the Ex's dedicated glassies. He's spent one day a week over the last four weeks helping to ready the pub for today's opening.
Though Angus has been kept in work and paid up through the government's JobKeeper program, he says there's something about being in the pub that has its own benefits.
"Working here is how I like to spend my day off from uni," he says.
"It's good to be working here again. I miss being in this environment."
Over in the kitchen, "all-rounder" kitchenhand Rhys Swindells has been working at the Exeter for two years. Although he's also helped get the venue ready, he's "quite stressed", which we see from the way he's furiously polishing knives and forks before wrapping them in serviettes.
It's almost lunch and his hands are working at lighting speed.
Rhys is a casual employee and was also put on JobKeeper when the pandemic hit. He's slightly anxious about returning to work, in part because of the threat of the virus but also because he's become "very good at being lazy."
---
The Exeter – June 1, 1:30PM
Service at the front bar is beginning to quiet down, but shouts and laughs from the many tables can be heard throughout the pub. This is what venues like the Ex are for.
Staff flit between the floor and back-of-house, clearing glasses and readying for what we hope will be another mid-afternoon rush.
We catch the attention of Larissa Liemareff as she sets a stack of glasses down.
COVID-19 was the first time Larissa hadn't been working since she was a teenager, and her first paid vacation, she laughs. "I read a lot of books," she says.
Larissa has been part of the Exeter family for three years after leaving a job up the road at Amalfi. The Ex was her knock-off spot of choice, and she was drawn into the venue's colloquial charm.
Today's reopening has been a long time coming for Larissa.
"I miss seeing the locals. This pub has so many regulars, and as much as it's a job, it's also socialising," she says.
We ask who she missed the most, and she answers without a beat.
"George Aldridge – I knew he was going to be here," she says.
"I've known him since my Amalfi days."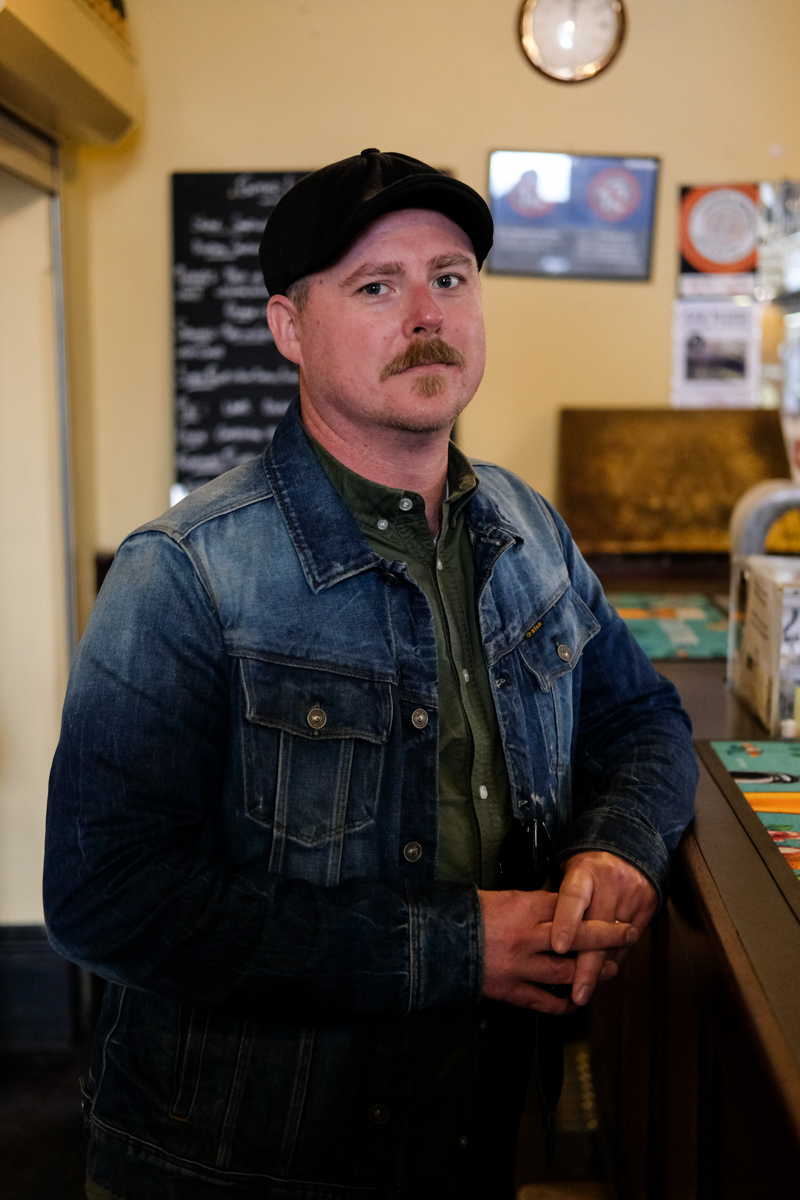 We head back to the bar and spot Vaughan Place regular Chris Leese (right). Chris quit his job at Radio Adelaide, the community radio station located around the corner, three months ago.
"Probably not the best time to leave," he says from behind the bar, smiling.  
The former general manager has scoffed down a sandwich and Coopers Dark Ale weekly for the last four years.
Despite not working down the laneway anymore (he lives in Magill), he happily makes the trip for lunch.
At 1:15pm the rush we anticipated bustles through the door. Not all are able to be accommodated. It's the first time CityMag notices a customer being turned away.
---
The Exeter – June 1, 3PM
We check in on the loyal table who've been here since service started.
Madeline Bonnin, assistant restaurant manager at Low & Slow, says so far the group's guzzled two bottles of Krug, a couple of jugs of beer, multiple other bottles of wine and a pair of Bloody Marys. So far.
"We're going to stay 'til whenever," Madeline says, "and we've got other's coming too."
Over piles of chips and plates of parmies, Madeline explains the Exeter is her second home. She likes it because it never changes.
We've heard this multiple times. George said earlier this is the pub for him because it's, "No bullshit, thank god."
Madeline and her mates all work in hospitality – one of the industries hardest hit by the pandemic. She went back to regular work last Wednesday and was stoked.
She was less stoked, however, with a CityMag journalist getting between her and a freshly poured glass of bubbles, and so we depart.
Elsewhere in the pub, we finally catch "one of the gun sound engineers of the world", Suneil Pusari, as he returns to his table.
Suneil has ordered frothies from the Exeter for the past 25 years, and has been watching gigs here for even longer. "Since before it was legal," he says.
The venue has also played a part in his career choice.
"I always wanted to come here because there's lots of musicians and it's a cool place to be. It's influenced my job choice, definitely," he says.
Suneil was working in London, producing audio for mostly live music performances, but returned to Australia an international shutdown loomed.
He explains, somberly, before today it'd been a long time since he's been to a pub, but is "extremely" happy to have his moment.
"I probably won't work until next year, which means I'll be at the Exeter a lot from now on," he says, grinning.
---
The Exeter – June 1, 5PM
It's strange running into people. It's a phenomenon we've not experienced in a while. Like most of the pub's other current constituents, we too have been homebound.
But inside the Exeter, when someone you haven't seen in months grabs your arm to call your attention, or they reach out to clink glasses, instead of recoiling – as we have all now been conditioned – there is a strong impulse to lean into it.
If the bar set in today's interactions around the Exeter are any indication, as restrictions ease, our social engagements will be increasingly warm and generous.
The last bottle of Krug was snapped up at around 2:30pm (we're assured us there's another order coming in a couple of days), and beers have flowed as easily as the calls of 'It's been so long!' flying across the room.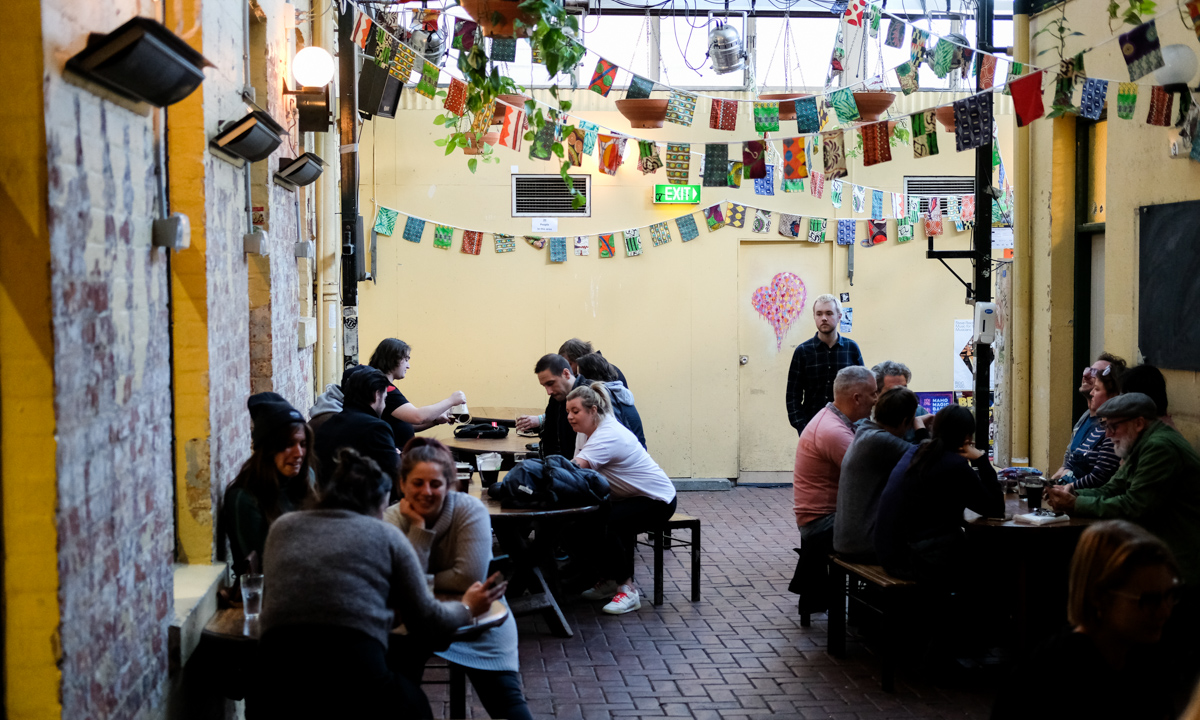 Photographer Jack Fenby sidles up to the bar for a jug, telling us he and a friend, who came in for a casual drink, are now "locking in for a big evening."
Exeter co-owner Dan Boundy says he couldn't have been happier with the turnout. He hasn't had to say too much to keep customers apart – yet another gesture of support from the Adelaide community to a local hospitality industry who desperately don't want to see restrictions brought back in due to lax attitudes to social distancing.
The pub is well and truly in revelry mode now, and there have been a couple of shots ordered over the bar through the course of the day. Dan predicts there'll be more of that behaviour over the next couple of hours.
"We could close at 10pm or 3am — who knows!"
CityMag is packing up now, ready for home. We've seen what we hoped to see from our perch in the Snake Pit.
Patrons and pub staff have greeted each other with broad smiles, welcoming each other back into their daily lives, while also respecting when the answer is, 'Sorry, we're full. Try again later.'
It's a new world. We can't forget that.
A very Exeter indicator of this is the renowned, once highly graffitied bathroom door, which was blank at 11am today, painted over during the 70 day break.
Artist Billie Justice Thomson was the first to take a pen to the wall, before then passing it on to someone else.
Billie's piece is a hand gripping a schooner – a call of welcome, and for love and respect for all.
---