September 13, 2017
Habits
Walking City
A gander down Gilles Street
What to do on Gilles Street when the markets aren't on.
Things most people might already know about Gilles Street:
History
Gilles Street was named for South Australia's first colonial governor, Osmond Gilles. This guy was a pretty successful merchant businessman in old England and in Hamburg, Germany. In 1836 (three years after his wife died) he migrated to the new Australian colony on the HMS Buffalo, from which time he immediately took up the job of Colonial Treasurer.
An olde world equivalent of Polites, Gilles was a prominent businessman and land owner, boasting the largest holdings of any settler within a year of arrival. With that kind of power, it seems only natural that he sat on the Street Naming Committee. On the day that committee met (which was 23 May 1837, if you're interested), basically all of Adelaide was named. And on that day, Gilles came out a winner. As well as Gilles Street, Mr Osmond is also the namesake for O.G Road, Glen Osmond Road, Osmond Terrace in Norwood, and the Adelaide suburbs of Glen Osmond and Gilles Plains. Later in Adelaide's life, the suburb of Gilleston Park, and Gilles Lake just north of the Eyre Peninsula were named for him, and the suburb of Oakden was named for his wife.
1) It is home to the Gilles Street Markets.
2) It connects to Gilbert Street.
3) It is home to the Gilles Street Markets.
Here are a few more things people ought to know exist on Gilles Street: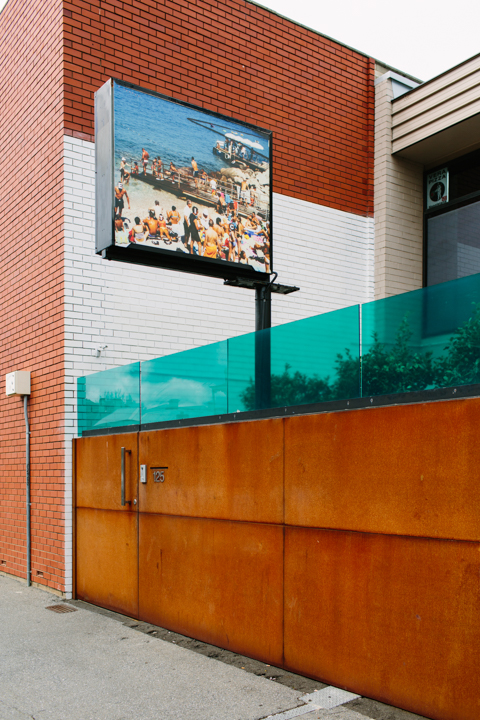 Etica Pizza Napoletana – as distinct from its sister store – Etica Pizza Al Taglio, which recently opened around the corner on Halifax – has been at home on Gilles since 2012. Deriving its name from the Italian word for 'ethical,' Etica only uses animal products that have been killed ethically and raised outside of a factory farm environment. And they're as strict about this rule as they are about adhering to Napoletana traditions. Open almost only in the evening (they open during the day only on the last Friday of every month), the Italian restaurant offers a small menu of pizza and pasta that changes seasonally.
Amber Bennett, owner of Fawn, was living and working overseas a few years back, and it was from that very distant vantage point (and via the internet) that she could see Adelaide was booming. She came back, bought this Gilles Street space, and set up shop. The neighbourhood cafe boasts a menu filled only with fresh, homemade, tasty food made using ingredients from a long list of local suppliers. The coffee spot is a calm, leafy sanctuary in one of the CBD's calmest, leafiest nooks.
Ensemble is a number of things. It's a curated concept store for local designers, a photography studio, an exhibition space, a sometimes yoga studio, an event space, and a workshop. But, mostly, it is a collective studio space for some of Adelaide's most mindful makers: Good Studios, BB Shoemaker, Emma Sadie Thomson, and Weft Textiles. Importantly, it's the place where you can buy their locally designed and produced swimmers, shoes, sheets, and plant trinkets all at once (…a handy place for early bird Christmas shoppers, might we mention, not that we even want to think about thinking about Christmas yet).
Bounce Fitness Studio has been on Gilles, shaping bodies and making Adelaideans stronger, for almost three years. Owned by mother-son duo, Jenny and Sam Gillespie, the fitness studio offers both personal training and three kinds of classes, including a Cross Course class (which is a form of suspension training), a circuit class, and a Tabata class (which is a 30 minute high intensity in-and-out class).
Sometimes, people just need a great outfit for a night, and for no longer. Oftentimes, people want to wear designer clothes, but don't really have the money to do so. One Night Stand is a South Australian designer dress rental business that recognises this. Opened by Natalia Chehade (if you're wondering if Natalia is a part of the family that owns Karl Chehade Dry Cleaners, you're correct) in 2012, the business first called Hutt Street home, but has since moved to their current store on the corner of Pulteney and Gilles. They're now going national, with stores in Queensland, Victoria, and a new store soon to open in Sydney.
Situated directly across from One Night Stand Boutique on the corner of Pulteney and Gilles Streets, The Astor Hotel is the neighbourhood pub. It's one of Adelaide's nicer looking pubs, with plenty of space, modern interiors and really cool bar stools. What makes us most excited about The Astor though is their $10 lunch menu, which offers up ten dishes of varying fanciness – from the standard Coopers beer-battered fish and chips, to Thai beef salad and vegan nacho bowls.
When we sit down for a meal at Antica Pizzeria, most of us are probably thinking more about the impending pizza than the chair beneath our butts. That is fair enough, but, just so you know, local Adelaide business, Concept Collects, are the people behind said chairs. They're also the people behind the furniture in many other places we've likely parked our butts, like Gin Long Canteen, Iberia, NNQ, Mimasu, Mrs Q, Jarmer's Kitchen, East Borough, Lantern by Nu, and a whole bunch more.