Plate and Cup
Pirate Life launches its Port Adelaide brewery
Just in time for the beer label's fourth birthday, Pirate Life will launch its long-awaited Port Adelaide brewery this weekend.
The best place to start CityMag's tour of Pirate Life's new Port Adelaide brewery, co-founder Jack Cameron says, is the peacock mural.
It's an enormous work, painted in four and a half days by formerly Adelaide-based artist (now located in Melbourne), Mike Maka, drawn 'freehand' from an image on an iPhone for reference.
Flames surround the bird's head suggesting great velocity in flight, and its plumage, while visible, is humbly tucked together so as not to create drag and slow its trajectory.
"There's no real relevance to the peacock, he just wanted to paint one," Jack laughs.
Behind the peacock, we're shown through a staggering brewery and taphouse, and to label it as such barely feels like doing the project justice.
Over 12 months, the Pirate Life team has built a five-vessel, 5000-litre, fully automated brewery – twice the capacity of its Hindmarsh predecessor – controlled by a handful of brewers in a comparatively tiny control room.
"All of our brewers will rotate through both sites, six months here, six months down [at Hindmarsh], just so they don't lose touch of the hands-on brewing," Jack says.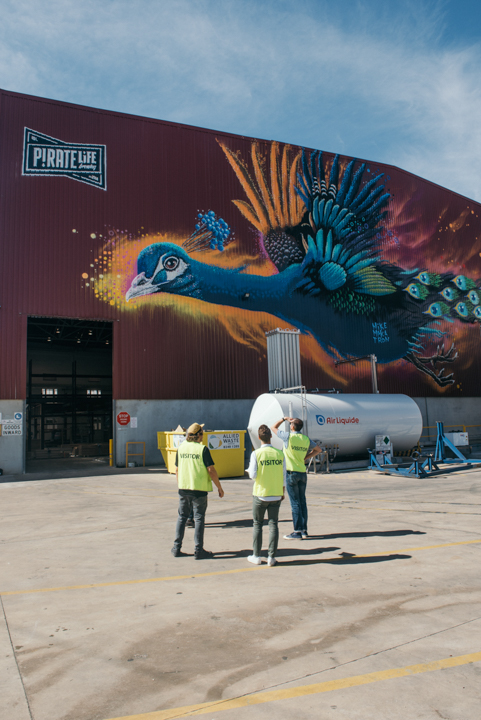 Further along the space's 10,000 square metres, the canning line spits out 250 cans per second – more than three times faster than Hindmarsh – and behind a panel of glass along the back wall is office space, now home to Carlton United Brewery's South Australian team, relocated from Torrensville, and Pirate Life's staff headquarters.
In its first year, the new Port Adelaide brewery will pump out 4.5 million litres of Pirate Life's core-range beers, while Hindmarsh will produce 1.5 million litres of non-core and special releases (at the start of our interview Jack says there will be 40 new beers brewed at Hindmarsh this year, and by the time we say goodbye the number jumps to 50).
The full capacity of the Port Adelaide brewhouse is between 12-15 million litres, and Jack hopes to hit that figure within four years. The peacock mural, with its ferocious pace, is starting to make sense.
A taproom sits at the front of the venue. The 22-yard bar (exactly the length of a cricket pitch) is the showpiece, hosting 24 taps – 16 at the front that will pour Pirate Life's core range, and eight at the back that will rotate Pirate Life special releases and guest brews from local and international breweries (making good use of Pirate Life's international Anheuser-Busch InBev family). Another eight taps are likely to be added next year.
Designed by Studio-Gram, the space is defined by an open steel structure, created to make the 14-metre high ceiling feel more intimate. The capacity of the beer hall is 300 people, and includes a tasting room where the Pirate Life crew will host educational tastings.
"Beer schools once a month, and something a bit more than your usual brewery tour. People that want to go down to that next level," Jack says.
Along the wall opposite the bar is a timber and glass structure, half of which will hock Pirate Life merchandise – t shirts, hoodies, skateboards, stubbie holders and the like – and on the other, Unley barbershop Robbie's Chop Shop will set up its second location.
The site can only be described as ambitious, especially considering Jack and his co-founders – his dad Michael Cameron and friend Jared Proudfoot – had the 1938 Dalgety Woolstores in their sights almost since Pirate Life beer first hit the market.
"We looked at this site September '15. We were only running for six months," Jack says.
"We came in with the landlord and said 'Whatever you do, don't rent this place out to anybody else,'" Michael says.
"We had regular conversations every six months, we weren't ready to do anything, then suddenly we were and that was it."
The pair says it worked in their favour that not many people could work a site of this size, but, given they were just six months into building their brand in South Australia's nascent craft beer scene, it's still an impressive level of foresight to have seen this coming.
"You go back to our original business plan, the first thing we always talked about was being globally recognised," Jack says.
"So from day one, we always wanted to be a global player in the grand scheme of craft beer – in the world of Stone and Ballast Point, BrewDog out of the UK.
"If we end up in the same conversations as those guys, then we've done a good job."
Pirate Life's Port Adelaide brewery will also host A Day on the Cans in late March.
A Day on the Cans also coincides with Wonderwalls Festival, which, as of this year, counts Pirate Life as its major sponsor, after Renewal SA withdrew its funding for the event.
Success came quickly to the brewery on a local scale, but the first major sign they were on an international trajectory came in late 2017, with the news of the world's biggest brewer, Belgian-headquartered AB InBev's purchase of Pirate Life.
The benefits of such a deal are obvious – we are, of course, standing in a $15 million brewery – but there were repercussions. Independence is fiercely guarded amongst the craft beer community, from brewers and drinkers alike, and selling out to a global conglomerate was a difficult good news story to sell.
"We lost probably 30 per cent of our customers overnight basically, which was pretty brutal to be honest, but expected," Jack says.
"But we continue to focus on quality, we continue to focus on making the best beer we can," Michael continues.
"For Jack, Red and I, it's always been about the beer. From day one, we've made the beers that we want to drink. Now we're part of a global family – that gives us great assets to draw from, in terms of using a global chain."
Jack hopes the 40 (or 50) new beers this year will prove to the market that Pirate Life didn't lose its soul to international ownership, and show that the deal has only enabled Pirate Life to be more creative in its special releases and more consistent in its core range.
"There's the perception that when breweries – and there has been some bad examples of it around the world – breweries get bought out and then they go pear-shaped," Jack says.
"But CUB acquired us for a reason, because we're pretty good at what we do, and they haven't yet tried to change any of that. They want us to keep doing what we're doing, and they stay out of it as much as they can
"The last few years we've been trying to keep up with core range demand, so we haven't necessarily got to play around as much as we would like to. [This] gives both me and Red a good chance to be creative again.
"[And] now we've got a team of 20 brewers, and they've all got views and they want to make beers, so we'll give them opportunities to come up with recipes and concepts and we'll work through, and I think that keeps the excitement in it."
By the time the Port Adelaide brewery is fully operational (after the official opening party, happening on Saturday, 9 March), Pirate Life's staff will jump from 70 to 100 people. Employment targets were conditions of the federal and state government's support for the project, and the team sees the potential flow-on effects for the Port, and South Australia's brewing scene, to be significant.
"The Port Adelaide council couldn't be more helpful. They've been really terrific. I think they understand what happens when you bring a business of this size into the area," Michael says.
"If we can start having, every six weeks, two or three thousand-person event down here, well that's two or three thousand more people that will come down to the Port than there were."
The buyout has also facilitated Pirate Life extending the reach of their craft brews, facilitated by their CUB distribution chain.
"There are avenues that we were never going to be able to play in, like stadiums and mine sites and airlines," Jack says.
"We're making a beer specifically for the MCC (Melbourne Cricket Club) members' area, and we're also putting a little bar in there as well, getting an artist in there to paint a wall, have a couple of beers on tap. [At] Metricon Stadium, we're doing a bar as well, and also at Adelaide Oval.
"We've got Throwback in 15 mine sites currently… We're going to throw six parties at six mine sites, bring up a street artist, get some dongas painted, deejay… It's something that's never been done in those worlds."
Pirate Life's family lineage may have broadened through the buyout, but the business' DNA remains unchanged. Jack, Michael and Red are making the most of the opportunity they were given, and while independence is important in the craft beer story, it isn't everything.
The promotion and production of good beer is still what's most important to the Pirate Life team, as it is to the broader craft beer-drinking community.
CityMag was first to introduce Pirate Life to Adelaide back in 2015. Recap their origin story at the link.
There is now a bigger engine driving Pirate Life, pushing the brand further into the Australian and international beer market, and as long as the team behind the wheel remains passionate about thoughtfully crafted beer, that is a good thing for the industry, and all the more for Port Adelaide and South Australia as its hosts.
"There's a lot of excitement," Jack says. "We've got around to every business in the Port and invited them, and everyone in council, fire fighters, police, they're all excited for this.
"It's a big step for Port Adelaide for these doors to be open, and hopefully this is just the start of the journey."
Pirate Life's Port Adelaide Brewery Launch (and fourth birthday) is a free event being held this Saturday, 9 March from 2pm 'til 10pm. You can find the brewery at the corner of Baker and Barlow Streets, Port Adelaide.
Eight new beers will be released for the event (including a couple of old favourites), and the music lineup features local deejays Oisima and Skin Contact, Cookin' on 3 Burners featuring Stella Angelico, Thunder Fox, Hot 8 Brass Band, Alex Rossi and Tom Thum & Jamie McDowell.