Plate and Cup
Cheeseburger opens in the West End
There's a new contender in the highly-competitive race for Adelaide's best burger.
The Al-Sweedy family are known for their Middle-Eastern inspired food at Levant Eatery, and for their healthy smoothies at Not Guilty Blends – so their new venture, Cheeseburger, is a surprising one.
Cheeseburger is located at Unit 3, 189-207 Hindley Street, Adelaide. The shop is open 11am-9.30pm, Monday-Friday. Husam says, "weekends are our only family time", but as staff are trained up the burger bar might begin weekend trade as well.
The main image above shows a double cheeseburger with scamorza cheese – a combination we can happily recommend.
The burger bar serves up a tightly curated menu of burgers, fries, and soft drinks, and represents a considerable culinary departure from their existing businesses.
Co-owner Husam Al-Sweedy says getting into the already-saturated Adelaide burger market wasn't really on his to-do list, but Cheeseburger's location changed his mind.
The little Hindley Street shopfront is just a few doors down from Levant and Not Guilty Blends.
"The location just gave me the right vibe," he says. "And it is easy to maintain and manage because we have Levant just there, so I can go from this shop to that shop in a couple of minutes.
"But I said to everyone – if we don't get this location, we're never opening up a burger joint. But we got it, and our family still has energy in us – we still have more to do and it just looks like a burger joint here, so we did it."
With the University of South Australia just over the road, Cheeseburger's main business is servicing the student crowd, but Husam and his family wanted to develop burgers that would appeal to everyone – from students to food connoisseurs.
"Mum does all of the food – we have no say in it. No-one messes with her with the recipes – she did the sauces and patties and everything," says Husam.
The succinct menu offers just three options – a traditional cheeseburger, a classic cheeseburger, and a double cheeseburger.
Selling only a few products allows the Al-Sweedys to create a point of difference in the market with burgers that are very fresh, and have one customisable star ingredient.
"We just wanted to keep it real simple," says Husam. "We had a massive argument with the family over if cheeseburgers have lettuce and tomato – so that's why we had to go with the two versions – classic and traditional.
'We do the patties fresh day by day, so we don't freeze anything, and having only a few things on the menu means we can do that without there being much waste.
"And we use imported cheeses – imported from Italy, and Holland and all of that. That's our point of difference – you can choose your own cheese with your cheeseburger."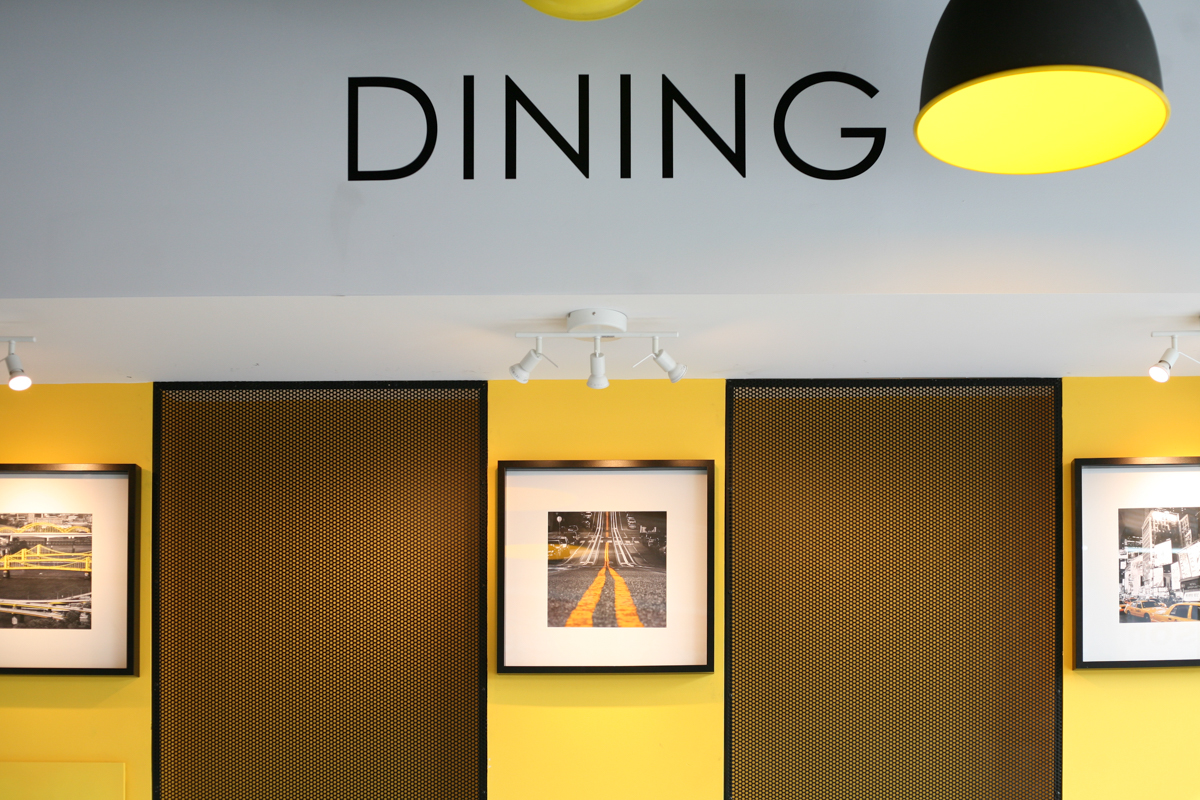 Like everything else in Cheeseburger, the interior fit-out was done by the family themselves.
The simple and clean yellow and white interior is worlds away from the fluoro-lit yiros shop that formerly occupied the space.
"We stripped it all back – chopped off the ceiling wires, stripped out the equipment, brought it back to concrete," says Husam. "Sometimes you just have a vision in your head, and every time I tried to work with the existing form it just wasn't exactly what I wanted.
"Even the work itself – we did long 16 hour days tiling and painting and everything. It's not to save money – I do it because while I'm working on it you kind of get a bit of a different connection to it."
Cheeseburger opened about a week ago, and is already bustling with students and tradies when CityMag visits, and Husam says lunchtimes have been busier than anyone could have expected. It's the kind of early success that proves there's always room for another good burger option in a small city.