André Ursini is building the future in his backyard
January 3, 2019
Long Read
Plate and Cup
On 20 hectares of land in the Adelaide Hills, André Ursini is laying the foundations for a portal into a parallel universe where time is measured in seasons not seconds and dividends are paid in a future he can believe in.
André Ursini is an anomaly. While Adelaide's dining public are gripped by new-restaurantitis, André's first restaurant – his eponymous Cucina and Polenta Bar that opened in 2010 – has steadily generated the revenue and profit necessary to fuel a food dynasty.
While other successful restaurateurs in this city open new venue upon new venue, André is only opening his second restaurant, ORSO on Kensington Road, now – eight years after the first.
But don't let this delay deceive you; André has not been idle.
André's Cucina expanded into catering first when, in 2014, it commenced contractual work supplying meals to miners in the Cooper Basin. Next, he began tackling 300-head dinners with his commercial kitchen on Prospect Road. André bakes bread and pastries and sends pasta to cafés and restaurants all over town. And most recently he closed the loop on a part of his supply chain that frustrated him – he now grows micro herbs hydroponically for his business.
Over the last couple of years, while André has been implementing these innovations, we've struck up a casual conversation with him that picks up at intervals whenever serendipity decides.
"Bri is the best café chef in Adelaide," says André one morning, referring to Brianna Mahoney – the chef at Fairweather on Solomon Street, where we were both sitting.
André is generous and gregarious like that – happy to give credit where it is due. But, he's a smart strategist too.
Economics is his underpinning. For sure, the numbers dance with the creative side of his brain too, but the numbers always lead.
André's financial brain is no doubt inherited from his father – Giuliano Ursini – who was part of a South Australian consortium to buy Sealink back from its Malaysian owners in 1996.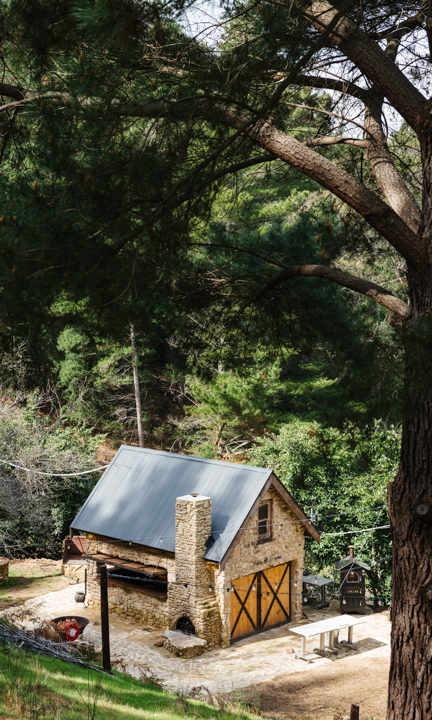 Family is a clear influence on how he runs his business and life. His newest venture is a case in point – called Lunelli Agritourismo, it's a farming and hospitality venture based on a slice of Peramangk country that was formerly a Baptist youth camp, which he and his family purchased in 2015.
André's family were Italians rendered stateless in what became Yugoslavia after the border was re-drawn in the 20th Century.
"Lunelli is named for the tiny house Dad's family found refuge in in Northern Italy," André says, as we get our bearings around the buildings and the farm.
"Our family found refuge in a small township called Flavon in Trentino in 1947 and then migrated to Australia in 1952."
We're standing on what André has now dubbed Lunelli land. It's a steep property overlooking a patchwork of farmland in a valley that stretches out toward Mylor in the distance.
"My family came for a better life," says André.
This property is proof that the family Ursini got what they came for.
Twenty Acres of land and fresh air and goats and kangaroos and babbling brooks and bees and honey and butterflies all combine in a stunning manner. For André, this place is a refuge from the grind of running a high-pressure, low-margin food and hospitality business.
Above: Overlooking the hillside terraces and a bee searching for its reward in some blue borage
"Day-to-day I'm in the aggressive pursuit of ticking boxes," he says while we descend the switchback trail to the bottom of the property.
"But this is a slow space. I'm manic by nature. I'm always working for the future and my family but here I have to watch and to learn. I've never farmed before.
"It's a slow burn and a lot of what we've been doing here over the past two years is just watching. We watch what the land does, how seasons change, and the sun, and how our crops respond."
Lunelli Agritourismo is not a commercial farm. André is not cutting out the middleman and looking to grow all the produce for his restaurants – the whole hill would have to be planted purely with parsley to meet his kitchens' needs.
Instead, the terraces have been planted with Italian crops that will work seasonally – offering the chefs at ORSO and André's Cucina and Polenta Bar inspiration for their specials boards.
"Puntarelle is from the chicory family," says André.
"It's bitter on the outside but sweeter shoots sprout in the middle. You pass these shoots through a wire contraption to tenderise them. You then soak the shoots in ice water until they curl. We'll serve it with an anchovy sauce."
The choice of plantings might seem romantic, but the selection does come back to André's grasp on the numbers.
"Things like cauliflower, forget about it," he says. "One head only and all that space – we can't afford it, so we'll be growing other things like blue borage.
"In Italy blue borage grows wild throughout Liguria and there they have a regional dish where you fold the flowers through pasta. It's self-seeding, it takes care of itself and bees love it."
The property is an eco system in which humans play an active role, working alongside nature. To the west of the terraced garden, there stands a grove of tall and slender Tasmanian blue gums. These gums are grown and felled for timber. Even further west, towards the border of the property, are beehives, which have yielded 150 kilograms of honey this year. At the bottom of the Lunelli property we see a family of kangaroos grazing, aware of but unperturbed by our presence.
This seems like a complete picture, but it isn't until the bottom of our descent that André's full vision for the property is truly revealed.
Villetta Porcini – André's "culinary man cave" – is a thing of absolute myth-like wonder. A little stone hut on a flat piece of turf, overlooking a creek, Villetta Porcini houses a coffee machine, stovetops and ovens. We lean in through the large open air window and spy two huge drying trays full of freshly foraged porcini mushrooms sitting on the bar. Through a hole in the roof, where a ladder pokes through, we see a larder full of dry goods sitting in the rafters.
It's a kitchen, it's a home, it's a portal into another time and place.
"It's the essence of the Ursini philosophy," says André.
"My Nonno has a saying – 'yesterday is gone and tomorrow does not exist'. And I really believe that.
"If I want to think about the future, if I want to do something about climate change or about the 'big picture' and ensure my kids and my kids' kids have hope then I have to put in the effort today."
But this space isn't just for André– he isn't some sort of 'prepper' building a bunker for his family to the exclusion of all else. Far from that, Villetta Porcini is built with the express purpose of reconnecting us, the general public, with the simplicity of life lived close to its source.
Food grows on the hillside, water bubbles along below and the sun warms everything it touches. It feels like we've been painted here and framed in a picture.
"I want to do specific food and wine experiences down here and tap into the epitome of hospitality," says André, "if it's for five or 50 people.
"I want to be here to serve them and this is the one place which will not be so directed by a business model. This will be a generous place."
As we leave the property, we stop off again to see another plant André is excited to tell us about – a daylily, whose flowers last less than 24 hours even though the plant is a perennial.
It feels good to learn and speak about such things, about work with real and tangible outcomes, about investments over generations, about delicious dividends, and about cycles and seasons that return to us rather than the minutes and seconds that slip through our fingers.
Time is a form of nourishment and it is absolutely thriving here.
Above: Will Doak – head chef at ORSO – does a skid in the farm's Gator