How the Commonwealth Games could save Adelaide: Part Three
Commerce
Words: David Cooke
Above image: Adelaide's Riverbank
In part three of his series on how the Commonwealth Games could create a better future for Adelaide, architect David Cooke gives a detailed breakdown of what would need to be done to hold the event in the city, and what legacy those choices would create.
Find the first chapter in this four-part series by clicking this text.  
The second chapter can be found by clicking here.
And the final chapter can be found via clicking this text.
Adelaide's Thinking
Since 2002 there have been over twenty reports commissioned by various levels of government, independent advocacy groups and industry associations examining many of the same challenges that still confront Adelaide today. Closer analysis of these numerous reports notes that many of the recommendations overlap.
There are seven consistent themes within these recommendations. They can be paraphrased as the following: Housing –  higher density and diversity of housing in the city centre; Health – increase participation in sports and recreation activities; Mobility – greater transit choice; Economic – greater employment opportunities; Identity – increase tourism and define a local urban identity; and Pride – reinstate city and state pride.
Despite the consistent visons throughout the reports there has been little implementation of these recommendations. Many of the reports have different ownership, even within governments, which seems to result in the reports competing for priority and implementation funding. The result is that many of the recommendations remain good ideas that ultimately sit on the shelf. Adelaide needs a catalyst to implement these recommendations.
Adelaide's Catalyst
This research proposes that, by drawing together the intellectual thinking and recommendations within the reports and coordinating the multiple tiers of the public and private sector towards a common implementation goal, the 2030 Commonwealth Games could be that catalyst. Such an approach draws on the depth of knowledge and experience invested within these reports to define a coordinated vision and targets for Adelaide's future.
Adelaide's Vision and Targets
Within this context of Adelaide's urban history, previous critical thinking and the city's current situation this report identifies six key goals for the city. While these aims reference the previously mentioned reports and analysis of Adelaide, they are standalone and focus on addressing Adelaide's urban challenges, while demonstrating how the 2030 Commonwealth Games can act as catalyst for their implementation.
In order to properly measure success, this research has defined measurable targets. Once again, these targets reference in part, existing State Government or Adelaide City Council targets, but collectively address the individual themes within the context of the 2030 Commonwealth Games.
The visions and targets defined below can become Adelaide's Commonwealth Games Legacy agenda. Broadly speaking, these aims are not different to many of the legacy aims that the case study cities wanted to achieve. So, as we look at each target we can also compare Adelaide's agenda to those of the case study cities.
Mobility
Vision:
Walking and cycling as a first choice of transport. Supported by an efficient and reliable transit network
Targets:
Safe and highly accessible pedestrian and cycle network within city centre
Extension of tram network (Smart Movement Transport & Movement Strategy 2012)
As noted earlier in Instalment One of this report, Adelaide's residents have a high dependency on automobile transportation. Although a wide public transit network is available there are challenges within the existing system that see low usage coupled with high fares to create an under-utilised system.
Adelaide's target for increased mobility would aim to offer people viable alternatives to their daily commute with an affordable, reliable, extensive network of transit options.
The success of such a mobility target could be defined by increased ridership on the current and expanded transit networks, reduction in cars on the road and more positive consumer feedback relating to the transit choice and inter-connectivity across the networks. Almost all Commonwealth Games case studies consider transit in order to deal with the event demand. A common approach to cater for this increase in demand is to upgrade existing transit or increase the network for the games duration.
The most successful case study examples relating to mobility were seen in Manchester and Glasgow. These cities took a holistic look at their existing network and saw opportunities to expand to cater for access to the event infrastructure and also to residential and commercial precincts throughout the greater city area.
The least successful example is Sydney with the creation of a spur line from the existing network. The service was only increased for the duration of the event and then reduced post event.
Housing
Vision:
Higher density and greater diversity of housing in the city centre
Targets:
35,000 new residents in City Centre by 2045 (30 Year Plan for Adelaide, 2010)
More housing opportunities for families (Residential Growth Strategy, 2012)
30 per cent affordable housing
Adelaide's target to increase city centre population by 35,000 new residents by 2045 is a primary focus that can be addressed by the Commonwealth Games.
Housing is a key element of any mega sporting event as it includes not only the athletes housing but also short stay accommodation for visitors to the event. The common approach to accommodate an Athletes' Villages is to take a former brown-field industrial site and develop housing that can be then used after the games as student housing, affordable housing or sold to the free market.
The most successful example of this approach was Barcelona, where the existing city grid was extended to develop a Barcelona housing typology to be used for the event and then integrated into the city after the event to increase housing supply. Despite being in the early days of their legacy phase, Glasgow is certainly moving along the right path as only eighteen months after the Games forty per cent of the housing stock has been leased as affordable housing, while the reaming athletes housing stock is being refurbished and sold to market. Interest has been high and the price point for the market units affordable.
Melbourne used a similar approach with Parkville new suburban village. After the event the housing was sold to the free market and the village given to the local council for maintenance. Despite assisting with housing supply in this area, the development has been criticised for not being linked to the surrounding neighbourhood.
Identity
Vision:
Increase awareness of Adelaide throughout the world
Targets:
Increase tourism numbers to Adelaide
Define an Adelaide design identity
Raising local, national and international awareness of what Adelaide has to offer for potential residents, students, businesses and tourists, is the target of many marketing and branding programs initiated by the State Government. Current yearly migration and tourism numbers could benchmark the success of the Commonwealth Games as a tool to increase awareness of Adelaide. An increase in external investment within South Australia would also demonstrate success of this legacy item.
The size of mega-sporting event certainly commands the attention of the world and attracts a focus towards the host city for a two-week duration. The question is always asked 'How do cities capitalise on this intensive period of focus?' over the longer term. Both Barcelona and Manchester increased their tourism numbers after their respective mega sporting events and attributed this increase to adding millions of dollars to their economies. Both cities have also improved their standing within international and European based city ranking lists.
Gold Coast proposes to use the games as an opportunity to leverage and re-brand its city as an alternative destination within the state of Queensland and to use this global stage to increase awareness nationally and internationally.
Health
Vision:
Increase participation in sports and recreation activities
Targets:
Recreation amenities located near population centres
Implementation of public health programs (State Strategic Plan, 2008)
Availability of local produce
Adelaide's target for health focused on an increased participation in sports and recreation. With Adelaide's ageing population this becomes a key target as improved community health has the added benefit of reducing the pressure on the South Australian Health system. The lead up to a mega-sporting event can capitalise on increased public awareness and focus on sports over this period of time, providing a link to community health participation programs.
Throughout the United Kingdom over the past fifteen years government policy has focused on increasing community sports and recreation and the population's general health. This focus was bolstered by three mega sporting events held within the United Kingdom in a twelve year period. The Manchester, London and Glasgow games have delivered health and wellbeing programs and used funding from the event to help schools and community groups encourage children to participate in sporting activities. Manchester has compelling data that demonstrates how the city has been able to implement a health and wellbeing community program and improve the poor health statistics their residents recorded at the start of the 21st century. This has also seen life expectancy rates in poorer areas of East Manchester increase to meet the national average (Najeeb, 2012).
Glasgow has also used the games as a catalyst to promote healthier, more active lifestyle pursuits for the Scottish public. Quick wins for Glasgow include a community sports program linked to professional sports venues and teams, like Celtic Park, which was used for the 2014 Commonwealth Games. Middle-aged men who are more accustomed to drinking a pint at the stadium on a Saturday afternoon now attend the stadium regularly to use the same facilities as their sporting idols. The novelty factor of gaining access to a professional sports venue has seen this program be highly successful in improving health habits within the area.
Economic
Vision:
Greater employment opportunities and an increased diversity in economic sectors
Targets:
Transition to knowledge economy, supported by education sector (Seven Strategic Priorities, 2012)
Increase employment diversity and opportunities within the city centre
The South Australian economy faces many pressures including the reduction in major manufacturing and industry sectors, stagnant tourism investment and increased local unemployment. The Games aim to spread opportunity across many sectors in an equitable fashion to share economic benefit.
Success will be measured on the short-term economic return of investment of the games and how this event can be linked into the larger economic reform of SA as the state moves away from car manufacturing to other industries. The most successful case studies were Barcelona and Manchester. These cities were able to deliver a return on investment for the Games themselves over a short period and then were also able to use the investment in the Games to help transition their economies from industrial backgrounds to new economies (Gratton, et al, 2005).
Community Pride
Vision:
Reinstate State and City pride
Targets:
Increase confidence and optimism for Adelaide and South Australia (Seven Strategic Priorities, 2012)
Reverse trend of youth interstate migration
The final legacy item focuses on Adelaide's aim to reinstate community pride. It is important for Adelaide's residents to feel proud of the city and state and for that confidence to be carried into other pursuits such as business confidence, younger people feeling they have a future in the state and entrepreneurship.
Manchester has been successful in re-branding itself from an industrial city to a centre of culture, and is now able to attract younger people to live and work within the city. There has also been an increase in business development with companies choosing to set up in Manchester instead of London due to increased accessibility to talent and more affordable lease rates (Najeeb, 2012).
Implementation Strategy
In order to achieve the above goals, there needs to be a clear and systematic implementation strategy.
This strategy has been developed using an approach that sees the public and private sectors working together in order to achieve and realize longer standing urban change, that will lead to increased economic value. There are three key implementation tools that have been identified to deliver the vision for Adelaide, these are infill housing, civic infrastructure and public infrastructure.
To focus first on infill housing, this will predominantly be the creation of housing in the city centre, and will initially link directly to the 2030 Adelaide Commonwealth Games requirements as this housing will primarily be used for the athletes' village.
Public infrastructure is the second tool and revolves around street improvements, parks and open spaces and the connections between open spaces and the city centre, in particular the Parklands, which are a key element of Light's original plan. Public infrastructure will also focus on a new public transit network proposed to integrate with the existing transit network.
Civic infrastructure primarily relates to the infrastructure and the amenity needed for this increase of population within the city centre. Infrastructure such as sporting stadiums (temporary and permanent), parkland amenity, and recreation amenity will also address part of the vision for health and wellbeing within the community.
Three stages have been identified to deliver the proposal over a 30-year timeframe, these being the Pre-Legacy stage (now to 2028), Event stage (2030) and Post-Legacy stage (2031 – 2045). The concept of pre-legacy addresses the idea that Adelaide cannot wait to commence addressing its urban challenges and needs to position the city on a sustainable development trajectory. By implementing Pre-Legacy, it demonstrates the city's commitment to urban regeneration delivery and would ultimately increase the chances of a successful Commonwealth Games bid.
DESIGN RESPONSE
Stage 1 –  Pre-Legacy
Looking at the stages in more detail, Pre-Legacy is critical to changing the current urban path that Adelaide is on, with particular emphasis on the low city centre population and automobile dependence. This stage deliberately focuses on modest improvements including infill housing, and civic and public infrastructure to demonstrate that such small improvements can have a major effect on the city centre.
Key Design Outcomes
Infill Housing
o 81 buildings
o 1,323 dwelling units
o 3,175 increase in city centre population
Public Infrastructure
o Upgrade of Whitmore Square and surrounding streets
o Improved pedestrian priority streets
o Increased street connections to Parklands
o New Light's Loop Tram route
Civic Infrastructure
o Parkland City loop bike and recreation path
o Reaction Cycle Path at Victoria Park
Athletes' Village Site Analysis
A key attribute in this stage is the establishment of the athletes' village precinct. In order to determine the best possible location of the village this report considered what location is going to best address Adelaide's issues.
A possible location of the athletes' village has been publicly discussed over recent times, with the current Women's & Children's Hospital site (Site Option 1) in North Adelaide mooted in 2014 (AdelaideNow, 2014), and the Coca-Cola Amatil bottling plant site (Site Option 2), located on the western edge of the Parklands also raised as an option. Both sites have current uses that would need to be relocated.
These sites are relatively small in terms of the area required to accommodate about 6,000 athletes in about 1,200 housing units. The site area from the athletes' village at the 2012 London Olympics Games was a total of 15.4 ha. In comparison, the Women's and Children's Hospital is a site of 2.15 ha and the Coca-Cola Amatil site is 3.65 ha. The use of these sites would result in a higher-density tower building typology. There are only a handful of developers in Adelaide or Australia who could joint venture with the State Government to deliver this particular building type. Further, such an accommodation model would be a single or two stage development, given the construction restrictions involved in constructing multiple towers on these sites.
This report proposes to focus on spreading the housing throughout a much larger precinct by separating the housing requirement over many sites. This will have a much larger city-wide impact, by using the Commonwealth Games athletes' village to address Adelaide's challenges and deliver the agreed vision. Such an approach would take the number of tower buildings required on Site 1 or 2 and expand that to potentially more than eighty mid-scale buildings, each located throughout an under-developed part of the city centre that is in need of urban regeneration. The economic value alone for this is immense to the Adelaide and the State as this means there are potentially eighty developers, eighty architects and eighty construction companies all working in a collaborative partnership with the State Government to deliver the housing required for the games.
This equitable distribution of opportunity and wealth is exactly what Adelaide and South Australia needs to generate jobs and long term economic value. One such site that is under-developed and in need of urban regeneration is the South West Corner of the city centre. Defined by South Terrace, King William Street, Sturt Street, Russell Street, Wright Street and West Terrace, this 42ha precinct could accommodate many mid-rise infill housing buildings over multiple sites in order to deliver the requirements of the athletes' village.
The location that will have the biggest impact in addressing Adelaide's challenges and delivering the vision is Site Option 3, the South West Corner. This is by no means the 'easiest' site in terms of delivering an athletes' village for the Commonwealth Games but legacy outcomes of this site outweigh the challenges.
Light's Loop
A key design move in Stage 1 is the proposed tram loop, referred to as Light's Loop. In order to determine the path and location of the loop, analysis on Adelaide's existing transit, both within the city centre and in a metropolitan context, was undertaken.
The proposed Light's Loop is a single-track tram loop that runs along Wright Street, Carrington Street, Pulteney Street, North Terrace and Morphett Street. The loop is a two-way system that has eight cross-over points at stations along the route. Being single-track enables the route to navigate the narrower streets within Adelaide's city grid.
Eight stations are provided on the route which are positioned adjacent to the four main squares and located near the existing King William Street tram stations to provide interchange opportunities for riders within the network. The stations are incorporated into footpaths rather than being isolated within the road right of way.
The modest yet effective transit addition connects the four major city precincts and encompasses 75 per cent of the city within a five-minute walk to the transit line and 95 per cent within an eight-minute walk. When implemented in tandem with the refurbishment of pedestrian priority streets, this piece of infrastructure will contribute to Adelaide becoming a 'walk first' city centre.
Light's Loop also assists in restoring and emphasising the original city grid as the route touches Light's original squares without going through the squares. In this way, Light's Loop helps reinstate the squares as the key open spaces within each precinct by linking the squares and the entire city with a highly accessible and efficient transit system Adelaide has not previously experienced.
DESIGN RESPONSE
Stage 2 –  The Event
Stage 2, The Event, considers the specific requirements for Adelaide to host the 2030 Commonwealth Games. In this phase, there is more of an emphasis on the civic infrastructure, particularly relating to sports stadiums, such as the three new stadiums within the city centre, but also focusing on how that civic infrastructure can relate to the increase in population and the amenity provided to the residents of the south west corner of the city.
Key Design Outcomes
Infill Housing
o  146 buildings
o  Stage 2 total 2,112 dwelling units (plus Stage 1 total 1,323)
o  280 accessible units
o  Accommodation for 6,000 athletes
o  Village Food Hall
Public Infrastructure
o  Continue improved pedestrian priority streets by completing Light's Plan
o  Continue increased street connections to Parklands
o  Airport Tram Line (Route from airport to National Cycling Centre at Victoria Park)
o  Adelaide Oval Tram Line extension
Civic Infrastructure
o  Hockey Stadium in South Parklands with warm up field and temporary seating
o  Establishment of National Cycling Centre at Victoria Park. Includes Velodrome, BMX track and outdoor Criterion Track facilities
o  Riverbank Arena multi-purpose centre. Includes provision for tennis, basketball, netball and events.
o   Temporary Warm-up Athletics track
o   Broadcast Centre
o  Athlete's Village Health Centre
Sport Facilities
Analysis of Adelaide's existing sporting infrastructure highlights that some of this infrastructure has not had a major refurbishment since the early 1990s. Even the city's new world class Adelaide Oval Redevelopment, which was completed in 2014, would be 16 years old by the time Adelaide would host the 2030 Commonwealth Games.
Given the age, proximity to transit and surrounding land uses of some of the assets this reports considers this an opportunity to invest the money required to bring sports facilities up to Games standard and develop new multipurpose facilities located within or in close proximity to the city centre.
By applying the same spatial comparison evaluation criteria that was outlined within instalment two to the proposed plan for Adelaide 2030, it is evident that the event would be very compact, with city centre, main stadium and athletes' village all within very close proximity to each other. The resulting plan would deliver for Adelaide the most walkable mega-sporting event in the world and possibly one of the most successful.
Civic Infrastructure: Sport Stadiums
The resulting Adelaide 2030 Commonwealth Games design proposal identifies possible event venues for the Games, with 14 of the 17 proposed venues being located within the city centre or on the fringe. This approach will provide a greater level of amenity, entertainment and recreation opportunities to the expanding city centre population in the long term.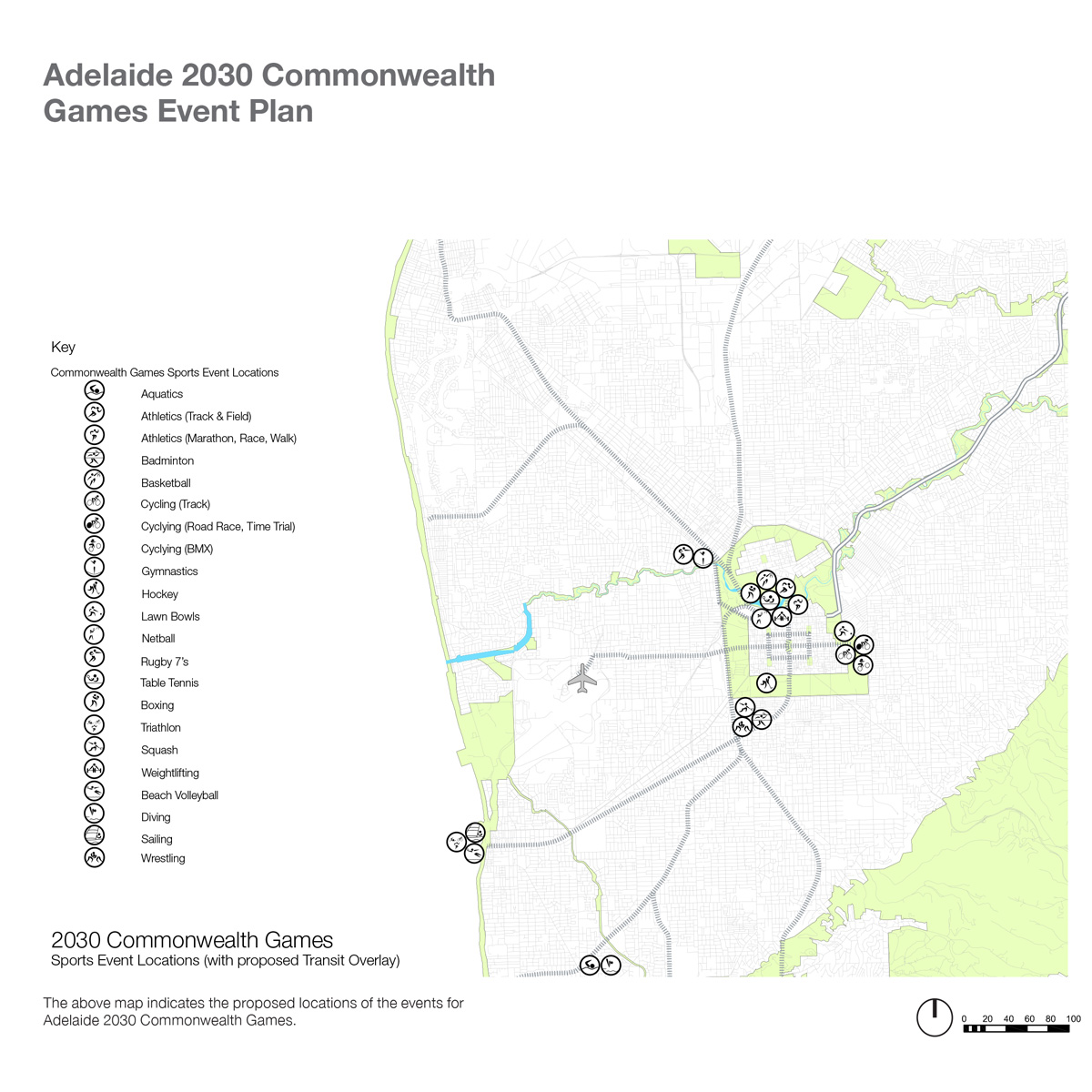 Riverbank Arena
The Riverbank Arena is a new multipurpose facility located adjacent the existing Memorial Drive Tennis Centre and the Adelaide Oval.
This location consolidates this northern part of the Adelaide Riverbank into an elite sports and entertainment precinct.
The proposed building is a 17,000 seat facility which has been designed to accommodate basketball, netball and tennis. The facility is highly flexible with retractable and moveable seating which can adjust to accommodate for five different event configurations. The arena design maximises its location on the banks of the River Torrens by creating a pedestrian plaza and forecourt fronting the river and another key public node within the Riverbank Precinct.
National Cycling Centre
The establishment of a National Cycling Centre within Adelaide is reflective of South Australia's national and international standing as Australia's premier cycling city.
The National Cycling Centre has been located in Victoria Park to build upon the existing track cycling uses within the park The National Cycling Centre contains an indoor velodrome with grandstand seating for 3,000 spectators, an outdoor BMX track and an outdoor / indoor criterion track, all designed to UCI standards.
The orientation of the National Cycling Centre on the site has been design to celebrate the existing heritage listed Victoria Park Racecourse Grandstand building within a new pedestrian plaza.
In order to reduce the profile of the centre within the parklands, the building has been recessed partly within the landscape so that the level of the main concourse is now at the same level as natural ground. The building has a habitable green roof which gives the visual appearance of a landscaped mound within the parklands and conceals the functions of the centre from the exterior. The starting ramp of the BMX facility is located at the roof level, along with recreational cycling facilities and viewing areas.
In order to accommodate the existing needs of the Clipsal 500, an integrated 1,000 seat permanent grandstand has been located on the western exterior of the Cycling Centre. The seating is nestled into the roof form and surrounding landscape to reduce its visual profile, while still providing spectators with views to the track.
In October 2016, Adelaide City Council acknowledged this concept and voted to explore this proposal further and consider how it could be delivered to provide a National Cycling Centre and also increased public reaction amenity.
South Parklands Hockey Facility
The facility has two permanent hockey fields, a grandstand that has 500 permanent seats, players' change rooms, administration offices and club rooms. The multi-use facility is designed as a new home base for Hockey SA and as a community facility for organised amateur sport and general recreation. Such a facility provides greater community amenity to the expanding South West Corner population. During the 2030 Commonwealth Games, the facility would have temporary overlay of grandstand seating up to 5,000 seats, the required media facilities and security.
Athletes' Village
The housing delivered in Stage 2 is predominately for use by the athletes in the athletes' village. The Commonwealth Games requires accommodation for 6,000 athletes, 100 officials and 500 athletes who requires accessible accommodation. The result is approximately 1,200 units to be delivered.
Following on from the housing delivered in Stage 1, there is an opportunity for the public sector to enter into agreements with land owners and local property developers to deliver the remainder of the housing. This approach becomes somewhat of a public-private partnership as the private sector needs to deliver housing stock to meet the Games requirement, and the government needs to underwrite its use for a period of time leading up to the Games and during the event.
Such an approach enables many landowners and local property developers to be become involved in delivering housing for a mega-sporting event.
DESIGN RESPONSE
Stage 3 – Post Legacy
Stage 3, Post Legacy, becomes a demonstration of continued focus on the delivery of urban infill housing, supported by civic and public infrastructure. It shows how this focus can continue to deliver sustainable urban outcomes in a post-Games context.
Key Design Outcomes
Infill Housing
o  220 buildings
o  Stage 3 total 3,766 dwelling units
o  Athletes' Village Food Hall converted to 192 aged care units, while accessible athletes accommodation converted to 250 aged care units
o  7,620 increase in city centre population
Public Infrastructure
o  Continue Improved pedestrian priority streets
o  Continue increased street connections to Parklands
o  Metropolitan Tram Line Extension to existing Main Streets and population centres within greater Adelaide
Civic Infrastructure
o Removal of warm up field and temporary seating for Hockey Stadium creating community recreation asset, used as Hockey SA Administration offices
o  National Cycling Centre the nation's centre for elite cycling. Used as a community asset. Grandstand incorporated for annual Clipsal 500 motor race event
o  Riverbank Arena state centre of excellence for basketball, netball, tennis. Used for non-sports events also.
o  Temporary Athletics track moved to South Parklands to become permanent home of Athletics SA.
o  Broadcast Centre repurposed to University of SA Media School
o  Athletes' Village Health Centre repurposed to a community health and wellbeing centre for South West Corner.
---
David Cooke
Director, City Collective
David Cooke has the unique skillset of being an Urban Designer, Architect and a Planner. In 2014 David was the first South Australian to be awarded a prestigious scholarship to attend the University of California, Berkeley in their intensive Masters of Urban Design program. Upon returning to Australia, as Director of design and architecture studio City Collective, David is now applying international knowledge to address the urban renewal challenges that face Australian cities.
---
References:
The 30 Year Plan for Greater Adelaide – A volume of the South Australian Planning Strategy, Government of South Australia, Department of Planning and Local Government, viewed 22 June, http://www.dpti.sa.gov. au/__data/assets/pdf_file/0006/132828/The_30-Year_ Plan_for_Greater_Adelaide_compressed.pdf
Residential Growth Strategy 2012-16, Adelaide City Council, viewed 14 June, http://www.adelaidecitycouncil.com/assets/Policies-Papers/docs/STRATEGY-residential-growth-2012-16.pdf
The City of Adelaide, Strategic Plan 2012-16, Adelaide City Council, viewed 14 June, http://www.adelaidecitycouncil.com/assets/Policies-Papers/docs/STRATEGY-strategic-plan-july-2012-16.pdf
The City of Adelaide, Smart Move Transport and Movement Strategy 2012-22, Adelaide City Council, viewed 14 June, http://www.adelaidecitycouncil.com/assets/Policies-Papers/docs/STRATEGY-smartmove-2012-22.pdf
An Evaluation of Legacy from the Glasgow 2014 Commonwealth Games: Post Games Report, The Scottish Government, viewed 9 May, http://www.gov.scot/Publications/2015/07/5517/7
Rehman, Najeeb, (2012) Commonwealth Games legacy lifted a part of Manchester out of the doldrums, Mancunian Matters, viewed 29 November 2014
Chris Gratton, Simon Shibli and Richard Coleman (2005) Sport and Economic Regeneration in Cities, Urban Studies, 42:5, 985-999.