October 26, 2018
Long Read
Power
Words: Joshua Fanning
Pictures: Tyrone Ormsby
14 years ago, Richard Turner rigged up a solar-powered battery to bring some modern convenience to his kids' cubby house. In 2018, after an incredible journey, the business is ready to revolutionise the economy and transform our state's prosperity.
At 3:50PM the lights went out. The lights went out in shops and offices, in restaurants and homes. The zinc smelter at Port Pirie turned off. The back-up diesel generator at Flinders Medical Centre failed and 17 patients had to be evacuated from intensive care.
Lightning struck 80,000 times that day and two tornadoes ripped through the state's north near Blyth.
Two years ago this September, South Australia experienced an extreme weather event the likes of which we hadn't seen for 50 years. 23 pylons carrying electricity across the state were damaged – doubled over and crumpled like paper.
The then Prime Minister, Malcolm Turnbull, addressed the nation on the matter of this natural disaster.
"Let's focus now and take this storm in South Australia… as a real wake-up call, let's end the ideology…" and give up, he said, on "completely unrealistic" renewable energy targets.
Wind was to blame for the blackout.
The Prime Minister wasn't suggesting it was the gale force winds that toppled power lines, but rather the state's investment in wind turbines that caused the lights to go out. Climate change wasn't the culprit, he implied. No, he said, it was the State Government's policies designed to reduce the effects of climate change that resulted in the catastrophic power failure of September 2016.
"At the end of the day, the economics will win out," says Richard Turner – founder of Zen Energy. "And thank God, renewable energy is just cheaper than fossil fuels."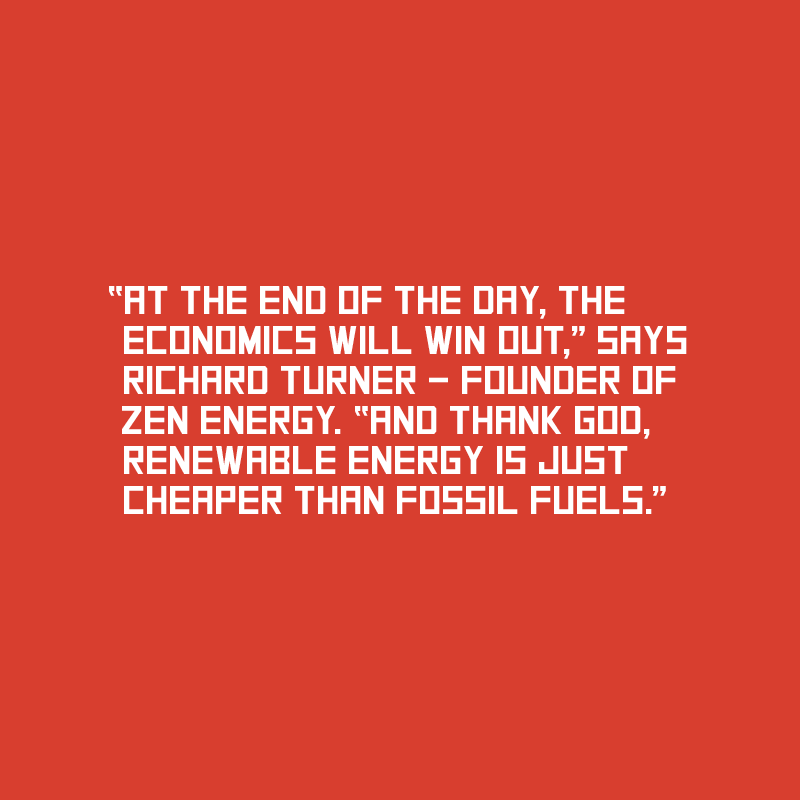 It's 2018 and renewable energy has turned the corner.
Established in 2004 in South Australia, ZEN Energy was created by Richard to get solar powered battery storage into Australian homes.
In 2010 ZEN was the state's fastest growing company. In 2012, BRW magazine wrote up ZEN as the fourth fastest growing company in the country.
This year, British billionaire industrialist Sanjeev Gupta bought 50.1 per cent of ZEN, creating the new entity SIMEC ZEN Energy as part of his plan to own the power supply to the Whyalla Steelworks – purchased in 2017.
Gupta's plan for ZEN is simple: power the steelworks and the associated businesses nationally with the cheapest electricity available. And in 2018 the cheapest electricity available is renewable.
But cheap doesn't come easy. ZEN Energy is only around for Sanjeev Gupta to invest in because a lot of hard work across many generations has come before it.
Richard is a fifth generation South Australian.
Richard's father Allan Turner was, himself, an incredibly successful businessman. Allan left Brompton High when he was 14 and took up work for a butcher. There, he learnt about the red meat business and trading cattle and sheep.
Richard's father sold the lamb portion of his first business to Metro Meats and renamed his beef trading business Holbrook Meats. Holbrook grew to be one of the largest domestic wholesale trading companies in the country and turned public in 1986 – renamed Holco Ltd.
Before turning it public, Richard's dad and a couple of his senior cattle buyers, Bob Rowe and Chris Thomas, created an export division of Holbrook's. They called the new company T&R Pastoral.
"When Bob Rowe passed away a few of years ago," Richard says, "the Thomas family bought out the Rowe family and it became Thomas Foods."
Thomas Foods is Australia's largest family-owned food processing company and one of the state's most successful businesses, with annual revenue of more than $1 billion.
It's hard to reconcile this narrative of hard work, collaboration and growth with the general reportage of our state. We've got an inferiority complex here, which all too often seems to manifest in the belief that South Australia needs 'saving'.
You read it in The Advertiser's headline: 'British Billionaire Sanjeev Gupta saves Whyalla Steelworks'.
Our damsel-in-distress status was again reinforced when billionaire tech entrepreneur Elon Musk tweeted at another tech-billionaire saying he could fix South Australia's power problems with a 100-megawatt battery in, "100 days from contract signature or it [would be] free".
"We had the blackout," says Richard. "Elon Musk did his tweet – Elon Musk was going to save the world."
Richard isn't mad the State Government awarded Tesla the contract for the Hornsdale battery; in many ways the Tesla brand cleared the political path for action. Richard is more frustrated by the language and mindset of the state that seems – at so many levels – to believe it's helpless.
Tech-billionaire batteries and steel factory saviours make good headlines – but ZEN Energy tells the far more credible story of this state's ongoing industry, creativity and resilience.
It just so happens that ZEN Energy's story starts in a cubby house in a suburban backyard.
Richard's children Laura and James wanted to put a little light and TV in the cubby house to make it feel more homely and play later into the evening, and so Richard scooped the kids up into the car and headed for the local hobby shop to see what they could buy. The family bought a little solar panel, a regulator, a converter and a battery. Richard recalls the guy at the shop pulling out a whiteboard marker and writing Ohm's Law on the shop's whiteboard.
Watts = Volts x Amps.
Rigging up the system and flicking the switch, a light went on in Richard's mind at the same time as he lit up his kid's cubby house. There was a business here.
By 2004 Richard had already founded, scaled and sold several successful businesses after he and his brothers helped their dad take Holbrook Meats public in 1986. If Richard had quit at any stage along this journey, if he'd spat the dummy after the meat packers threw him into the bone bin for the seventh or eighth time when he was a kid, if he hadn't learnt computer programming, or followed his natural instinct for innovation – there is no way Richard would have got on a plane with his young family and flown to Germany and China to source components for his new solar energy business.
"I found a company in China, called ET Solar who are now about the fourth largest solar panel manufacturer in the world," says Richard. "They're a credible company now, but they started the same year we did."
But, surely you can't just walk into a solar panel factory out the back of Beijing and sign a contract.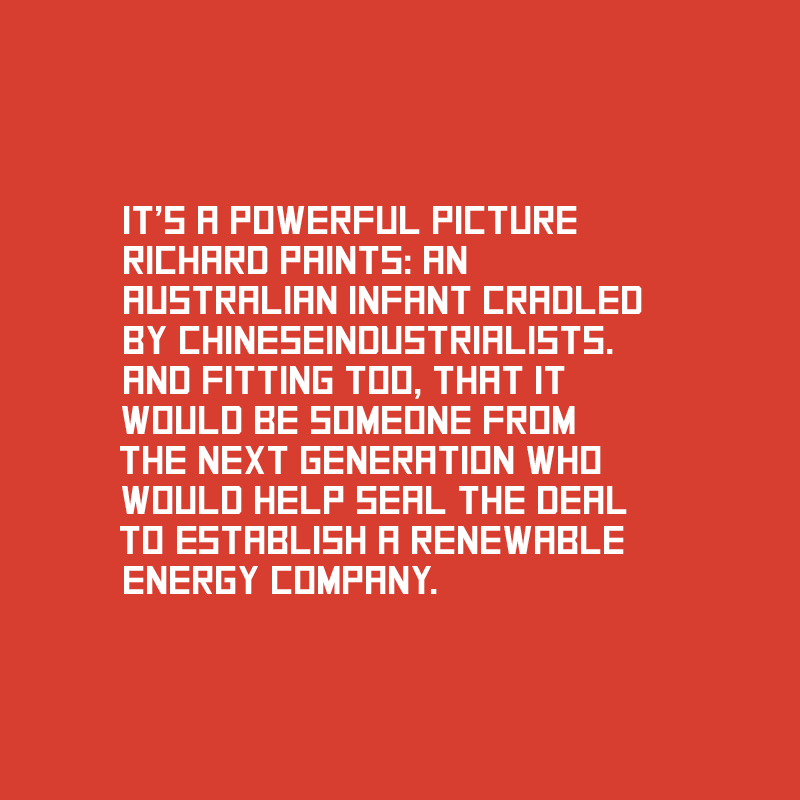 "The trick to getting a lot of doors to open in China is to go there with a young white baby," Richard laughs.
"We had our three-month-old daughter, India, travelling with us – my wife and I – and the Chinese just don't see white babies. All the people I wanted to talk to, they wanted to hold the baby. So, I said, 'let's sit down and do our business conversation and you can hold the baby.'"
It's a powerful picture Richard paints: an Australian infant cradled by Chinese industrialists. And fitting too, that it would be someone from the next generation who would help seal the deal to establish a renewable energy company.
Six years after launch, in 2010, Richard won Australian Entrepreneur of the Year with ZEN. Chairman of the judging panel – the South Australian-born Raymond Spencer – saw more than an award in ZEN, he saw an investment opportunity. And more than money, Raymond brought new technology to ZEN from a key company he was involved with in the US, Greensmith Energy Management Systems. Raymond's investment gave ZEN a huge technological advantage.
It was around this time (2008 -2009) that Professor Ross Garnaut set up the Clean Energy Finance Corporation and ARENA, the renewable energy agency together with the first carbon pricing mechanism.
Ross Garnaut is Professor of Economics at Melbourne University. Richard tells us that Ross has advised every Prime Minister since the Hawke era on all matters of the economy.
"Basically, [Ross Garnaut] realised he didn't want to just be the architect for change," says Richard, referring to the professor's work establishing ARENA and advising the Federal Government on clean energy. "He wanted to be part of the transition… he was looking for a company or an entity to be a part of and he found ZEN."
Ross, Raymond, and Richard – the three Rs – merged Ross' consulting business into ZEN, with Ross as Chairman and Raymond as deputy Chair.
"We were forming this great Board with some heavy hitters and we knew to introduce grid scale battery and renewable technology into the grid, we had to make changes to the way the energy markets work and the regulations and Ross was able to start influencing some of those changes and things progressed pretty rapidly from there," says Richard.
Through Ross' consulting business, ZEN developed an energy plan for the Arrium Steelworks in Whyalla prior to the company going into administration.
And while the headlines touted Sanjeev Gupta as saviour were published, ZEN Energy was in discussions with Sanjeev's company GFG Alliance about their plan to save Arrium from its exorbitant electricity bill.
GFG Alliance had form – the company had resurrected British steel and aluminium companies by implementing similar plans around owning low cost clean energy supply. The ZEN Energy plan that came with the purchase of Arrium led Sanjeev to then invest in ZEN and secure the electricity savings he needed in order to make the steelworks financially viable.
"South Australia could be the Middle East of the new world," says Richard.
The statement catches us off guard both in its simplicity and its severity.
"We've got the very best renewable energy generation resource in the world," says Richard.
"We've got the best sun here. We've got the best wind here. We've got these unique wind patterns that come across the roaring forties, across the Australian Bight that split up and down the Eyre Peninsula. We have nearly two gigawatts of wind power here, and there's bugger all in the rest of Australia."
But it's not the raw product Richard is referring to explicitly when he says South Australia could be the Saudi Arabia of renewable energy. Richard is talking about the whole value chain of the renewable economy epitomised by Sanjeev's GFG Alliance.
Liberty One Steel in Whyalla (as it has been renamed) and its associated heavy industry across the country will have massive demand for electricity. ZEN will be the clean, green and low-cost energy supply. Off the back of our natural and renewable resources, Richard forecasts radical change in the fortunes of this state.
"When we produce the very lowest cost of power you're going to have all this new industry evolve. All these traditional industries will revive and gravitate to the region and will employ five times as many people as you employed in a coal-fired power station," says Richard.
Whyalla – a town built for 100,000 people – has never had more than a quarter of that live there. "We can see, in five years, there'll be close to 100,000 in Whyalla," says Richard.
And with low-cost energy we can start to refine – not just mine.
Richard skips from the lithium to graphite reserves of Australia (graphite makes up lithium ion batteries 30 per cent by weight). He speaks with vigour about our clean hydrogen future – hydrogen being a huge and growing fuel source for the energy intensive economies of Korea and Japan who don't have the renewable energy resources of South Australia.
Sanjeev Gupta will build cars in Australia – electric vehicles – Richard confirms. They'll be built in either Victoria or South Australia. Regardless of where the cars are built, Richard says, "all the car metals and composite materials will come out of our own factories, powered by the natural energy of the sun".
Within three-to-five years, renewables will become the dominant energy source in Australia – with coal and gas very much playing a secondary role to fill gaps in energy supply until new hydro facilities come online. Vast arrays of batteries will support critical areas prone to power fluctuations and the national energy regulator AEMO has committed to running immediate pilot programs in the worst affected areas.
Grid scale batteries will reduce severe outages by kicking into action microseconds after a power fluctuation occurs, effectively stabilising the grid. The stability these batteries will create is already causing the industry to predict electricity prices to fall by up to 30 per cent next year.
From bottom of the ladder in the old fossil-fuel energy system, South Australia is set to jump to the top in the new, renewable energy economy. And while the headlines published in our daily paper may continue to put us down, the story of this next stage in our state's history is far more fantastic.
"South Australia is going to have the most abundant, stable electricity production centre in Australia and probably on earth," says Richard – a fifth generation South Australian. "In years to come you won't want to be protecting SA's power – you'll be exporting it both interstate and around the world."