The big effect of Adelaide's small bars
May 4, 2022
Licence to party
Plate and Cup
Words: Kurtis Eichler
—
Pictures: Josh Fanning, Brendan Homan, Josie Withers, Andre Castellucci, Andy Nowell
As Udaberri pops the cork on 10 years of tapas and tequila, we examine the small bar movement it triggered and how it has shaped the city's contemporary nightlife.
Small bars have never been so big.
In the nine years since the former Weatherill State Government created liquor licenses for small venues, more than 150 have opened their doors across the CBD.
They have breathed new life to the inner-city laneways, created thousands of hospitality industry jobs and given tourists an added reason to holiday in Adelaide.
And if you've ever popped into any of them to enjoy a stiff drink of your fancy, you probably owe the experience to Udaberri, the small pintxos bar in Leigh Street.
Udaberri opened 10 years ago in April, sparking the change in legislation. Owners Rob Dinnen and Rowan Edwards told the government about the onerous red tape they had to wade through to open, to which they listened. The new laws were introduced the following year, making it cheaper and easier to get a liquor license for a small venue.
On the occasion of the Basque-influenced bar's 10th anniversary, CityMag takes a look back at the small bar movement to find out what influence it's had on the city, and whether it has achieved its intended aims.
—
'Like A Revelation'
It was love at first sight for Rob Dinnen.
"One day I was walking back along Leigh Street from an appointment, and saw that the old Flight Centre was vacant and thought it was just a perfect tenancy," Rob, then working in commercial real estate, says.
"The opening of it is long and narrow and it's just like that Basque dining style. Whenever you're in there, you're shoulder-to-shoulder with everyone and it's really intimate and it's got a sense of atmosphere."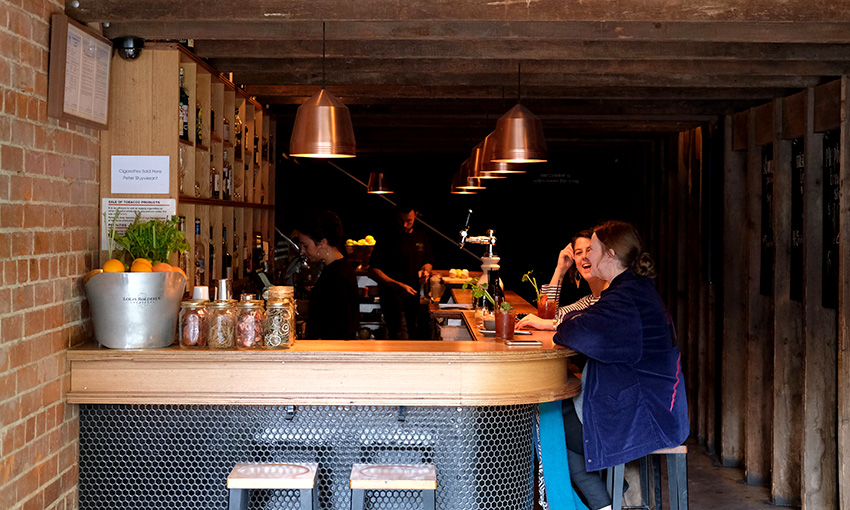 Rob, then 32, signed the lease and quit his job. The empty travel agent would become a San Sebastian-inspired bar with strong ties to the Basque Country he had spent time working in.
"It was like a revelation," he says.
"One of the things I noticed that was pretty typical of dining culture here is everyone sits and has a couple of drinks, the meals come out and nobody talks.
"Over there, food's coming out all the time and it's a real grazing-style quality of food that is just exceptional. I was working across hotels, bars and restaurants for a while and then came back and I just missed that dining culture and I always knew I knew I wanted to open my own place."
Liquor licensing laws loomed large over their plans. Archaic rules and red tape threatened to shut down Udaberri before they even opened their timber-panelled doors.
Under those licensing laws, big hoteliers could object to a venue opening on the grounds it would be direct competition. Venues also had to have full kitchens, adding thousands to fit-outs.
This left Udaberri in a bind. It wasn't a pub, so it couldn't get a hotel license. It applied for a special circumstances licence. Objections came thick and fast, tying the owners up in a $30,000 legal battle. Their application was rejected two weeks before they opened.
"That was terrifying," Dinnen says.
"We'd borrowed about $300,000, and the prospect of two weeks before we opened never ever being able to pour a beer was gut-wrenching.
"We worked with our liquor licensing lawyer and we found out that if we had DJs on the majority of the time, we could open up as an entertainment venue. That wasn't really what we wanted from the outset or the focus, we wanted to do a tapas bar."
Udaberri traded at capacity for the entire first week it opened in April 2012. Office workers flocked to the venue and Twitter was abuzz with people eager to try the "new generation" venue.
Diners salivated over the patatas bravas, dry-aged chorizo and Fleurieu grass-fed ribeye steaks, while also throwing down cocktails and craft beers, then just a newish fad.
"We were exhilarated and exhausted and it was better than we could have imagined," Rob says.
"We've had the closure of Leigh Street, the extension of the foot bridge and the whole West End precinct has really come alive."
Some weeks after the opening, then Attorney General John Rau walked into Udaberri. Rob said he chatted to Rau about the hassles they'd faced.
This spurred the former Labor MP to move on changes to the liquor licensing, even modelling the capacity limit on Udaberri's 120-seat format. Within no time at all, neighbouring bars such as Pink Moon Saloon, Clever Little Tailor and Alfred's began to pop up.
Rob says not only has the legislation succeeded in making it easier to open venues, it's also given young entrepreneurs something else: hope.
"If you want to do something, you can now."
—
'It's exceeded my expectations'
When John Rau was mapping out the framework for the small bar liquor licenses, he had Udaberri firmly in mind.
Sympathetic to their plight and understanding that the outdated laws could be a roadblock for other young people who were "prepared to work hard," he decided to go about making changes.
He thought small bars would give people living in the city something to do, make tourists stay longer and curb drunken violence coming from "24-hour venues".
"I did have a look in Melbourne, but they worked on a capacity of 50, but the foot traffic in Melbourne is different to the foot traffic in Adelaide," he says.
"I also made it that you had to close at midnight because I didn't want them being all-night, binge-drinking venues, and no extensions beyond 2am.
"But the thing about Udaberri that I liked is that the owner or the manager can see most of their patrons due to the size of the venue, so there's a personal relationship to the customer."
Rau says the Australia Hotel's Association were "horrified" at the plans. Then Opposition Leader Steven Marshall also ridiculed it as a "small bar-led recovery," Rau jokes.
The small bar legislation passed by just one vote in February 2013. Rau says more than nine years on, it had "exceeded my expectation".
"I think it's changed the feel of the city, and for the better."
—
Adelaide's first – official – small bar
Shane Ettridge remembers a time when Adelaide's nightlife was a little lacklustre.
Shane was working behind the bar at Hindley Street's Apothecary bar more than 10 years ago, and would occasionally get asked by punters what else there was to do in the city.
"In the early days of working in the industry, you would often have consumers come to you, or tourists come to you from other places and they'd ask for a list of where they should go," Shane says.
"That was quite difficult to write, outside of a couple of cocktail bars that existed and a couple of night clubs. It was difficult to send them on a journey.
"Now, there is this genuine reason to book a flight to Adelaide and outside of just travelling to wineries and going to restaurants, you can now put together an itinerary of places serving thoughtful beverages in nice establishments."
Shane opened Proof in August 2013 alongside business partner Joseph Wilkinson. The proper and unassuming laneway night spot was the city's first official small bar.
The idea for the bar was sparked two years earlier when Press Food and Wine opened around the corner. The owners thought the spot had tantalising potential, but the liquor licensing restrictions were too prohibitive.
"It was something Joe and I had always talked about when we were working together at the Royal Oak," he says.
"Then the small bar licence removed a lot of the red tape that previously would have caused us, and others like us who dreamt of doing something similar, a lot of grief prior."
In those days, Shane remembers, there was a real thirst for a different style of venue.
"We knew there was demand from the drinker looking for an alternative to just pubs and clubs," he says.
"The other was from the young person wanting to work within the industry who didn't want to work in pubs or clubs or restaurants.
"Many of these young people were leaving the state to work in bars of this style."
Proof has since become some a touchstone of the small bar movement. It's developed a cult-like following among locals and tourists alike, in and out of the hospitality industry.
Regulars come from then nearby offices, the outer suburbs and interstate. Some even decide to have their wedding receptions there.
"When you build a community, whether it's industry that come here to drink or work or if it's the locals in the area who see it as essentially their front bar, it becomes something special and we feel very proud of that."
—
'Everything got spread really thin'
It was the small bar that played host to some big cabaret acts.
The La Boheme bar on Grote Street hosted more than 800 performances across its 13 years, providing a spot for intimate cabaret and jazz performances.
But behind the red velvet curtains, there were issues. Former owner Paul Boylon (pictured) says the emergence of small bars gave drinkers more choice through the city, and less reason to come to his venue.
Paul initially backed the idea of the small bar legislation, despite being on an entertainment venue licence many years before the new laws were introduced.
He thought at the time "common sense would prevail" and the then State Government would cap the amount of licenses it dished out.
"If you look at the amount of small bar licenses that have been approved, it's huge," Paul, who has returned to his former career as a spray painter and panel beater, says.
"They were looking at ways to invigorate the scene with the city and I think it did that,
"But, everything got spread really thin, and what we found was the only thing that sustained us for 13 years was the cabaret and jazz and the stuff going through for the Fringe Festival.
"We were still turning over, but it just wasn't viable."
Many of the law's creators, including Rau, argue it's a case of "natural selection" and the businesses that thrive will ultimately survive.
But Paul has a more critical view. "It needed to be capped," he says.
"The flexibility of it is fine but they didn't think about the amount of people who come into town and the right proportions of venues per punters on any given night."
"We noticed an impact. If you're the only cocktail bar in town, people will come to you for a cocktail. Whereas, if there are a lot of newer places that are a new flavour, you go and try those."
La Boheme was treading water amid rising debt. Paul says the "writing was on the wall" and regular performers decided to try and fundraise enough to clear the debts.
Despite this, the bar closed its doors in 2018. Paul owed the landlords more than $50,000 and used what was fundraised to clear $30,000 of that.
"Nothing lasts forever, but what we wanted to do was give people an experience," he says.
"One of my favourite things was seeing someone walk through that door for the first time and just hear them go 'Wow' because a smile would just come over their face.
"We wanted to give people the opportunity to go to a better place, and that's it."
—
Taking small bars to the regions
Expanding the small bar legislation to regional areas such as Port Lincoln and Whyalla could give the centres an economic boost, according to a leading economist.
Michael O'Neil, an associate professor from the University of Adelaide's SA Centre of Economic Studies (SACES), believes the legislation could benefit the regions greatly.
"It could be expanded further to cities such as Murray Bridge, Port Lincoln, Whyalla, Mount Gambier and Port Augusta," Michael says.
"The average wages in Whyalla, for example, are very high, and they have big hospitals, big schools with a lot of well-educated people living there.
"There would be a lot of people who would frequent small bars if they opened in these towns."
Michael was behind a 2019 SACES report which looked at the impact of small bars on the Adelaide CBD, finding that easing licensing laws had "revitalised the city's nightlife".
"I thought this was a really good example of deregulation and getting rid of the red tape that protected big businesses and their own little monopolies," he tells CityMag.
"It was also a good example of removing outdated laws that protected existing businesses from competition."
Michael's report found more than 1250 jobs had been created by the sector, with more than half of those full-time positions.
"Three years after the introduction of the small venue licence, an Adelaide City Council study found that people felt safer in the new bars and restaurants," Michael says.
"Previously under-used laneways, such as Lindes Lane and Peel Street, are now busy hubs of nightlife, with more people choosing to meet and socialise in the city centre.
"The initiative has been a great success and has corrected a 'market failure' – an unmet demand from people who wanted to socialise in a non-gambling environment in more intimate places, and enjoy different eating and drinking experiences."
---
Udaberri is celebrating its 10th anniversary with a party on Saturday, 7 May, kicking off at 5pm. See you there.