September 10, 2019
Habits
Plate and Cup
Leigh Street Wine Room is something new for Adelaide
Adelaide's dining culture is changing, and Leigh Street Wine Room wants to lead it in a new direction.
On a Wednesday morning ahead of Leigh Street Wine Room's grand opening last week, co-owner Sali Sasi is coming down from the bar's friends and family soft launch the night before.
"I did my first shift last night. I'm exhausted!" she laughs.
"I loved it. I was like, 'Why have I not been in hospo?'"
The plan was to stagger sittings throughout the soft launch to ease into full trade, but this would not be the case.
"We did it so we'd only ever be half full at any given time – nobody left 'til the end," she says.
"The feedback everyone kept saying was two things: 'I walked in and for a moment I forgot I was in Adelaide.' They felt like they were in a different part of the world. And the other thing was, 'I feel like I've been here 10 times before,' because it felt so familiar, which is what we wanted to create."
Leigh Street Wine Room, through studio-gram's design, is a world away from its previous life as a fluorescent, white-tiled dry cleaner (though the sign hanging from the shop's eaves will be staying).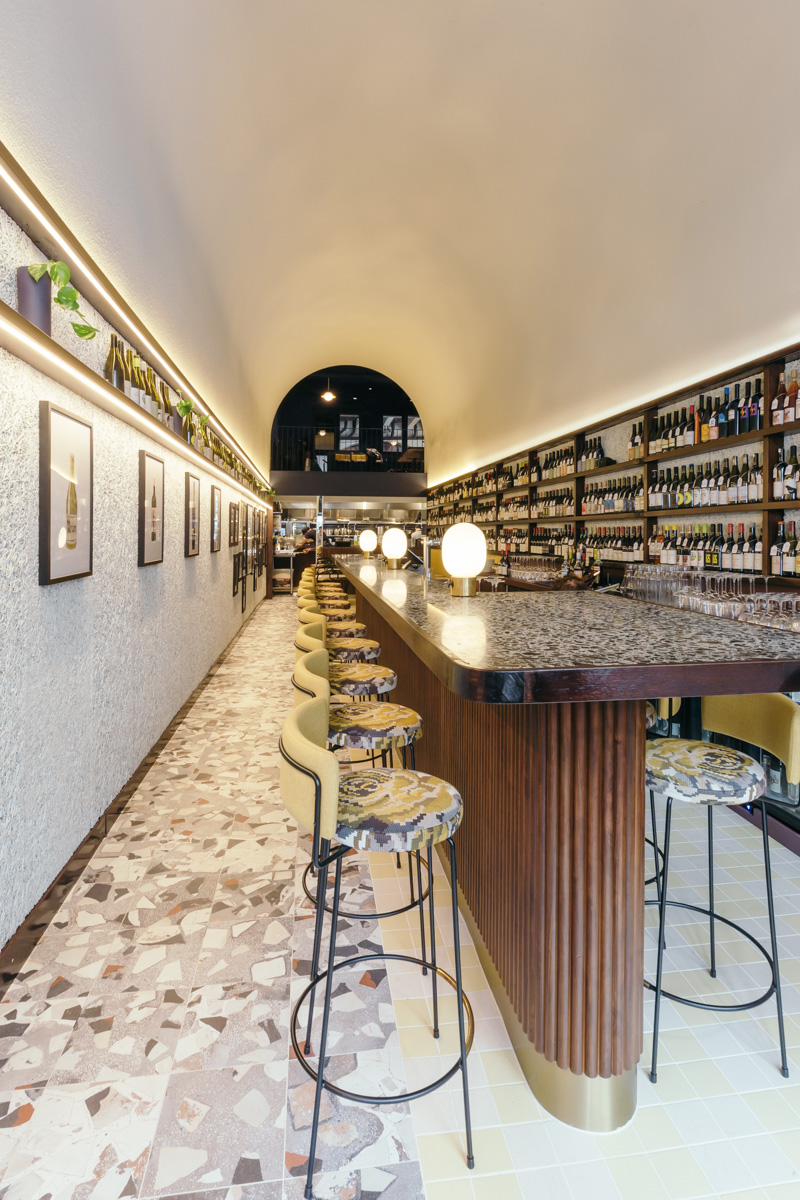 Immediately behind the bar's glass shopfront there is booth seating, above which the 430-bottle strong wine shelves begin, stretching right back to the kitchen. The shelves are designed for perusing, with each bottle sporting a handwritten price tag.
The bar runs through the middle of the space, with stools along its front and skirting both ends. Beyond the bar is another seating area with more dinner-friendly tables.
The stairs at the right of the kitchen lead to the mezzanine, which is a larger format dining space with an overview of the incredible feat of design.
"It's an interesting departure for Adelaide," studio-gram's Graham Charbonneau says.
"I think the concept from the food and wine standpoint is a lot different to what Adelaide's got. And I think spatially it's quite different, too."
Nathan has created a highly considered food menu – hyper seasonal (he's plotting a menu change even before the bar officially opens) and not locked into any particular cuisine – which is made to match the true focus of the venue, the all-natural wine list.
The task for studio-gram was to design a range of spaces to accommodate the myriad ways people might approach Leigh Street Wine Room.
"One of the important parts for the brief… was that it's not a restaurant and it's not a bar, and that was pretty key from the start," Graham says.
"It's this kind of place where you can come and have a really great meal, and if you want to stay, you're not necessarily limited to sitting at that dining table and drinking, you can move around and then go to the bar, go to the front section. You can continue your night in the same space and have a different experience."
Much of Adelaide's late-night eating scene either pitches at formal diners or a looser clientele looking for dinner followed by drinks and more drinks. Leigh Street Wine Room hopes to fit snugly between these two dining modes.
"There's a certain maturity to the space," Graham says.
"I still think it's playful in a lot of ways, but I think it'll attract a different crowd to a lot of other places.
"People that want to come to a place where they can eat and then stay on and have some drinks and not feel like they're drinking in a restaurant, but also not feel that they have to leave to go have a drink somewhere else."
As we speak, a woman walking by stops to open the door and ask if she can take a photo of the space – such is the effect of the transformation to those who knew it as a dry cleaner.
Much of the attention goes to the arched ceiling, but there is little Graham can elaborate in its backstory. "It's probably simpler than people think," he says.
Less appreciated are the space's textured walls – actually a high-performing acoustic material usually used as a sound barrier on highways. In Leigh Street Wine Room, they counter the narrow space's potential for ricocheting sound, creating a more intimate ambience.
The aforementioned renaissance in Adelaide food and beverage has come predominantly from local players – entrepreneurial upstarts taking advantage of changes in South Australian legislation.
While Leigh Street Wine Room draws heavily on Adelaide and South Australia – in their choice of designers, the kitchen's produce, winemakers, and staff – there is also an element of outsiders' perspective, and a confidence to break away from what already exists throughout the city.
Nathan's food menu – with dishes that mostly range between $10-$20 – gambles on Adelaide being ready to embrace a dining culture where eating out is the norm, and a venue can win back clientele multiple times a week.
It was only a generation ago, CityMag was told recently, that restaurants in Adelaide were forced to compete for special occasions in order to garner regular trade. Anyone who walks through the city at 8pm on a Tuesday night can vouch for the stillness that comes after the nightly mass retreat to the suburbs, so there is still a way to go.
With a week of trade now under its belt, the proof of Adelaide's readiness for the concept will be in their regular eating. But Sali is grateful for the homecoming response she and Nathan have received getting to this point.
"I keep saying it time and time again, the community in Adelaide is second to none," Sali says.
"Dom [Lentz] from La Buvette messaged us saying, 'I can't wait to come in and see you guys.' Reggie (Mark Reginato) from Hellbound: 'If you guys need a hand, I'll be your somm, I'll come polish your glasses.'
"Aaron [Fenwick] from Summertown, same thing: 'You guys need anything, let me know. I'll come in and help out.' Gondola Gondola's chef came over and said, 'If you're short of staff, let me know… [and] if you need veggies, my parents own a veggie farm in Virginia, I'll get them to load up the truck and bring you whatever you need.' Who the hell does that?!
"It's hard enough opening a business with all the other pressures that you have – builds, trades, money, all of that sort of stuff – but then to have the support of everyone, cheering you on and letting you know that if you do need them, they're there, it just makes the whole journey to opening ten times easier."