Chef vs Public BBQ: Tim Salmon
Plate and Cup
Words: Johnny von Einem
Pictures: Andre Castellucci
At a public barbecue in Tulya Wardli Bonython Park, CityMag speaks with founder of vegan bakery Cherry Darlings Bakehouse Tim Salmon and his daughter Justice about the lifelong benefits of learning to cook.
Growing up at the school camp his parents ran, Tim Salmon was always around cooking equipment – the high-volume setup you need when feeding 30 kids breakfast before they head out on a hike.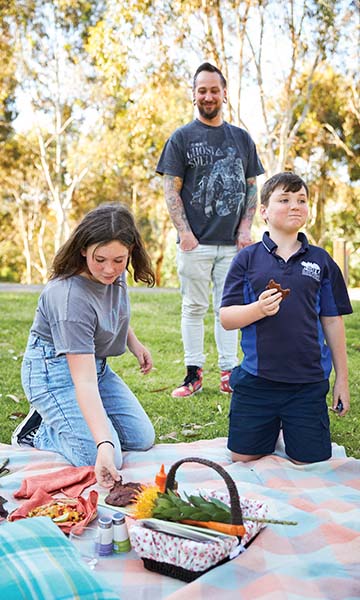 It wasn't until the Cherry Darlings Bakehouse founder became vegan, in the early '00s, that a passion for food started to develop – partly by necessity.
"How I started cooking was just wanting things that my mum had made, and I was like, 'Well, how am I going to make this vegan?'" Tim says.
Now a father of two, Tim has kept his kids, Justice and Ridley, close in the kitchen.
"It's such a basic life skill that's lost now," he says. "So many people don't know how to cook at all because their parents are like, 'No, get out of the kitchen, you're a pain in the butt'.
"It's really sad, because it just builds their confidence and not being able to cook just cuts them off so much in their future."
Justice, the eldest, has been making meals for the family for the last couple of years, and cooks every Wednesday night, if her high school workload allows.
"It just makes me feel like I've helped out," Justice says. "My parents help me a lot, and being able to cook them a home-made meal, I just feel very helpful, and independent as well."
Seeing his daughter execute pasta, ramen and crumbed tofu gives Tim confidence in her as she continues to gain independence outside of home.
Every Thursday at 3pm we send out an email with the latest food, drink and city happenings. Subscribe for free here.
"I see her more as a grown up," Tim says. "If she says, 'I want to go do this thing,' well, I know that I can trust you. If you can't work a microwave, how can I trust you to catch the right bus somewhere?
"She can follow the steps in life a bit more and plan out how she's going to be, so it makes me relax a bit more."
1
2
3
1.

Barbecue mats are useful if you're squeamish about the prior use of meat on your hotplate

2.

Sriracha mayo is vegan-friendly and delicious

3.

A hot, tasty mess
In Tulya Wardli Bonython Park, overlooking Karrawirra Parri River Torrens, the duo are hosting a father-daughter collab lunch for CityMag, where they've prepared lemon-zested tofu tacos, mango salsa and Mexican pikelets.
"I made sure that everything I got was just from Coles," Tim says. "There's nothing that isn't attainable.
"I think people get overwhelmed by cooking just by being overwhelmed by these massive recipes. This took me maybe half an hour to put together [and] write the recipe out."
Not everything went entirely to plan. Packing a smaller spatula to flip the pikelets would have helped. But learning to deal with life's stresses is just another gift bestowed by a life spent beside a hotplate.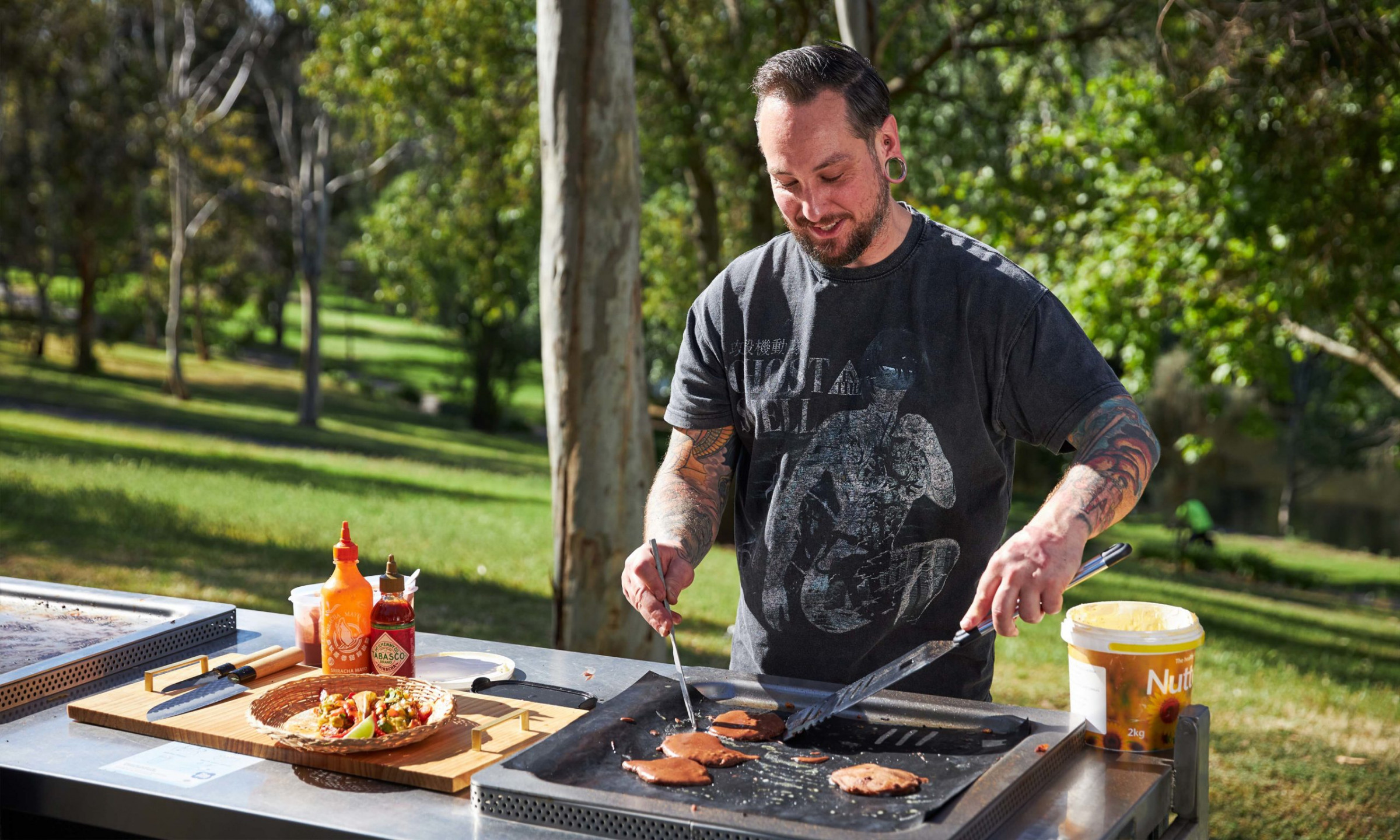 Recipe
Herb crusted tofu soft tacos with mango salsa
Tofu prep
—600g firm tofu
— Taco seasoning
Method
1. Slice tofu into long thirds and dust with taco seasoning.
2. Bake until crispy on the outside.
3. Cut into strips.
4. Add strips to the marinade.
Marinade
— ½ onion, diced
— 3 cloves of garlic, crushed
— 1 tin of tomato
— 1 each medium yellow, green and red capsicum
— 2 tsp of Mexican seasoning of choice
— 90ml lemon juice
— 90ml lime juice
— ½ tsp paprika
— ½ tsp cumin
— 1 tsp garlic paste
— 1 tsp Sriracha
— 1 tsp veg stock
— 1 tsp brown sugar
— Salt and pepper
Method
1. Cook onion and garlic until onion is softened.
2. Add tomato and Mexican seasoning.
3. Simmer for a few minutes.
4. Add lemon juice, lime juice, paprika, cumin, garlic paste, Sriracha, stock, brown sugar, salt and pepper to taste, stir to combine.
5. Remove from heat and transfer marinade to a bowl.
6. Thinly slice capsicum.
7. Add tofu and capsicum to the marinade, stirring to cover.
8. Let tofu and capsicum marinate in the fridge for a few hours (or overnight, if you have time).
9. At the BBQ, add oil to the hotplate and cook tofu and capsicum until veg is just soft but still has texture.
Salsa
— 2 avocados, diced
— 1 small can of corn
— 1 mango, diced
— 3 or 4 tomatoes, diced
— 1 bunch of coriander, roughly chopped
— 1 teaspoon of crushed garlic
— Salt and pepper
Method
1. Combine avocado, corn, mango, tomato, coriander and garlic in a bowl.
2. Season to taste.
Chilli choc pikelets
—1⅓ cup soy milk (plus 1 to 2 tbs for consistency)
— 2 tsp of vinegar added to the milk and left for a few mins
— 2 cups of flour
— ⅔ cups sugar
— ½ tsp bicarb
— 3 tbs cocoa
— ½ tsp cinnamon
— ½ tsp cayenne pepper powder
Method
1. In a bowl, add soy milk and vinegar and leave for a few minutes.
2. Add flour, sugar, bicarb, cocoa, cinnamon, cayenne pepper powder (use less if you're heat sensitive), and stir to combine. Add more soy milk if needed.
3. Melt a dollop of margarine on the hotplate, over low heat (wait for BBQ to turn off and cool slightly, then turn it back on).
4. Pour ¼ cup of pikelet mixture onto margarine.
5. When bubbles appear in pikelet mixture and the holes remain open, flip the pikelet.
6. Once cooked through, remove from the hotplate and spread margarine on top.