Plate and Cup
Adelaide's best dumplings
There is no such thing as a bad dumpling.
The perfect way to end any great night out is with a generously stacked plate of dumplings. Any kind will do. For this reason, the dumpling is the ultimate festival food.
In Adelaide, dumplings are an easy to come by foodstuff at almost any hour – just head to Gouger. Every Adelaidean who's ever knocked off a shift sometime after 10pm will have a favourite post-work pick-me-up dumpling spot.
And yes, those hard-won dumplings were delicious – great, even. As we said above, there are no bad dumplings.
We had even loftier ideals in mind, though, when we embarked on our dedicated sojourn across the CBD, looking for some of Adelaide's best.
In our travels, we've noticed Adelaide's chefs, too, love a dumpling, and they can do some pretty great and unexpected things with the form.
If, after you've gorged appropriately at your regular dumpling house, you can find room for one serve more, you won't regret making your way to one of the following eight establishments.
---
Dumpling City
Shop 1, 22-30 Field Street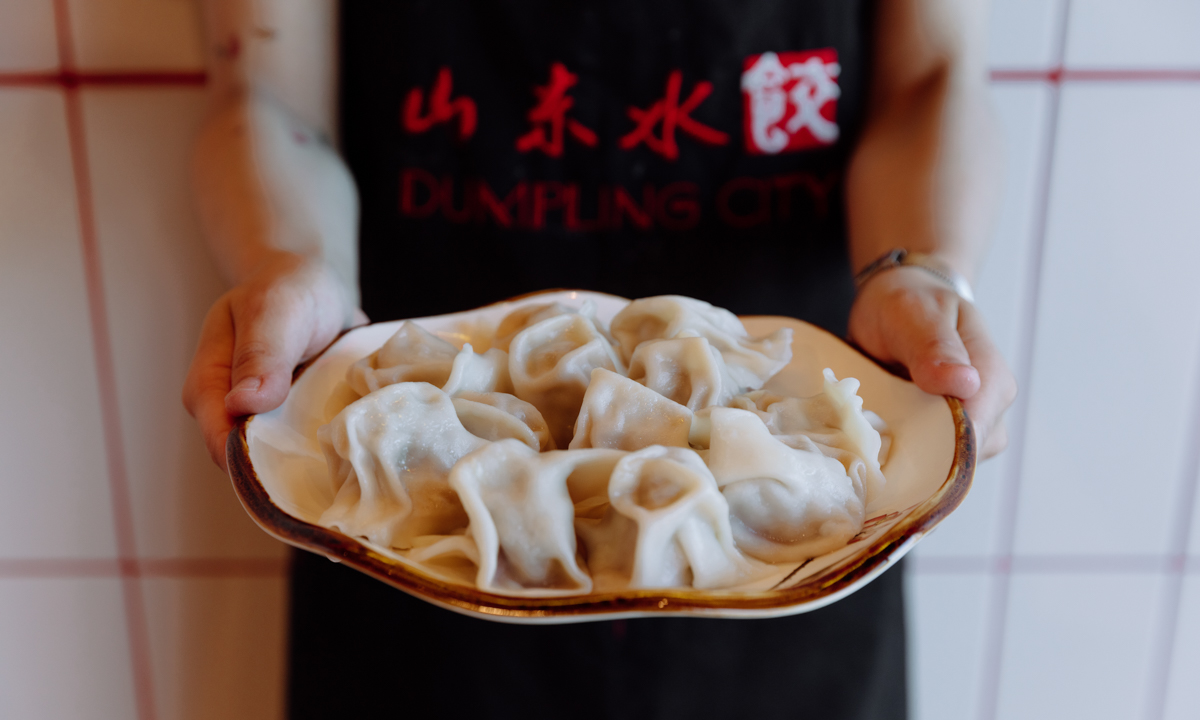 Lili Sun and Yong Gao set up Dumpling City on Field Street last September, but they've been in the dumpling game for eight years already, previously operating Dumpling Box in Southern Cross Arcade. Perfecting dumpling making has been a pursuit of Yong's since coming to Adelaide in 2009, and it took some time to get it right. The secret, Lili says, is in the thickness of the dumpling skin – the thinner the better. A thick dumpling skin usually means it's been made to be frozen. Every dumpling crafted at Dumpling City is made fresh on site, and you can see the magic happen by taking a peek behind the counter. On the day CityMag visits, Lili introduces us to two undeniable dumpling-making professionals: "They're mums," Lily jokes. Lily's favourite dumpling is the pork, prawn and chive – the quintessential dumpling – and Yong's is the seafood dumpling – a tribute to the couple's seaside upbringing. Both were equally delicious.
---
Gondola Gondola
1 Peel Street
The chicken and corn dumplings at Gondola Gondola are all about that sweet vinegar sauce. It's bright, with a little bit of richness and honey sitting long on the palate. This is not to say the dumplings themselves aren't delicious – they are, slightly peppery and, as with Leisurely's version, the occasional burst of corn kernel is appreciated. But damn. That sauce.
---
Leisurely Coffee
219 Gilbert Street
Potstickers are the form at Leisurely Coffee, but the thought behind these dumplings – and behind the entire establishment – is to provide an entirely halal experience for the café hoppers amongst Adelaide's Muslim community. Owner Ibrahim Yu's faith served as inspiration for this decision, and it has resulted in two dumpling iterations with not a skerrick of pork broth in sight: chicken and chives or mushroom. The dumplings arrive at the table with a home-made air about them; each dumpling is surrounded by a skirt of dumpling crackling (again, not pork kind). The mushroom dumplings offer up a surprise corn kernel every so often, and the chicken and chives version brings about chicken soup-level inner comfort.
---
Mandoo
3/26 Bank Street
The majesty of mandu-making is on full view at Mandoo, where you will find founder Kidong Ra behind the counter, stretching dough and wrapping up the day's dumpling orders. Nothing beats fresh. Kidong was trained to make dumplings in Seoul by a famous chef who made him promise never to open a store in Korea. This deal has been most consequential for dumpling fans of the West End. The CityMag go-to is the kimchi dumpling (which also contains pork, and so is not vegan- or vego-friendly), but you really can't go wrong here. Enjoy the house-made sides. The mashed potato is a nice touch.
---
Mum Cha
279 Rundle Street
Truly nothing can beat a soup dumpling. Xiaolongbao gets its name from the method of preparation – it means 'little basket bun' – and fans of these tiny packages know to approach a plate of XLB with caution. The contents within are hot and unforgiving. My first interaction with a soup dumpling was embarrassingly late in life, just five years ago, at a restaurant a few blocks away from 30 Rockefeller Plaza that had a glowing New York magazine review printed onto an A-frame and positioned proudly out front. Inside, the paper packaging of the chopsticks offered an illustrated guide to approaching xiaolongbao: first dip your dumpling into vinegar, place the dumpling onto your soup spoon, nibble a hole into the top of your dumpling and sip the soup, drizzle over some additional vinegar, add a ginger slice or two, and finish it off. If you know a better way, email me. Mum Cha, on Rundle Street, offers an array of dumplings, but it is best known in my heart for its XLB.
---
Ong Vietnamese Kitchen
 287 Rundle Street
Chef Quang Nguyen regularly reaches into his imagination to improve a dish – whether that's fish-sauce flavoured ice cream or these tasty pho dumplings. Pho is, of course, everyone's favourite Vietnamese soup, but Quang and his wife Thy (who run Ong alongside basically every member of Thy's family) wanted to create a version of the dish that was more suited to Ong's small-plates, bar-snacks vibe. All of the flavours you expect from a big bowl of pho are present – even some zesty brightness – without any of the risk of some noodles falling back into your bowl and splashing soup onto your white shirt.
---
Shōbōsho
17 Leigh Street
Shōbōsho is known for its penchant for things cooked over open flames, but the restaurant's dumpling offering is also a sharp arrow in its culinary quiver. The five-spice duck dumpling tastes as delicious as any five-spiced dish normally does, but the sauce is where the magic is. The dumpling won't naturally take on a lot of the sauce, but be sure to find a way to bring the two elements together. The pork potsticker offers more fulsome flavour, beautiful and rich, with a nice and subtle kick of chilli. Given these dishes are both potstickers, you get the added bonus of a nice crunchy base to the dumpling.
---
Soi 38
54 Pulteney Street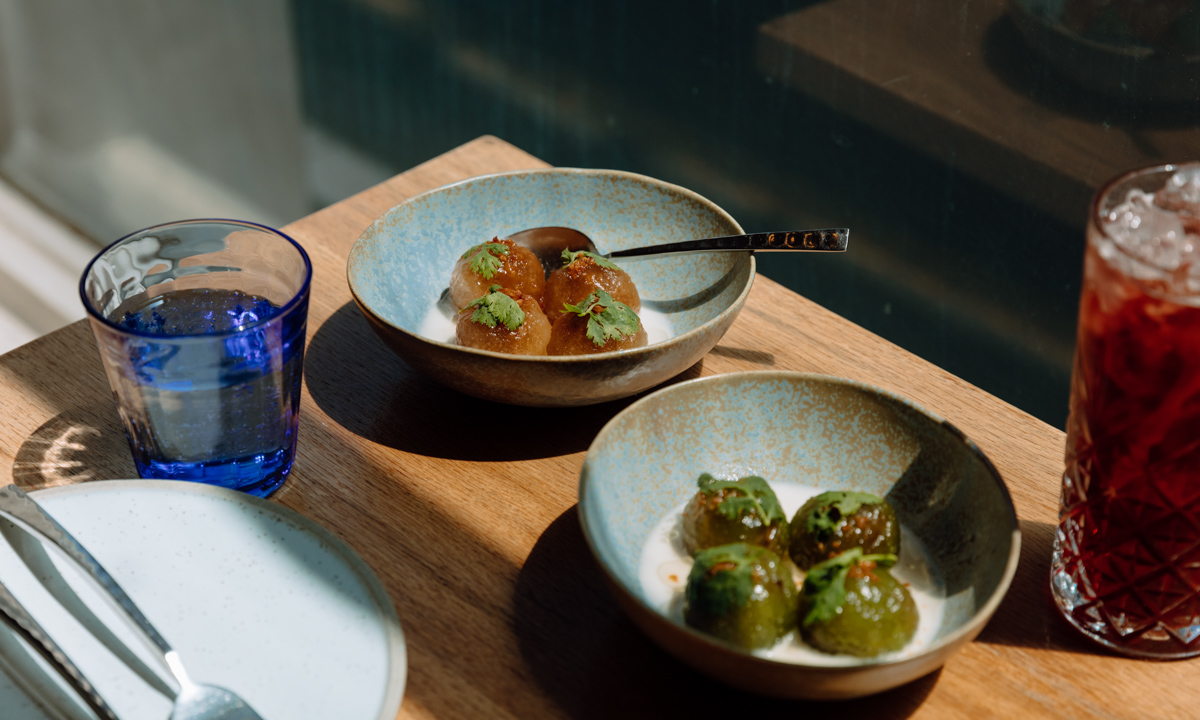 The first question this dumpling – a sago, peanut and coconut cream combination – raises, is whether this is a savoury or sweet dish.
The mushroom option will be delivered to you  in bright green splendour – coloured by pandan – and you will say to yourself, 'Sure, mushroom could somehow be a dessert food.'
You will investigate further, drawing a small amount of coconut cream onto your spoon, sipping, and then led further into your sweet-toothed suspicions. The cream is sweet and warm – perhaps a Thai version of gulab jamun.
Next, you'll examine the dumpling itself. You press the edge of your spoon into it – it's thick and spongy. Again, it must be sweet. As you tear through the sago wrapper (dessert, surely), steam is released from the finely chopped mushroom. It certainly looks savoury, but with such an overwhelming amount of evidence to the contrary, you dismiss this as an illusion.
You raise a piece of the dumpling to your lips, with a small amount of coconut cream ladled onto the spoon as well, and your world descends into chaos: it is undeniably savoury, but with such a beautiful balance of sweetness – warmth balanced against lightness.
It is savoury and sweet at the same time, and somehow both separately all at once.
If you order the chicken, the answer is immediately apparent and you feel a little silly for ever wondering in the first place. It still tastes great though.
---