Partnership
Taste the best of South Australia in the heart of the city
Cellar Door Fest returns next month, providing the perfect opportunity to eat, drink and buy local.
For anyone who loves a drink, a bite and a natter, Cellar Door Fest is one of the most anticipated events on the social calendar.
In good news for festival-goers, the annual festival celebrating SA's vibrant food and drink scene is returning from 5-7 February, bringing three days of gourmet fun to the Adelaide Convention Centre.
Cellar Door Fest
5—7 February
Adelaide Convention Centre
Tickets and more info
This article was produced in collaboration with Cellar Door Fest.
And while organisers stress the event may look a little different this year with COVID-safe measures and limited capacity, it will still offer everything visitors have come to love, including the opportunity to meet, taste and discover more than 100 of the state's best wineries, distilleries and food producers.
"We're so thrilled to be able to bring Cellar Door Fest back this year. We've had a great response from exhibitors, and early ticket sales indicate there's a strong appetite for these type of events," festival director Alex Bradford says.
"Extensive pre-planning has gone into designing a COVID -safe festival that offers a fun experience while adhering to current guidelines.
"We've limited capacity and expanded our aisles to provide more space for visitors, and split our Saturday session — which is traditionally our busiest day — in two to help manage attendance and physical distancing requirements."
In addition to the traditional Friday night session (held from 5pm 'til 9pm), this year's Cellar Door Fest program will include a daytime Saturday session (11am 'til 4pm), along with an evening session (5pm 'til 9pm).  On the Sunday, doors will be open from 11am 'til 4pm.
A deep clean of the festival space will be conducted at the conclusion of each session.
Those who've attended in the past will know Cellar Door Fest is about celebrating the best of SA and operates on the premise of bringing the regions to the heart of Adelaide.
"Cellar Door Fest has always been about celebrating the best of South Australia's food and drink scene, and encouraging visitors to eat, drink and buy local," Alex says.
"That message is arguably more important now than ever. Figures show that 90% of attendees bought from an exhibitor last year, and we're hopeful that trend continues."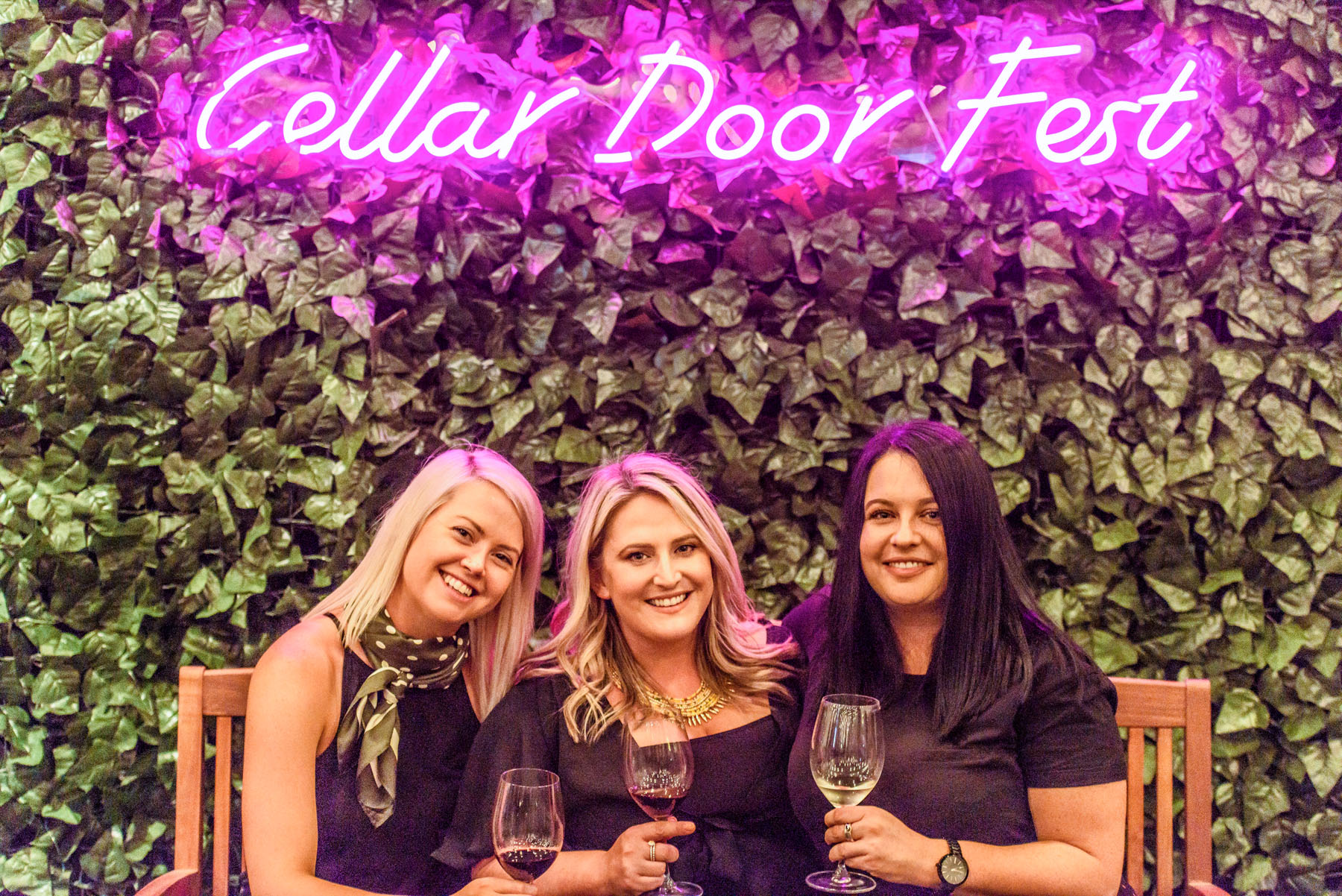 For those new to Cellar Door Fest, the event sees producers grouped in their respective regions, of which there are 13 represented at this year's festival.
There are separate, dedicated zones showcasing our state's buzzing craft distillery scene and artisan food producers.
Wine enthusiasts are encouraged to stop by the Great Wine Capitals Discovery Space, showcasing iconic brands including Hentley Farm, Kalleske, Penfolds and Yalumba, among others.
The 'Distillery' – another festival favourite – is home to 13 different local brands, including Applewood, Kangaroo Island Spirits and 5Nines Distilling.
There will also be food stalls from The Smelly Cheese Shop, Barossa Valley Chocolate Company, Spice Girlz Gourmet and Uz Gözleme among others.
And if you're looking to discover SA's latest talent, look no further than the Emerging Producers Zone, which shines a spotlight on producers who have been in the industry for three years or less.
Among newcomers are boutique distilleries, Ginny Pig Distillery and Storytellers Distillery, both of which launched in 2020; Frooty Tootie, which specialises in dehydrated fruit (a tried and true gin garnish); and small-batch winemakers from McLaren Vale, Aphelion Wine Co.
"We offer the ability for people to come to the city, meet the makers, discover great local SA brands and get a taste of what the regions have to offer, from which they can go on to plan their regional visits," Alex says.
Cellar Door Fest is, as always dedicated to helping South Australians support local.
This year's festival will again play host to a dedicated Bushfire Relief Market, providing a platform for Adelaide Hills and Kangaroo Island producers impacted by last summer's devastating bushfires to promote and sell their wares.
The topic of bushfire recovery will be further explored in an exclusive masterclass hosted by Adelaide wine journalist Tony Love during the Saturday daytime session.
The masterclass, titled The Road to Recovery: SA Bushfire Relief, will see representatives from Howard Vineyard in the Adelaide Hills and The Islander Estate Vineyards on Kangaroo Island speak about how the bushfires impacted their businesses.
They will discuss how resilience, creative thinking, and an unwavering connection to their special patch of earth has been key to their survival.
Each guest attending the masterclass will take home a bottle of Adelaide Hills Wine Fire Appeal 2019 Syrah Meunier, courtesy of the Adelaide Hills Wine Region.
"There's a lot of inspiring stories about resilience and the recovery effort – the Bushfire Relief Market and The Road to Recovery masterclass are all about ensuring impacted producers remain at the forefront of consumer minds," Alex says.
Tickets are available from the Cellar Door Fest website. Prices start from $31.