Partnership
Introducing Rosemont Hall: The home of fine Asian dining in Prospect
Just outside the city centre, this local gem is lighting up Prospect Road.
When Aaron Ratanatray acquired Rosemont Hall in 2016, he wasn't sure what he wanted to do with the property, but he knew Prospect needed a vibrant hub for the locals to enjoy.
Rosemont Hall
106 Prospect Road, Prospect 5082
Mon—Thu: 11:30am 'til 3pm; 5pm 'til 9pm
Friday: 11:30am 'til 4pm; 5pm 'til 9:30pm
Saturday: 12pm 'til 4pm; 5pm 'til 9:30pm
Sunday: 12pm 'til 2:30pm; 5pm 'til 9pm
This article was produced in collaboration with Rosemont Hall.
"We wanted to create something special for Prospect to be proud of and call their own," Aaron says.
To bring Rosemont Hall to life, Aaron travelled to Thailand and Hong Kong to find inspiration.
"I remember on one trip I went to Hong Kong and I was talking to the owner of this particular place and I said, 'Where did you get all this stuff?' It just looked so intriguing and so cool with all the timber and bric-a-brac, and he told me he had brought it all back on a ship from Australia," Aaron tells CityMag.
"I thought, 'You're kidding me. If they can bring all that stuff over to Hong Kong, why can't I create something like that in Adelaide?
"We have never hired a designer or an architect or anything like that. It's been a real labour of love; we are just really passionate about it and obviously, the travel opened up our eyes to what was possible."
Rosemont Hall boasts an infusion of two eateries working side by side to create a unique dining experience in the burgeoning Prospect area.
Mr Chan is a Cantonese restaurant, combining the best of Hong Kong with hints of nostalgia.
A moody and intimate dining spot, Mr Chan is inspired by 1920s colonial Shanghai, with beautiful bluestone and exposed beams.
The menu features an abundance of options harking back to Aaron's childhood and drawing on his Cantonese roots.
"Mr Chan is based on suburban Chinese and those things that we grew up eating when we were little, like honey chicken and fried ice cream," he says.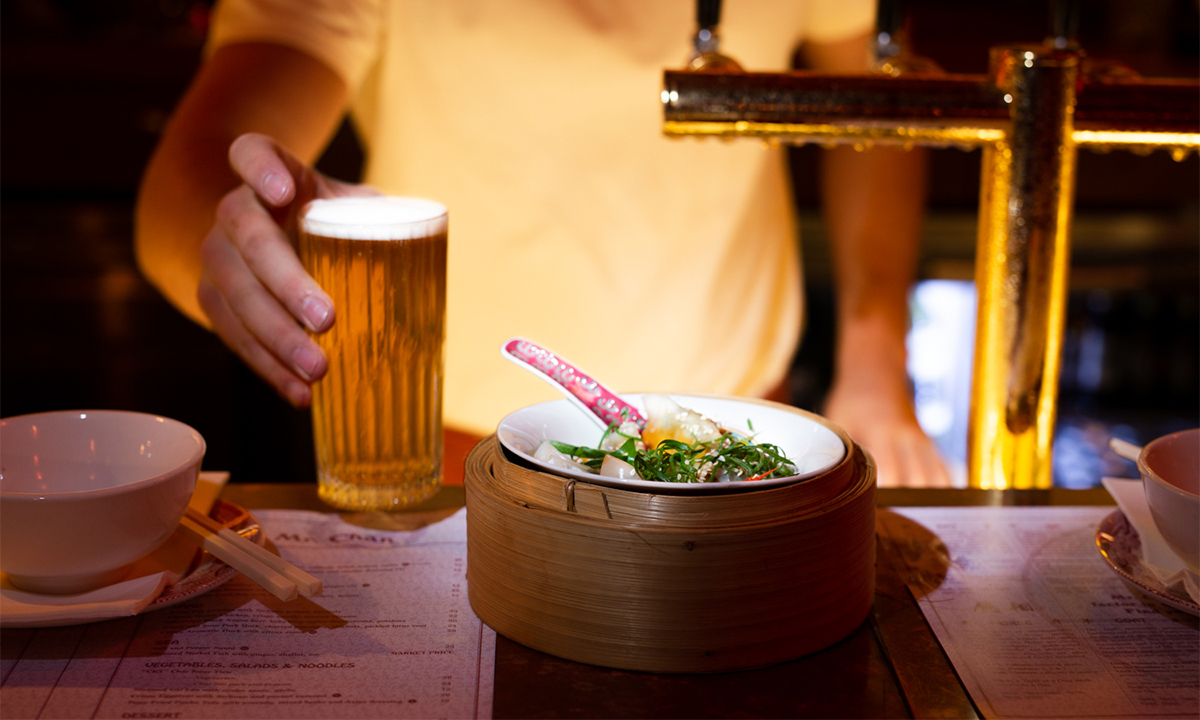 Sitting alongside Mr Chan, Sunny's Shop brings the beaches of Phuket to Prospect through its décor and no-fuss approach to dining that's huge on fresh flavours.
Sunny's Shop delivers a casual dining space where families can bring their dogs and enjoy Thai street food in a lush laneway.
"Sunny's Shop has some great salads and curries and things like that," Aaron says.
Diners inside Rosemont Hall can order from both restaurants, providing access to a wide variety of dishes, including crispy eggplant, honey chicken, Peking duck pancakes, cheeseburger spring rolls and BBQ pork buns.
Mouth-watering desserts grace the menu, with fried ice cream in butterscotch sauce, roti apple pie with chai ice cream and sorbet with mango granita and popping pearls.
The restaurant has an extensive wine and cocktail list and has one of the most well-thought-out drinks menus in metropolitan Adelaide.
"We have recruited top-notch bartenders that revamped the cocktail list," Aaron says.
"We do twists on the classics.
"At the moment we are doing a whisky sour for winter, and it has an Asian twist to it with some five-spice syrup."
The wine list has a range of beautiful South Australian wines, in addition to some of Victoria's best selections and French bubbles.
"Our wine list is really diverse, just like our clientele," Aaron says.
"We have all walks of life coming here, from young people all the way up to people in their eighties, so we try and accommodate all of those people.
"We aren't niched in the sense where we are focusing on a very small part of the population, we really want to be as inclusive as possible and have something for everyone."
For Prospect locals (meaning those living in suburbs 5081, 5082 and 5038), Rosemont Hall will shout 20 per cent off your bill every Tuesday night.
"Our locals have always been great," says Aaron.
"Because everybody has been so supportive of us since day dot, we created the locals' night as our little way of saying thanks.
"There is nothing like when the restaurant is jam-packed and you just have a moment where you step outside and look back in and see a full restaurant of happy customers, laughing and enjoying themselves with their families.
"That's the ultimate feeling. That's what it's all about and that's why we do it."
Rosemont Hall is located at 106 Prospect Road, Prospect, and opens seven days.