Habits
Cooking with Haigh's: We did it
If we can do it (without eating the chocolate first), you probably can too.
It's finally the festive season, and at CityMag we believe that there's an unnatural skew towards the importance of Christmas dinner. For a time of celebration, it's difficult to see how a hock of ham wrapped in a vinegar cloth properly suits the occasion.
For more recipes, all within the skill level of a magazine writer (and therefore literally anyone else), check out the Haigh's website.
In our humble view, the most festive course is not breakfast, lunch or dinner; it is, inarguably, dessert.
High levels of chocolate, sugar, butter and guilt are all long-standing Christmas traditions, and to make sure that when the time comes in just over a week we are fully prepared, we got together with some Haigh's products for a practice run.
With the aid of the recipe section of the Haigh's website, we pulled out the classic chocolate mousse (with a honeycomb twist), and the more adventurous salted caramel and macadamia tart.
What we learned about the process is that just about anything can be a vessel for mousse – wine glasses included – and that one need not let caramel set before it is delicious.
What we learned about ourselves is that there can never be enough sweets.
Ever.
Happy Holidays!
Dark Chocolate Honeycomb Mousse
Serves 6 / 20 mins prep / 2 hours chilling cooking
4 extra large eggs (at room temperature), separated
¼ cup (55g) golden caster sugar
400ml thickened cream
Pour boiling water into a large saucepan about a quarter full and sit a large bowl on top, making sure the bottom does not touch the water. Add 180g chocolate, stirring occasionally until chocolate melts. Remove bowl from heat and allow to cool slightly. Place the remaining chocolate in a small bowl and reserve for serving.
Place egg yolks and 2 tablespoons sugar together in a large mixing bowl and using an electric mixer beat until thick and mousse like. Add egg mixture to the cooled melted chocolate, folding gently to combine.
In a large clean mixing bowl, whisk egg whites to soft peaks and add remaining sugar, beating until thick and glossy. Add beaten egg whites to chocolate mixture, folding gently to combine.
Using the same mixing bowl, add cream and beat using an electric mixer until soft peaks form. It is important not to overbeat the cream. Add ¾ of the whipped cream to the chocolate mixture, folding gently to combine. Place the remaining cream in a small bowl covered in plastic wrap and reserve for serving.
Evenly divide chocolate mixture between six glass tumblers, ramekins or small bowls (or wine glasses 😉 ). Place on a tray in the refrigerator for at least 2 hours to set.
To serve, place a teaspoon of whipped cream on top of each mousse and sprinkle over a little of the reserved chopped chocolate. 
Haigh's Salted Caramel and Macadamia Tart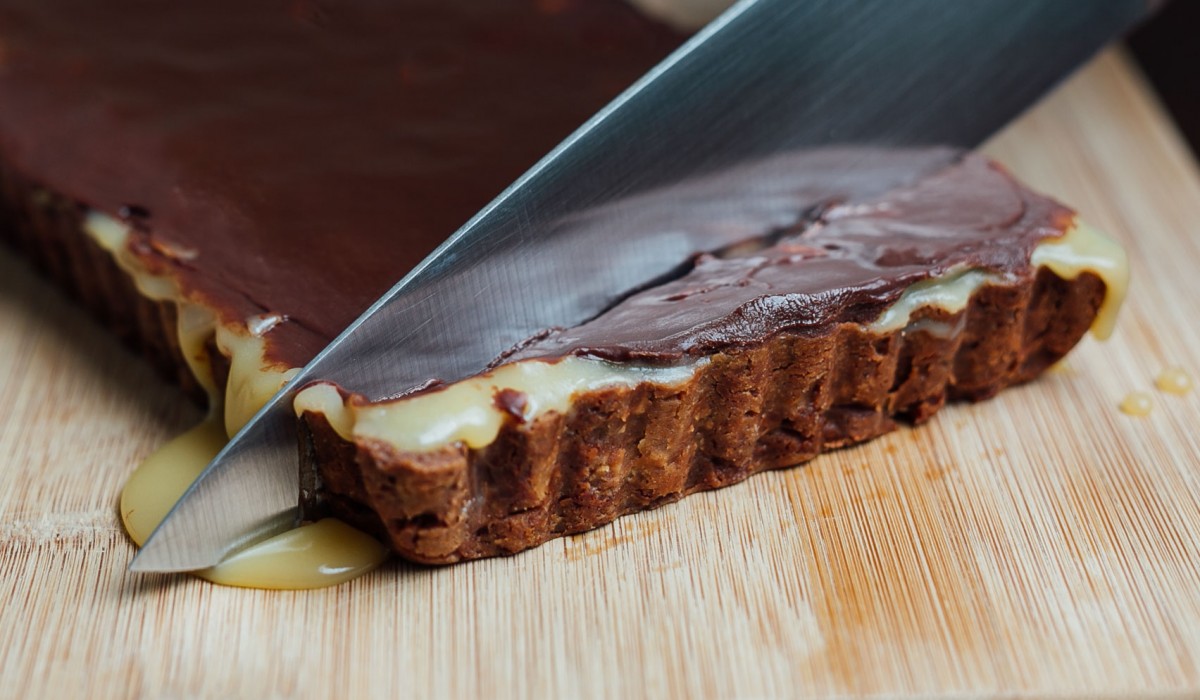 Serves 10-12 / 2 hours 20 mins prep / 45 mins cooking
Chocolate pastry
1 tablespoon cocoa
2 cups (300g) plain flour
⅓ cup (75g) caster sugar
130g chilled unsalted butter, diced
1 large egg yolk
2 teaspoons milk
1 teaspoon vanilla essence
Caramel filling
¾ cup (165g) caster sugar
125g unsalted butter, cubed
125ml thickened cream
1 teaspoon salt flakes
1 teaspoon vanilla essence
200g salted roasted macadamia nuts
Haigh's chocolate ganache
For the pastry, pour boiling water into a small saucepan to a third full and sit small bowl on top. Add chocolate and allow to stand, until chocolate melts, stirring occasionally.
Meanwhile, place the cocoa, flour, sugar and butter together in a food processor and pulse until mixture resembles fine breadcrumbs.
In a small bowl combine egg yolk, milk and vanilla, whisking until combined. Using a spatula, add to flour mix and pulse until combined. While the food processor is running, slowly add the melted chocolate until the mixture starts coming together as a ball. Remove dough onto a lightly floured surface and bring together as a smooth ball. Flatten into a disc, cover with plastic wrap and refrigerate for 2 hours.
Preheat oven to 180°C (160°C fan-forced), lightly grease a 12cm x 36cm rectangular tart tin with removable base and place on a baking tray lined with baking paper.
Place pastry on a lightly floured kitchen work surface; roll pastry to a thickness of approximately 3mm. To check if the pastry is the correct size for the tart tin, place the tart tin over the pastry; there should be at least a 5cm border the whole way around.
Carefully line the tart tin with pastry, prick the base all over with a fork, cover and chill in the refrigerator for 30 minutes.
To blind bake the tart shell, line the pastry case with baking paper or foil. Cover paper with baking beans or a dried pulse to help support the sides and weigh the base down during cooking.
Place tart tin on a baking tray in preheated oven and cook for 15 minutes. Remove from oven, check pastry edges are supporting themselves before removing beans and baking paper. Return tart tin to oven and cook for a further 15 minutes then allow to cool completely.
To make the salted caramel, place sugar and ⅓ cup water in a medium saucepan over a low heat, stirring until sugar dissolves. Increase the heat to medium-high, bring to the boil and cook sugar syrup for 10 minutes or until mixture turns a light golden colour. Remove from heat, add cream, stirring until well combined (be careful as it may spatter). Add butter a cube at a time, stirring until melted and combined. Add the salt flakes, vanilla and macadamia nuts stirring until combined. Pour salted caramel into the cooked tart shell and smooth. Refrigerate for 2 hours or until set.
To make the ganache, place prepared chocolate in a medium mixing bowl.

Place cream in a small saucepan over a medium heat, bring to just below boiling point. Pour over chocolate and gently stir to combine. Leave to stand for several minutes before stirring again. Repeat process until chocolate has melted, making sure mixture is not stirred too much

, then allow to cool for 15 minutes.
Carefully spread the ganache over the top and leave for 2 hours or until set.
🙂