Habits
Introducing Adelaide Craft Cocktails
Adelaide's only online bartender.
"Of course going out, having fun, you end up bonding over certain things – I think bourbon was the thing for us," Lachlan Gunner says.
Lachlan and his business partner, Miro Van Rensburg, met tending bar at The Lion Hotel. It was there that the idea for Adelaide Craft Cocktails was formed.
"When [Miro's] birthday rolled around last year I made him an Old Fashioned that I'd barrel- aged… and then bottled up a 700ml bottle."
From there the two devised a plan – to provide professionally concocted cocktails featuring only Australian-made booze to the people in wax-sealed vials, via convenient online ordering.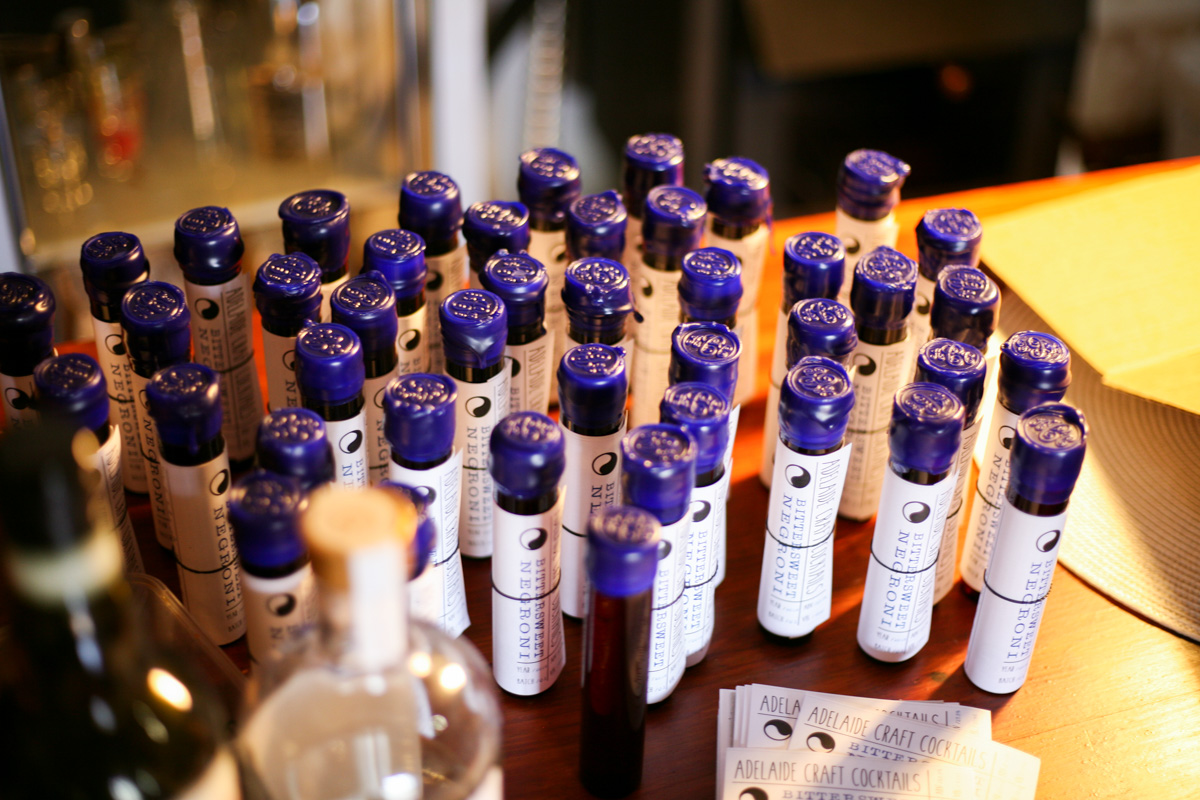 "The main selling point, we think, is being able to drink it anywhere, and that's the point – you can take it to parties, you can take it to picnics, you can drink it at home if you'd like," Lachlan says.
"[And] a lot of existing services can enhance their experience with cocktails. So I think places like aeroplanes or hotels, they already offer a certain service, they can enhance that and provide something maybe their competitors can't."
Each vial contains 60ml of cocktail, and for their first commercial batch the pair have settled on the classic Negroni.
"We call it the Bittersweet Negroni, it's a combination of a bitter aperitif, gin, and a vermouth," Lachlan says.
"So the Gin's from Adelaide Hills Distillery, the bitter aperitif is from Applewood, and the Vermouth is from Maidenii."
"We're getting as local as possible ingredients and trying to collaborate with different distilleries, and we sort of mix and match with different recipes until we find the right one before we bottle them," Miro says.
The labelled wrapped around each bottle details the spirits involved, explaining what each choice brings to the blend, as well as a serving suggestion, ensuring the aesthetic of the cocktail isn't lost in transit.
While their release is still a week away, the boys aren't counting their chickens just yet, but if they are as well received as they hope, Lachlan and Miro plan to start expanding the Adelaide Craft Cocktails range.
"The opportunities are endless, really. You can have as many cocktails as you want," Lachlan says.
"Depending on… what sort of spirits different distilleries offer locally. If there's a nice whisky that comes out, maybe in the Adelaide Hills or somewhere in Victoria, it might be a good way to do another Old Fashioned or something like that."
For now though, the focus is to get their business launched and their Negroni into people's glasses.
The launch event, hosted by The Lion Hotel, is happening Tuesday, 13 December, with a free taster bottle supplied to all who attend, and the website will be ready to take orders that same day.
Keep an eye on the Adelaide Craft Cocktails website and Facebook page for further details.