A view of North America with musician Tom West
October 4, 2019
On the road
Culture
Words and pictures: Tom West
In 2018, through a combination of dumb luck, perseverance and help, I fell backwards into the opportunity to try my luck as a touring singer, guitar player and writer in the USA.
I took a Canonet 28 I'd newly purchased for $70 on Gumtree along for the ride, barely knowing how to load the film let alone how to use it properly.
What followed was an incredible year of performing, meeting many people and at least a little bit of self-discovery.
These are some perspectives collected from the places I visited and performed in, a view through the lens of a travelling musician and extremely amateur photographer.
The Stars and Stripes is the ubiquitous symbol of the United States.
Many of the people I met felt the flag had ceased to represent the promise and opportunity offered in times gone by (or never did) and rather reflected a divided nation, not dissimilar to the way I, and many of my friends and colleagues, would view Australia.
I was a little surprised to be welcomed very warmly, all over the country, by so many people, and I was struck by the strong sense of community that seemed to prevail despite (at least within the circles I floated) things seeming less than optimistic in an environmental, social and political sense.
–
New York
I landed in New York City and wound up staying in a tiny red-painted room in a live-in loft between Bushwick and Williamsburg in the North Brooklyn Industrial Zone that belonged to a guy named Oscar. This would become my de-facto home base for most of the next year.
During the week the factory below the loft would noisily grind to life (spray painting cars, I figured), and epic raves late into the night were common.
North Brooklyn is big and ramshackle and full of tiny spaces that people live in. It was interesting for me, arriving from leafy suburban Adelaide, where the lines between living, working and industry are so clearly drawn, to photograph the proximity of the place.
It was overwhelming to find myself in the thick of such an artistic and multicultural hub.
On nearby Knickerbocker Avenue, the Latino and Asian influences were very obvious in an area that felt like it was, and had been for some time, holding out against the city's much talked about, ever-creeping gentrification.
I would later learn more about some local residents' struggle against developers and the growing support for new socialist political leaders, which I found to be very inspiring and much more impactful than the mainstream left of Australian politics.
From the roof of the building I stayed in, Manhattan's skyline was visible in the distance.
I had plenty of time to walk around the city, particularly parts of North Brooklyn toward the edge of Queens and across Bushwick.
It is interesting to observe how the unseen subway lines shape the topography of the city above it: the oft-shut-down-due-to-tunnel-works L shuffling commuters between Manhattan, gentrified Williamsburg and gritty but trendy Bushwick versus the meandering G that trundles below housing estates, Hasidic neighbourhoods, and between reflective Green Point and the distant park-dotted neighbourhoods in south Brooklyn.
Among those neighbourhoods I was fortunate to team up with some new friends to work on some music.
–
Philly, Jersey, upstate to Montreal
A ferry ride Across the cold, choppy water of the Hudson River, I was to play some gigs in New Jersey, Pennsylvania, and DC.
Busses & trains were a constant feature. Visits to DC and Philadelphia for performing led me repeatedly through the grand halls of Union Station, DC or 30th Street Station, Philadelphia and others. If I was too skint to pay for a train ticket the (much less impressive) Greyhound station was usually tacked on the side.
Many of the big train stations are dramatic, architectural expressions of what now, in the age of omnipresent plastic, Uber and $100 airfares to Cancun, feels like a bygone era. Almost, but not quite yet, mausoleums.
Trains took me north through New York State to salt mining Syracuse and eventually to icy Montreal, which seemed to me to be frozen solid and somehow serene despite that city's hedonistic reputation.
–
Chicago & Milwaukee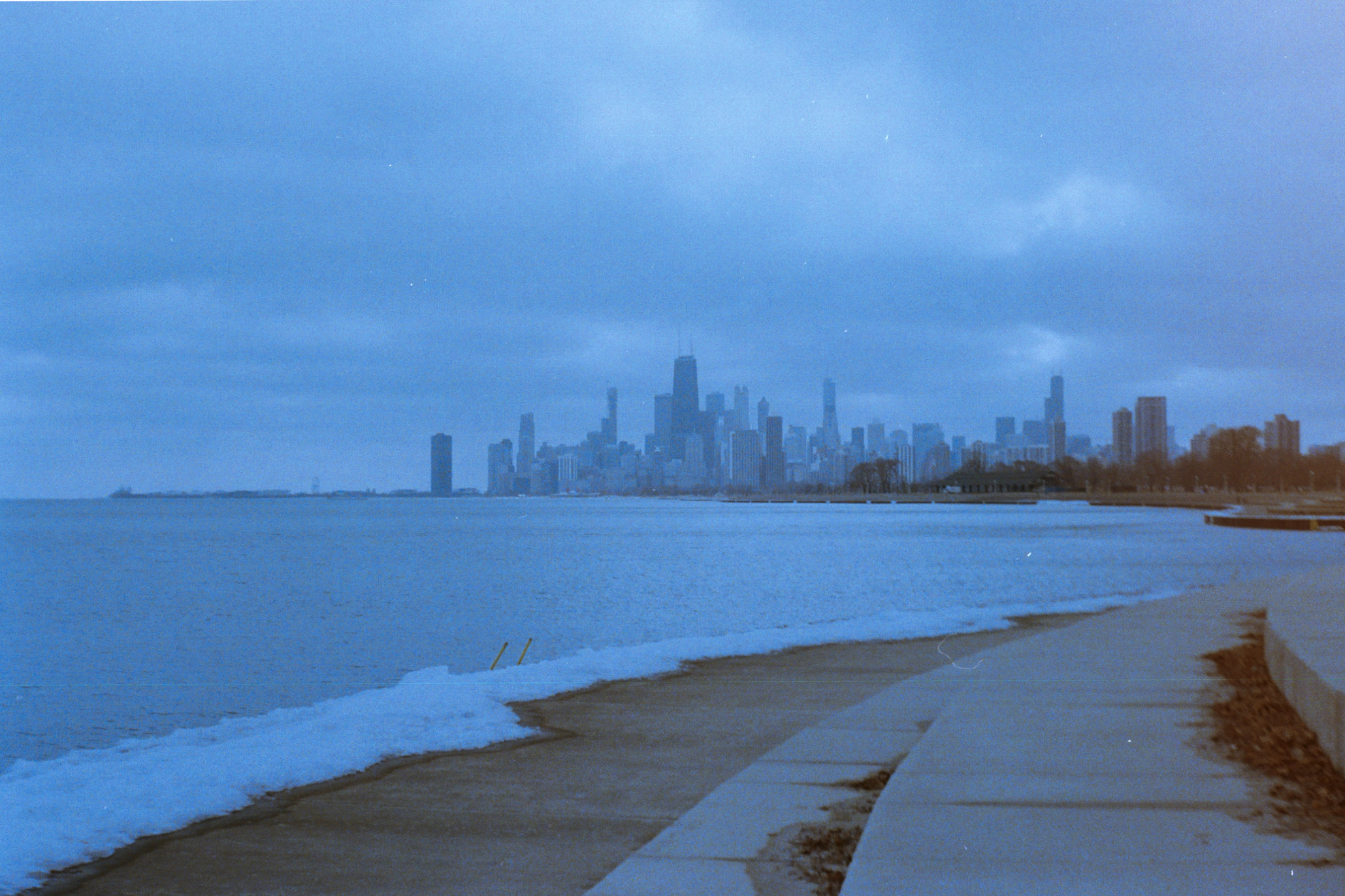 I think I like to photograph edges or boundaries, places or things merging – a horizon, a contrast of colours or texture or shape.
Whenever a city has a waterfront I can't help but stroll up and down the esplanade, malecón, boardwalk or beach.
Chicago's Lincoln Park showed a city perched on the slowly thawing banks of Lake Michigan in late winter.
To me, Milwaukee seemed a city in transition. The rust belt stereotype had me believing that the American Midwest was perhaps not so cool.
I guess there are places that fit that mould, but here I stumbled into a scene of young, inspired, talented artists and musicians who were thriving in a city that seemed to be re-growing itself between (and within) the ruins and redbrick of the industrial era: galleries, brew pubs, neat coffee shops and cheap bars.
I like to think that the Milwaukee snowman (below) is representative of the nice surprises I kept finding in the Midwest. However, a local told me they liked the image for portraying the raw and merry bleakness of the Wisconsin winter.
–
Denver & Boulder
I loved the sight of the Rockies and Flatirons looming above Denver and Boulder from the streets and paths below.
I've always found looking at such scenes stimulating, both visually and in a broader creative sense, so taking a few walks up the side of the hills was a priority.
It was difficult to capture the overwhelming feeling of gravity that came from being in and a part of the scenery with my vintage point-and-shoot camera.
Every time I passed though Colorado it was refreshing; surrounded by the Great Plains to the east and Mountains to the west it feels like a world of its own.
–
Seattle
The opportunity to crash (on a few occasions) on the couch of a new friend in Seattle meant I lingered a little longer in that city. I mostly wandered in the wealthy, scenic suburbs of Queen Anne, Fremont and Ballard to the north of downtown. The city is green and damp and hilly.
Home to mega corporations like Amazon and Starbucks, as well as a rapidly growing homeless community, the city starkly embodies the growing wealth divide that is apparent in the USA, and here in Australia for that matter.
Seated at the bars in fisherman-themed pubs, there are locals down on their luck whose skyrocketing rents are squeezing them out or onto welfare, while workers in tech or science quietly chatter at tables.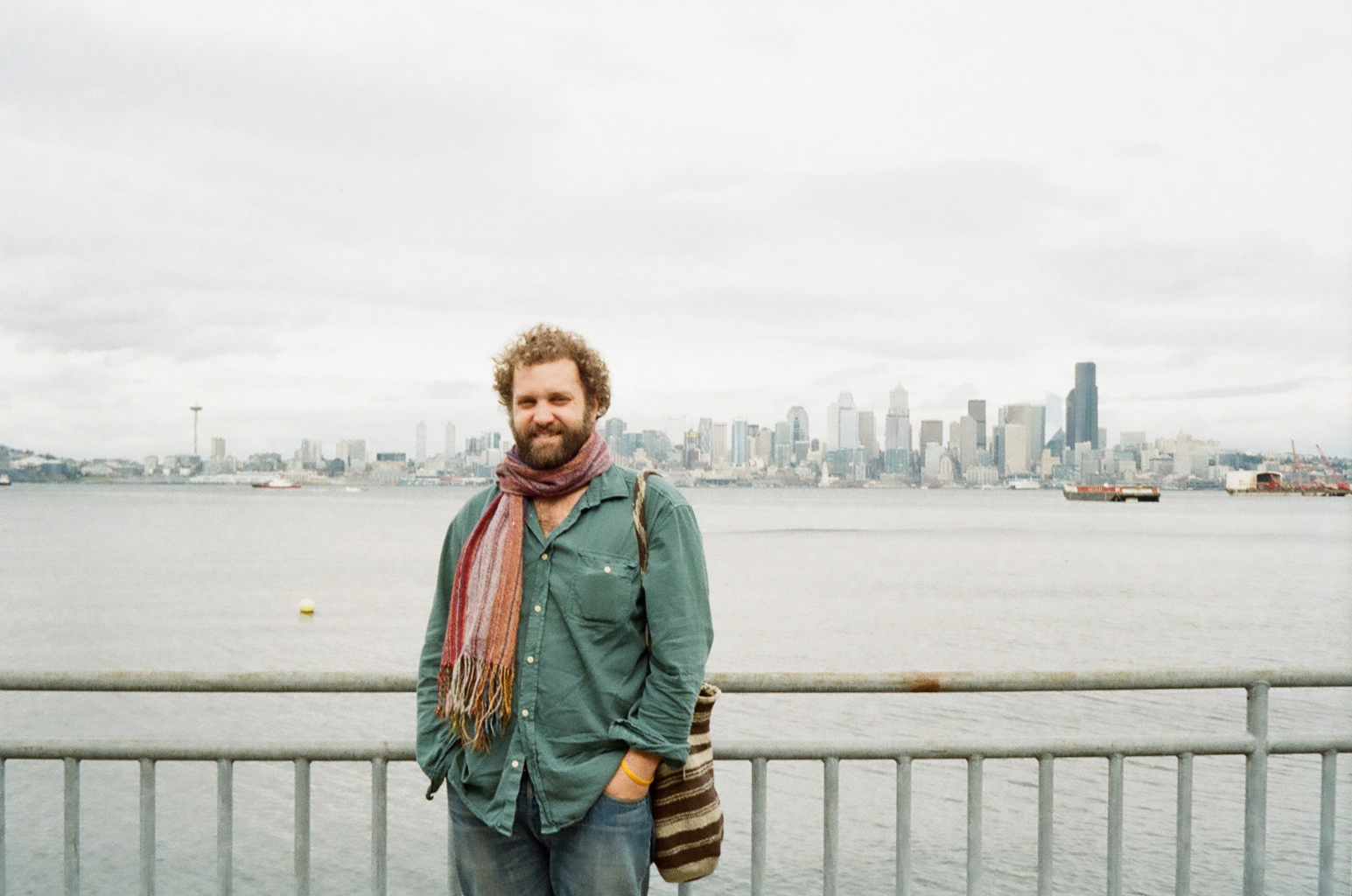 In one of the more embarrassing moments of my travels, I broke the toilet in the house where I was staying as guest.
It was left outside by the landlord with the rubble of recent construction for some time, evidently. The rubbish was hidden neatly around the back of the house.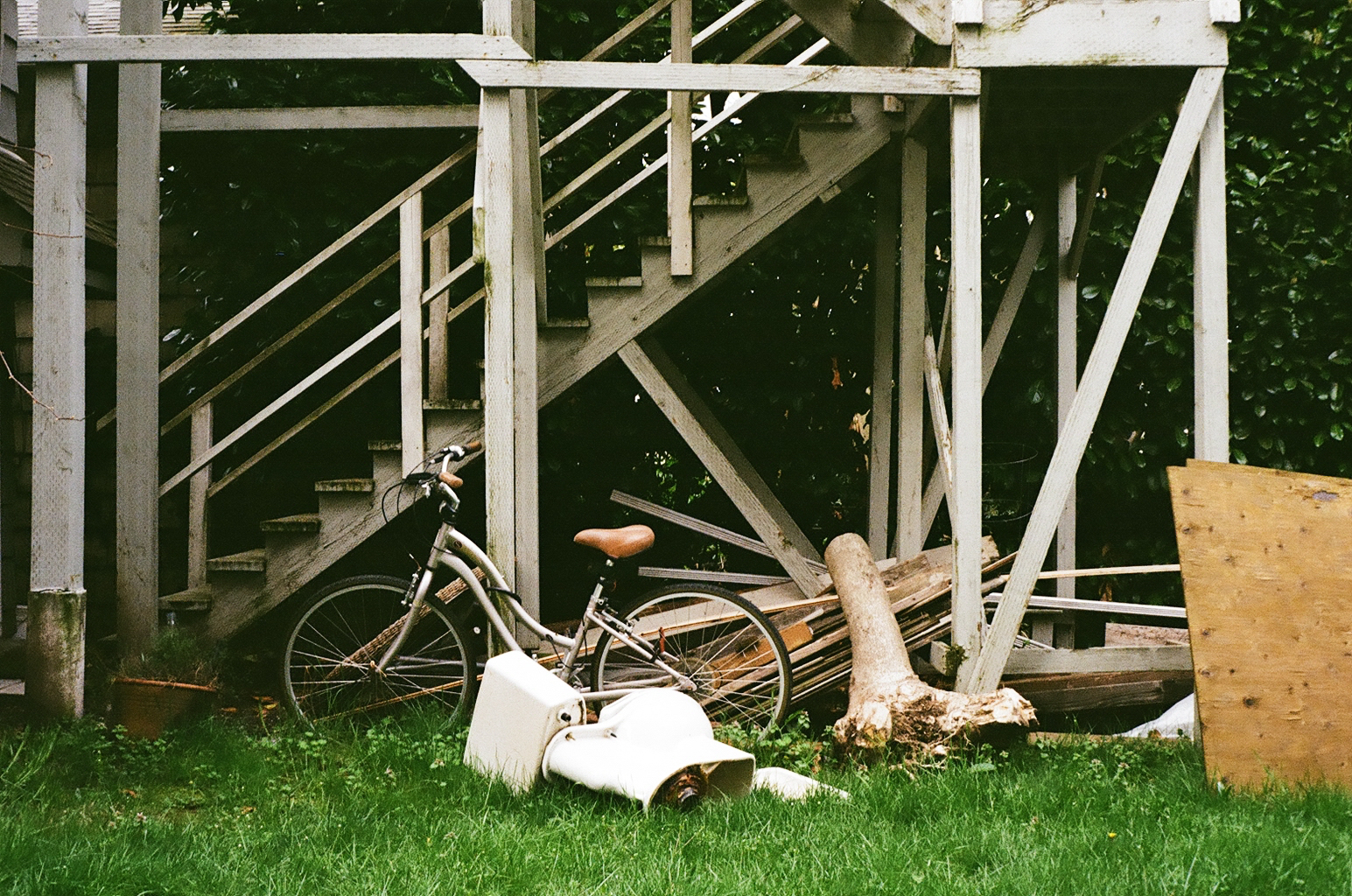 –
California
Travelling to California was a bit of an experiment: a handful of dire gigs, a broken windscreen on a hire car, locked out of the Vagabond Motel outside Bakersfield, and a very long Uber Pool ride stuck in traffic on the Bay Bridge in San Francisco with a furious man who couldn't believe the driver didn't have a toll pass.
Like New York, LA feels like a city with layer upon layer of curiosities and cultural mishmash – except way, way more sprawled out, where the interstate rules instead of the subway.
I absolutely loved walking around the suburbs to the West of downtown – Pico Union and Koreatown.
Despite the cliché, there certainly did seem to be something especially colourful or glowing in the late afternoon light once the smog lifted. I was probably just euphoric to be off the roads and to have found a park for the hire car.
It was great to take the chance to momentarily displace the blanket LA preconceptions of gated mansions, strung-out aspiring celebrities and rat-racing trendsetters to potter around the bustling neighbourhoods with people cheerfully going about whatever it was they were doing.
Bonus: getting some pupusas on the way back to my room in the evening.
–
Toronto & Gatineau
By May 2019, I was on to my third stint in North America and it had warmed up and it was humid on the East Coast side again. I played two of my favourite shows in Toronto and Gatineau. I was helped out by some new friends I had earlier met in Montreal, who organised and promoted the events.
By this point I was experiencing a duality of events, feeling both:
1) In an extreme blur after so many overnight buses, nights sleeping on couches and floors, and non-stop networking and meeting people.
2) extremely grateful for many new friendships and for how well people all over were responding to shows.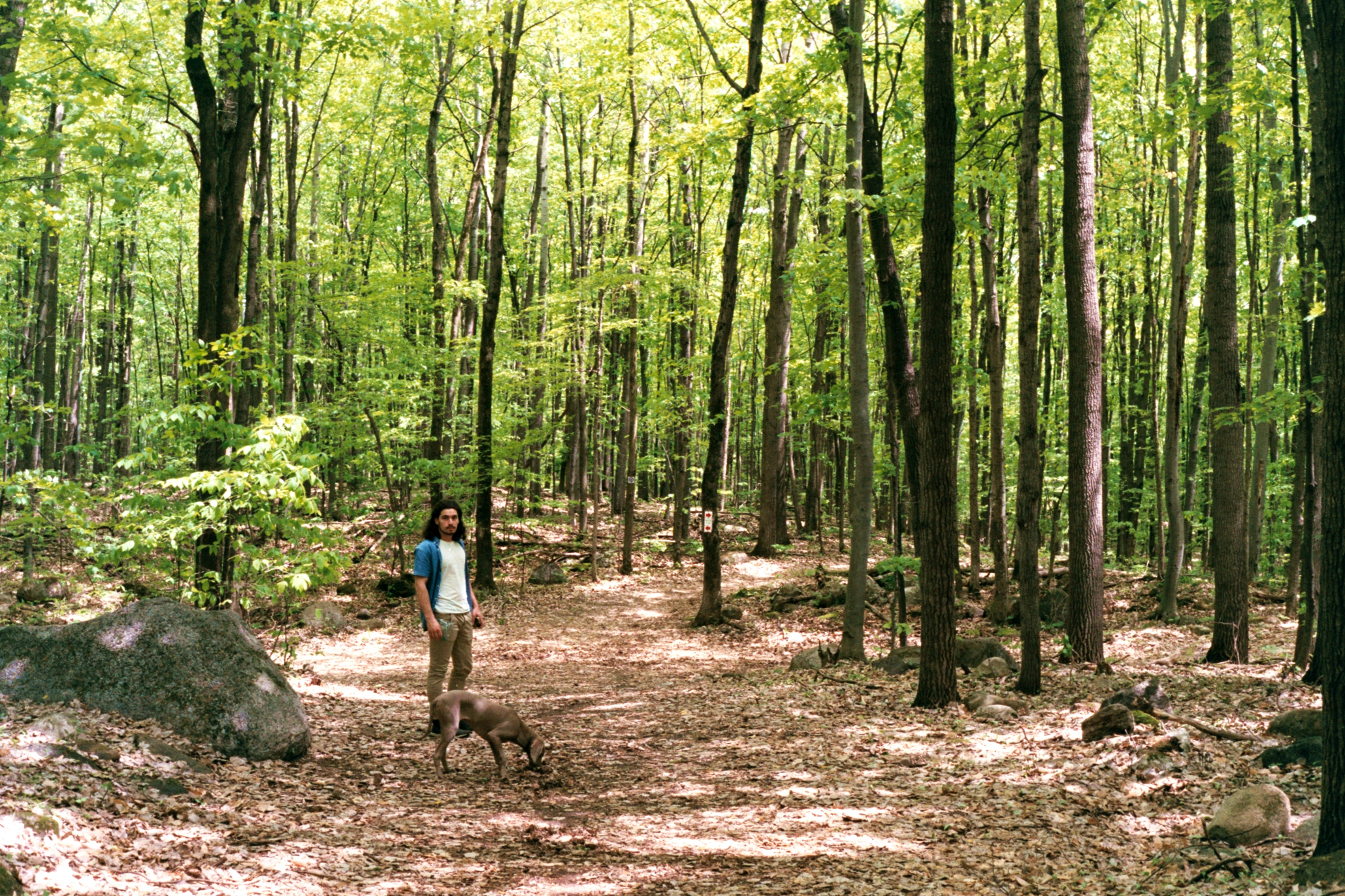 –
New York again
After almost a year in and out of the city, it was inspiring to wander around New York, observe, be challenged and appreciate the endeavour of all the folks hustling and eking out a life in a place that seems to change in pace with the seasons, such that to stand still is to be left behind.
I like to imagine that other huge hub cities around the world with a similar critical mass feel in similar state of eternal, jostling flux.
I tried to photograph things that, maybe, stood out in plain sight or conveyed a feeling in a simple way.
Artefacts of a sense of place, like never-ending walls of graffiti in quiet, odd locations, or the unlikely strangeness of being alone in a subway car.
By the end of June it was hot and I was broke and exhausted. I crawled onto a plane back to Australia on 1 July.
This adventure helped unearth new partnerships with a booking agency and record label, both based in USA, so for better or worse (hopefully better!) I'll get the opportunity to come back again soon, to work, meet new people, see new places, and hopefully learn a little bit more about the endlessly fascinating and inspiring United States.
Tom West will be playing at Porchland this November. For more information and tickets to the event, head to the Porchland website.