South Australia's top young business leaders
June 10, 2022
40 Under 40 2022
Commerce
Introduction: Jim Plouffe
Finalist pictures: Morgan Sette
Ceremony pictures: Frankie the Creative
—
This article first appeared in CityMag's Winter 2022 print edition
It's the fifth year that we've celebrated South Australia's outstanding young leaders through the 40 Under 40 Awards in InDaily and CityMag, as well as at a stellar (and gala) dinner.
The party was massive, with more than 400 people joining together at the Adelaide Oval to discover and then celebrate the cohort for 2022.
The night wasn't just an awards dinner, it morphed into a celebration of the state, of the entrepreneurial vision that will make the future brighter for everyone of us.
The newest 40 Under 40 now join 160 other alumni in what has become an important business network in the state, and what will develop into a not-to-be-ignored lobby of South Australia's best and brightest leaders.
With more than 180 applications this year, the judging was once again difficult. But what all the applications did show was that South Australia is brimming with talent and an entrepreneurial spirit across all industries and sectors.
Read on to meet the 40, and reach out to them – and the entire 40 Under 40 alumni network – if you have an idea or business that could benefit from a connection.
That's what makes SA great, we're all just a click away from a new venture, or even adventure.
First Among Equals
Thomas Carlton
Bailey Abbott / Managing Director & Owner
Bailey Abbott was established in October 2020 in the middle of COVID-19, when Tom and a number of colleagues were put out of work due to the virus.
Tom and his colleagues recognised that a new way of working was required and developed a consulting practice specialising in business transformation, automation and optimisation for clients affected by COVID-19.
Tom then raised $1 million in six weeks and started Bailey Abbott with three staff based in Stirling in the Adelaide Hills. The company has since grown to 51 full-time employees who work across 27 South Australian clients in defence, government and the SA Top 100. According to Tom, their first financial year delivered close to $7 million in revenue.
"This is the type of story we started the 40 Under 40 to uncover," says Jim Plouffe, Publisher of CityMag and one of the judges.
Jim says in a year dominated by COVID, it was not hard to pick Tom for Solstice Media's First Among Equals award.
"Having an entrepreneurial dream and pushing it to success is what embodies the 40 Under 40," Jim says.
"This year, we also had a concentration on the setbacks and the risks the nominees had and took, and Tom was very honest in how close he came to failing."
Tom says money was raised from staff, family and friends during the initial capital raise to establish Bailey Abbott.
"Watching this cash dwindle during the first four months of operations as we haemorrhaged cash was hard," Tom says. "We were losing close to $100k per month!"
Tom, however, continued to recruit the best consultants as they were put out of work from COVID-19 and, despite having no contracts to support the business, he says there was a true belief they could do it better than the established consulting hierarchy.
"We just had to hold the line and keep asking for a chance," he says.
Tom held firm and won Bailey Abbott's first significant fixed-price contract on Christmas Eve 2020.
"What did we learn? Don't discount South Australians going the extra mile to help out the little guy, and how powerful an engaged and motivated workforce can be," Tom says.  "Also, get a good investor onboard early."
Best piece of advice you've been given?
When starting your business modelling, double the costs and half your revenue… and ask yourself can your business still survive?
Emerging Industries Award
Darcey Watson
The Andy Thomas Space Foundation / Executive Officer
After earning an Honours Degree in Molecular and Biochemical Sciences, Darcey Watson, 24, had a crisis: the traditional career path in science no longer felt right.
Finding her strengths in the alliance between business and science, she found her "dream role" at the Andy Thomas Space Foundation, a charity that increases awareness of the Australian space industry.
Watson also founded the CoLab Society podcast to showcase female innovators, to make the industry more accessible for women pursuing careers in STEM.
Emily Haar, a partner at Piper Alderman's Employment Relation Division, says Darcey's focus on breaking down the barriers for diversity in STEM, and embodying the mantra that you 'cannot be what you cannot see' is impressive.
"Darcey has stepped into the unknown so that she can be the 'see' for those considering joining the industry," Emily says. "Such an approach is very future focussed and will pay dividends down the track."
One rule you live your life by?
Everyday you can choose to be happy or you can choose not to be. Make the right choice, persevere and the right things will follow.
The Emerging Industries Award is presented by Piper Alderman.
—
Creative Thinker Award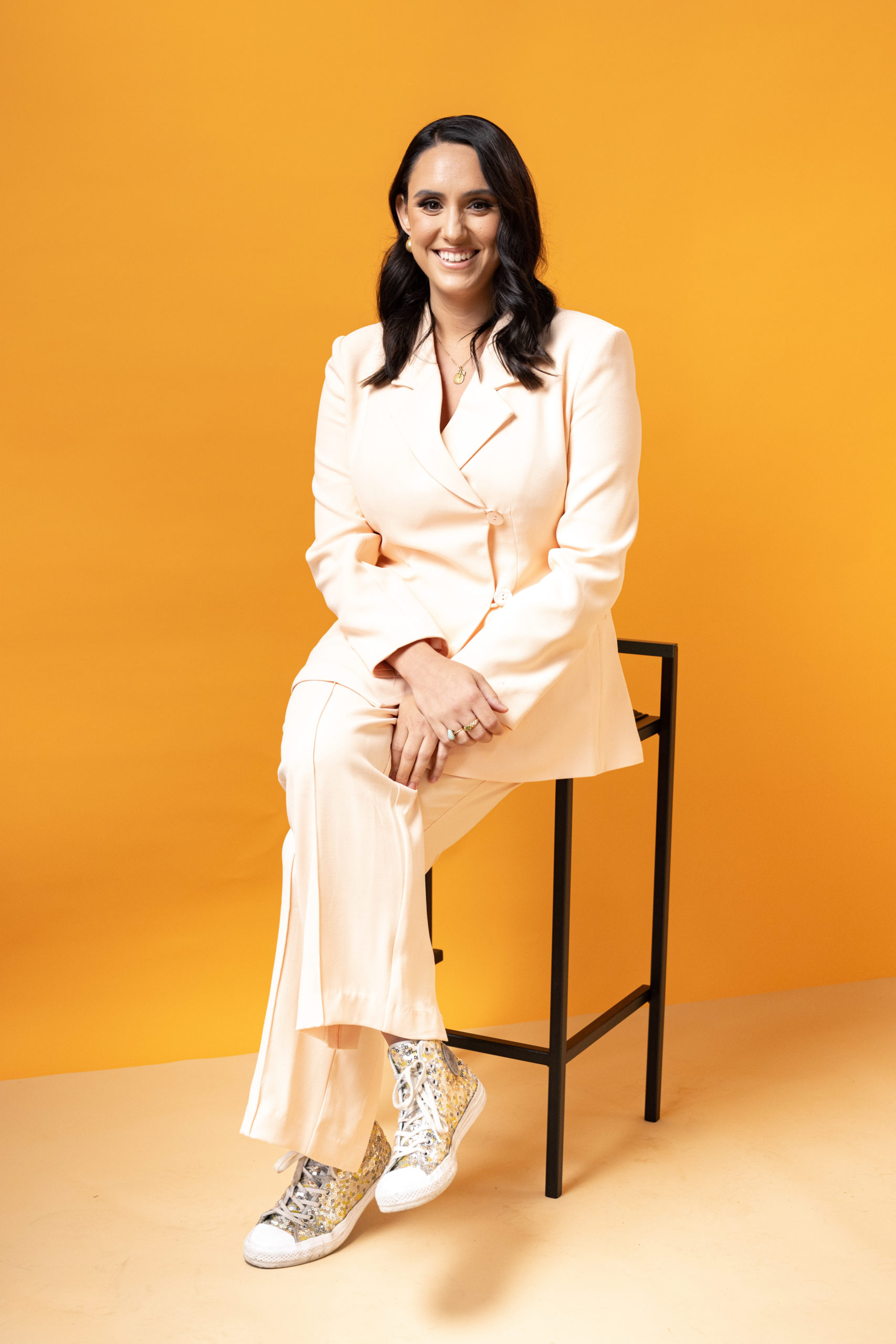 Alexandra Karatassa
Plus One Co. & Five Four Entertainment / Director & Venue Owner
"The loss of dancing for me was the loss of everything," Alexandra Karatassa says of the COVID restrictions in South Australia.
And for a person who keeps Adelaide's nightlife alive, she's right. Her companies employ a team of 10 who take their unique brand of music entertainment across 52 venues in 42 cities across Australia, New Zealand and Japan.
"Navigating the music industry during COVID 19 was one of the hardest things I have ever had to face," she says.
Her solution was to create opportunities in other territories where dancing was not restricted, such as Darwin, Western Australia and New Zealand.
"We operated completely remotely and ran over 300 shows across these locations to see 80,000 people through the doors during a pandemic," Alexandra says.
The doyen of Adelaide's club and music scene says each event adds to the vibrancy of the city's nightlife, creates work for local creatives and helps surrounding businesses.
What album or musician have you consistently listened to the longest?
My Chemical Romance and Fall Out Boy.
The Creative Thinker Award is presented by KWP!
—
Social Impact Award
Durkhanai Ayubi
Parwana / Founder
Carmen Garcia, founder of Community Corporate and 40 Under 40 judge, was particularly moved by founder of famed Adelaide restaurant Parwana's talent to tell stories through food.
"Her ability to use the universal language of food has been a powerful vehicle in influencing the conversation on diversity and the plight of refugees," Carmen says.
Durkhanai Ayubi, 37, a first-generation migrant to Australia set up Parwana in Torrensville 13 years ago, serving traditional Afghan cuisine with recipes passed down by her mother. Her wildly successful cookbook Parwana: Recipies and Stories from an Afghan Kitchen is just one of many achievements.
During the fall of Afghanistan to Taliban rule last year, Durkhanai organised the Parwana for Afghanistan fundraiser and successfully raised more than $180,000 to aid those affected by the conflict.
"We knew we had to do something in support of those in Afghanistan. For me, it was always going to be through hospitality," Durkhanai says.
Three books that changed your life?
A Burst of Light by Andre Lorde, Culture and Imperialism by Edward Said, An Unexpected Light by Jason Elliott.
The Social Impact Award is presented by Community Corporate.
—
Rural and Regional Award
Damon Grace
COtL / Director
In 2018, Damon took a risk and quit his career as a respected environmental engineer to return home to Adelaide to co-found private weather network disruptor COtL.
The innovative AgTech startup establishes and manages high-quality public weather station networks in agricultural regions. These weather station networks – also known as 'mesonets' – provide reliable data in real-time for a range of metrics, including temperature, rainfall, frost, fire danger and spray drift hazard alerts.
"The mesonets provide a wealth of value to agricultural communities and growers, emergency services and research and development institutes," Damon says.
"A key differentiator is their ability to combat agricultural spray drift – an issue thought to cost the SA agricultural industry hundreds of millions of dollars each year, and with a worryingly unknown impact on human health.
"The mesonets use cutting-edge meteorological science and sensor technology, and are a truly world-leading initiative."
Damon is now project managing the $2.25 million expansion into the Limestone Coast.
Adelaide's best kept secret?
Our metro beaches are beautiful and uncrowded. Also, Adelaide's environmental credentials are nation-leading  –  we should keep going and promote this more!
The Rural and Regional Award is presented by Business SA.
—
Inspiring Disruptor Award
Ryan Lokan
APR Composites / CEO
Ryan Lokan has faced many challenges since APR Composites started in 2004.
"Being a family business, recycling plastic in SA and trying to manufacture a timber alternative nationally has had its fair share of barriers, setbacks and costs, but I am proud that we are still here," the 38-year-old says.
Working with all the recycled plastic materials you might find in your yellow recycling bin, it's a sustainable alternative to cutting down old-growth forests. Their sales team is more focussed on educating clients on the benefits of using recycled materials than simply just selling their products.
Ryan is also particularly proud of his work in making an impact on South Australia's water storage, and the affect his company is having on our natural landscape.
"Looking at new projects to consume waste plastic daily is roller coaster, but knowing every win is more waste out of the environment, it's a good reason to keep on going" he says.
A meal or food item that changed your life?
Gerkins – but only Spring Gully Sweet Spiced Rounds
The Inspiring Disruptor Award is presented by OTR.
—
Game Changer Award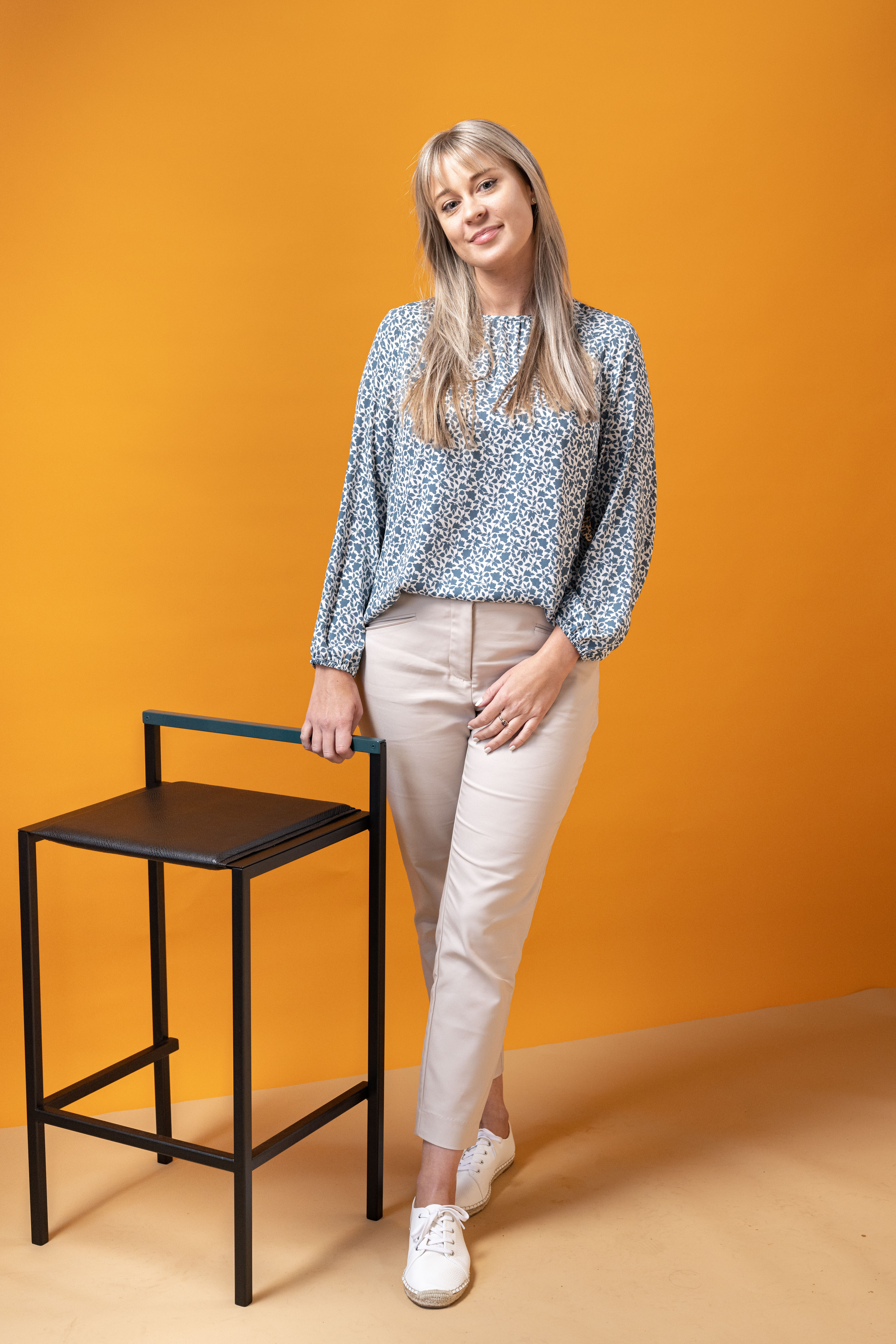 Stephanie Lamont-Friedrich
KPMG / Account Manager for SA Government and Energy and Natural Resources
Stephanie Lamont-Friedrich has a Double Bachelor's Degree in Medical Science and Business and Technology, an Honour's Degree in Bio- and Nanomaterials, and a PhD in Biomaterials, Engineering and Nanomedicine from the University of South Australia (UniSA) where she now holds an Adjunct position.
But Stephanie spent her first year in the corporate world scared about the mistake she might have made moving out of academia.
"I committed 10 years to research and found myself in a graduate role, 'at the bottom' of the corporate ladder," she says.
"But I had to trust myself – I might not have known where I was meant to be, but I knew where I wasn't, and traditional academia was not for me."
Stephanie now uses this experience to help other women make the leap between the two worlds, as well as promoting STEMM to female students.
"I want to ensure we create systemic change for future generations, creating environments that support women throughout all stages of life," she says.
Last series you binged?
The Golden Girls.
The Game Changer Award is presented by Adelaide Business School.
—
Entrepreneurial Award
David Fogarty
The Davie Group / CEO
He's a 27-year-old university dropout who, after failing at many business ventures, started The Oodie and Calming Blankets in 2018 – and, as they say, the rest is history.
With The Oodie becoming a "lockdown essential", David has since acquired new brands to build The Davie Group, which he says has done over $400 million in sales.
"Our group of brands saw growth during the pandemic, and we are now hoping to further grow the brands, as well as my personal brand, where I share entrepreneurial knowledge and tips with my social media audience," David says.
David says the biggest setback came with the recent iOS 14.5 changes, which dramatically dropped performance for the smaller brands under The Davie Group umbrella.
"The main thing we did to overcome this setback was to come together as a group and evaluate where our focus needed to be," David says.
"We are focussing on our core Oodie products and refining our content efficiency on the platforms."
Three books that changed your life?
Lean Startup, Good to Great, High Management Output.
The Entrepreneurial Award is presented by William Buck.
—
Discovery Award
Joep van Agteren
SAHMRI Be Well Co / Co-lead
Dr Joep van Agteren is the co-lead for SAHMRI's first spin-out, called Be Well Co. Launched in 2021, it is a commercial entity designed to commercialise seven years of wellbeing research conducted at SAHMRI.
"We work with industry and community, over 40 organisations to date, to deliver mental health interventions and conduct research at the same time," Joep says.
"Our solutions include mental health assessment for individuals and organisations, training programs and technology solutions such as a smartphone app."
Joep says years of research into their mental health solutions have shown their utility dealing with depression and anxiety.
Their innovative approach does not rely on clinical resources and therefore do not cost the system or take away from their precious resources, he says.
The team of 12 has delivered mental health solutions to roughly 17,000 people, showing that it is possible to scale hybrid (meaning human + tech) mental health solutions in a cost-effective way.
Favourite pastime/activity that isn't related to your work?
Cooking for partner and friends, enjoying food drink and company with said partner and friends.
The Discovery Award is presented by Adelaide BioMed / CMAX.
—
Sustainable Business Leaders Award
Matthew Pearson
Fleet Space Technologies & Alauda Aeronautics / Co-founder & Founder
Matthew lives by the mantra "Life is a daring adventure or nothing at all", and if his achievements to date are anything to go by, he is achieving this goal.
The co-founder of Adelaide-based Internet-of-Things company Fleet Space Technologies, Matthew also founded Alauda Aeronautics, which designs and manufactures flying cars.
The 35-year-old dreamt of flying cars becoming a reality as a boy. He says Alauda is preparing to announce the first full-scale GP flying car races following the development of its performance electric vertical take-off and landing (eVTOL) vehicles.
"One thing that binds all successful entrepreneurs is the marriage of vision and optimism," he says.
"Inherently, I believe that great challenges can be overcome by bringing together the best minds in their fields and providing them with the tools to innovate and find solutions."
Last series you binged?
Formula One – Drive to Survive
The Sustainable Business Leaders Award is presented by Valo.
—
The 2022 40 Under 40
Adam Frith
Mine Tech Engineering & Construction / General Manger
After working as a plumber and gasfitter, Adam Frith moved into civil and pipeline construction before joining Mine Tech Engineering as employee number 13.
He quickly rose to become senior project manager and is today general manager of the fabrication and construction firm.
Since the 38-year-old joined the company it has grown to employ 230 staff, acquired two other businesses and expanded into NSW and Victoria.
"Mine Tech Engineering started with an empty shed in 2014, some basic welding equipment, two boilermakers, a single vehicle and an unceasing desire to grow the business into something remarkable," he says.
Today it is based at Edinburgh and has facilities at Roxby Downs and "the capacity to deploy its teams and equipment almost anywhere in Australia".
Adam and the company are excited about post-COVID opportunities.
"I love the business I am with, I love helping others succeed in their careers, and I love delivering for a client," he says.
"My job is to make others' lives easier and help them be the best they can be. I want people to want to work with us – there is no point coming to work if you do not want to be here."
Best advice you've ever given?
Never assume someone understands your thought process, be mindful of perception and trust that most people have the right intentions.
—
Adam Gerard Maney
Cabana Productions / CEO
Adam Gerard Maney, 38, started Cabana Productions from his southern suburbs home about five years ago and has partnered with several South Australian organisations, including Foodbank SA and Reconciliation SA.
Now Cabana's CEO, Adam was commissioned by National Indigenous Television (NITV) to produce a documentary on one of Australia's most significant Indigenous buildings, which aired in 2022.
Throughout 2021 and 2022, Cabana Productions has been working on a feature-length documentary for Reconciliation SA and the Department of Child Protection, exploring the impact of Indigenous child placement on children and communities, and how the system can be improved for the future. Adam is directing and producing these projects.
This year, Adam has also taken on his first apprentice as part of a team from various cultural, gender and disability backgrounds, which aims to break the stigma around disabled artists.
A meal or food item that changed your life?
My Mum's spaghetti marinara – still my comfort food to this day.
—
Alicia Byrne
University of South Australia / Research Associate

Alicia Byrne investigates the genetic causes underlying stillbirth and newborn death, which affect around 3,000 Australian families each year.
However, for the majority of cases, the underlying cause can't be determined.
Alicia's work uses a novel 'genomic autopsy' approach, examining the DNA of impacted families in order to establish a precise diagnosis.
She says 50 per cent of previously undiagnosed families now have an accurate cause of death established, facilitating reproductive planning and leading to the birth of 12 healthy babies.
Best piece of advice you've been given?
'Choose the option that gives you the most options'. No matter how big or small the decision, from career moves to where to eat dinner, this advice always holds true.
—
Amal Osman
Flinders University / Research Associate
Amal Osman, 37, works each day to help one billion people globally who suffer from disruptions to breathing through sleep, specialising in sleep apnoea.
The post-doctoral researcher at Flinders University's FHMRI: Sleep Health works with a team of medical professionals, students and researchers with varied expertise in a six-bed sleep laboratory.
Amal secured $1.1 million in funding from a leading pharmaceutical company as a result of one of her publications, which described a novel technique to assess airway collapsibility.
She was also the first to compare a new 10-minute test during wakefulness, with the more costly and time-consuming method to measure airway collapsibility during sleep.
Amal is now applying the technique to develop a new treatment for sleep apnoea.
Over the past year and a half, Amal and her team have spent about 12 hours over evenings and nights testing more than 150 people.
"I love the work that I do, and I am highly motivated to better understand why sleep apnoea occurs, with a goal to discover new treatments so more people can sleep soundly."
Amal's vision is to have her work widely used for measuring the severity of sleep apnoea to predict treatment outcomes.
What Adelaide restaurant do you know you're guaranteed a good time in?
African Village
—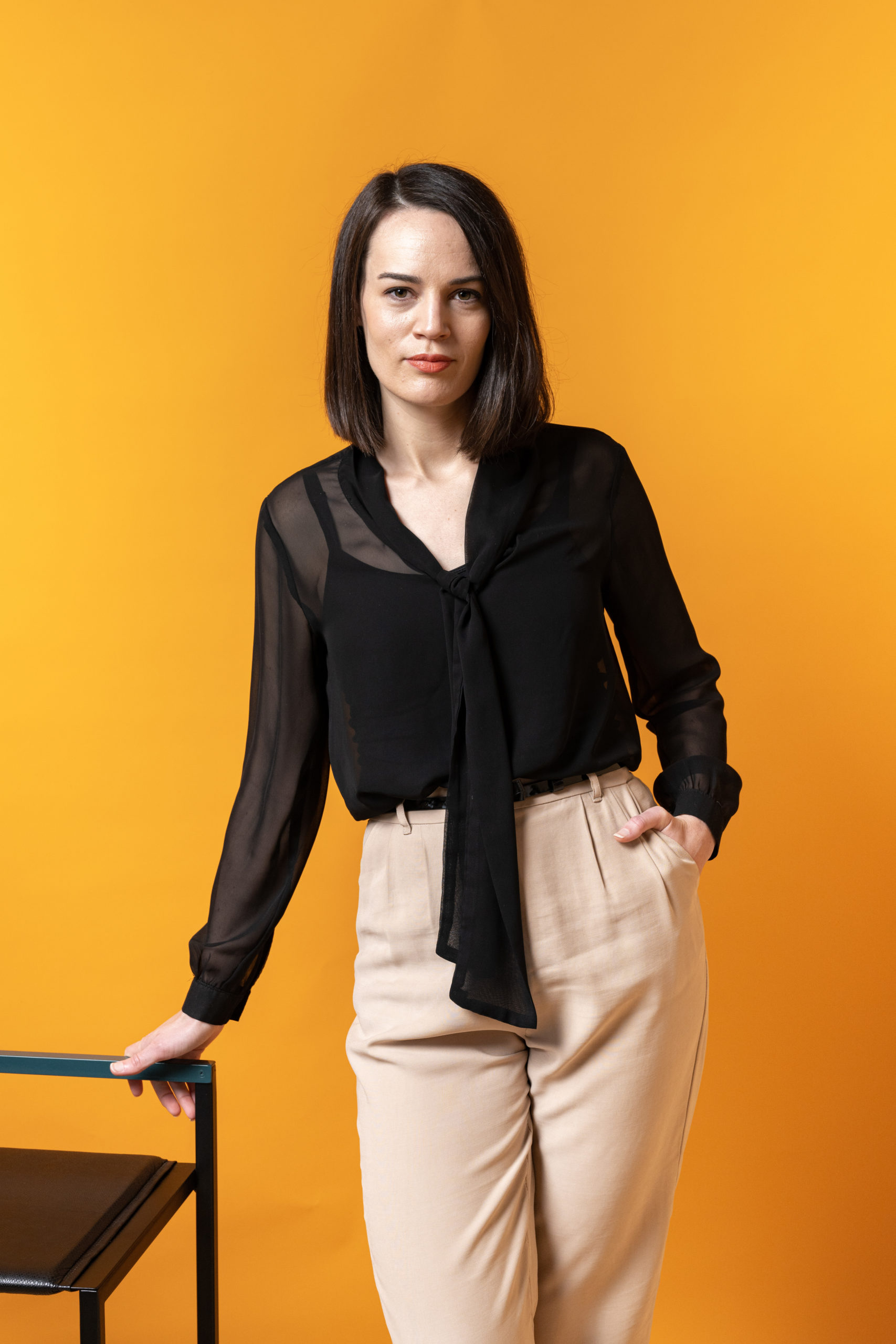 Amanda Baldwin
G'day Holdings / CIO
As Chief Investment Officer for Adelaide based G'day Group, Amanda Baldwin feels privileged to be able to drive expansion projects that are primarily focussed in regional areas.
G'day Group is now Australia's largest regional accommodation provider, with over 300 properties across the country under its Discovery Parks and G'day Parks brands, employing more than 1200 people nationally and over 150 in its Adelaide head office.
Amanda leads the Strategy, Mergers and Acquisitions and Development teams for the Group's $1 billion national portfolio and each year is directly responsible for the $100 million investment budget.
Recent group acquisitions in SA include the McCracken Country Club, Hahndorf Resort and Adelaide Hills Convention Centre, as well as iconic interstate tourism properties El Questro (WA) and Kings Canyon (NT).
Her team's annual capital investment budget of $100 million is predominantly in regional areas.
"It comes with logistical challenges and greater levels of investment risk, but I'm proud that our shareholders support our regional investment and proud of our regional teams building great businesses and assets in remote locations," Amanda says.
"Tourism and hospitality are predominantly Queensland industries. I feel very proud to be part of an industry leading tourism business head-officed in SA."
Outside of work, the 33-year-old volunteers as a strategic investment advisor at Baptist Care SA.
A meal or food item that changed your life?
Shucking oysters straight into my mouth whilst wearing dorky waders and sitting in the sea at Coffin Bay Oyster Farm in January this year. #holidayherethisyear
—
Amy Van Dyk
Advance Behavioural Training / CEO
In her spare time while working as a veterinary nurse, Amy Van Dyk started a small business providing dog obedience classes, recognising that pet owners needed more training options to help ensure the wellbeing of both dogs and humans.
Now, her organisation, Advance Behavioural Training (ABT), employs 22 people and operates a seven-day business that offers a wide range of services at Athol Park. The business has added 10 staff in just the past 18 months, nearly doubling its workforce in less than two years.
ABT aims to provide all of a dog owner's needs, with a unique mix of services, such as doggy daycare and grooming, social therapy and structured rehabilitation, private consultations for behavioural and obedience training as well as performance classes.
"Over the past few years, I have had to adapt and pivot many times but have successfully managed to do this and continue to increase and improve the business," Amy says.
Amy's mission is to give owners the tools to build stronger and healthier bonds with their dogs, with an expert behavioural training team catering for the individual needs of each owner. Amy is currently evaluating further growth options for the business.
"I have a strong passion for helping dogs get the most out of life, as well as helping their people understand how to achieve this," says Amy, 38, who herself owns three rescue dogs: a husky-cross, a rottweiler and a kelpie.
Best piece of advice you've been given?
If it seems to good to be true it probably is not true.
—
Anita Nedosyko
The Nature Conservancy Australia / Oceans Coordinator SA
Marine conservation campaigner Anita Nedosyko has spent the past six years working on projects to restore the native oyster reefs that were once dominant features of South Australia's coastline.
The 38-year-old's work as the Oceans Coordinator SA with The Nature Conservancy Australia has seen her lead the state's oyster reef restoration program, which has now restored 30 hectares of critically endangered ecosystem in SA gulfs.
The first of these projects, near Ardrossan in Gulf St Vincent, was a landmark for marine conservation, as it was the first "natural" infrastructure project ever funded through the Australian Government's National Stronger Regions Fund.
Known as the Windara Reef system, the 20ha project was constructed in 2017 and 2018 to become the largest man-made oyster reef system in the Southern Hemisphere.
More oyster reef projects have since been announced at Glenelg and O'Sullivan Beach.
A former Flinders University marine biologist, Anita has given more than 50 public presentations to raise awareness about SA marine conservation, and is currently authoring and illustrating a children's book showcasing marine biology in SA that is being published with an international publisher.
Favourite pastime/activity that isn't related to your work?
Playing with my 4-month-old daughter Banksia.
—
Annabelle Wilson
Flinders University / Associate Professor of Implementation Science
Annabelle Wilson, the 38-year-old Flinders University associate professor of implementation science, is a dietician and PhD with a clear focus on Indigenous health.
"Through my research and leadership, I have disrupted and challenged current thinking about how non-Aboriginal health professionals work in Aboriginal and Torres Strait Islander health, specifically in nutrition and dietetics," Annabelle says.
"My research has impacted health professional practice by identifying and translating approaches that non-Aboriginal health professionals can use when working in Aboriginal and Torres Strait Islander health, including reflexivity and awareness of one's own attitudes and biases."
Annabelle's work led her to develop models of practice, which were adopted in mentoring and training courses for health professionals.
"My success has ultimately been determined through persistence, a strong desire to make a difference, and amazing mentors who I have worked with throughout my career," she says.
"In the next few years I plan to continue and extend the work I have been doing. In particular, I have applied for funding to lead transformation in nutrition and dietetics related to Aboriginal and Torres Strait Islander health."
What is one rule to live by?
Life is uncertain, eat dessert first.
—
Anthony Robinson
Golden Age Studios / Co-founder
After ditching the power tools and career as an electrician, Anthony Robinson chased more creative pursuit as an artist from 2016.
The punt paid off for the now 30-year-old storyboard artist and independent game developer, who heads up his own video games studio, Golden Age Studios.
Golden Age Studios' aim is to create opportunities and jobs within South Australia's burgeoning creative industries sector, Anthony says, and to generate "home-grown" original intellectual property.
"Golden Age Studios was created with the philosophy of creating games that are inspired by what they consider to be the Golden Age of gaming, but to also work towards developing content that contributes to the oncoming gaming boom that is heading our way," he says.
Prior to starting his own business, Anthony was employed as a storyboard artist for media companies Stan and Warner Bros. Entertainment.
In these roles, he developed sequences and storyboards for projects, such as blockbuster film Mortal Kombat and television series The Tourist.
After sketching out the original concepts of Golden Age Studios' current project, Tinker & Spell, in 2018, the company is now involved in several publishing and distribution discussions to further development.
To this day Anthony lives by the maxim "do what you love".
Best piece of advice you've been given?
Be excellent at anything and some will pay you to do it.
—
Ben Rijnbeek
Beek Build / managing Director
Ben Rijnbeek's ambitions are large – he started his own construction company in the midst of the pandemic's first flush, in 2020, and wants to change the way the industry works in South Australia.
After starting his career in construction management – a path that took him interstate – Ben returned to Adelaide in 2020 to found Beek Build, an ambitious construction and project management company that now has five employees.
It wasn't easy, but he soon won his first major contract and has now worked on projects in sectors including aged care, education, health, hospitality, industrial, retail, residential and commercial.
"I was confronted daily by people wondering why anyone would start a business during a worldwide pandemic and a state of such uncertainty," he says.
"The greatest lesson from this was to block out others and walk your own path. You own the outcome, good or bad, based on the choices you make. Due to this, I was able to build a successful business and take advantage when others were still too nervous to do so."
Adelaide's best kept secret?
Ten Mile East Winery. Great little spot set on the lake, with good wine and knowledgeable service
—
Brad Manuel
Livewire Group International / Co-founder
A true innovator, Brad Manuel and his co-founder Indy Khabra were the first to create a gaming marketing and gametech company.
Launching early in 2021, Livewire now works with global brands and agencies, enabling them to better engage gaming audiences.
Livewire has landed a range of ASX200 companies, global businesses and major marketing agencies, which has positioned them as a leader within the global gaming ecosystem.
This has included exclusive partnerships with Roblox and Activision Blizzard Media, owner of Candy Crush.
Brad, 34, led the commercialisation of e-sports for the Adelaide Crows before consulting directly to the AFL and setting up their gaming strategy, including building the biggest Fortnite event in Oceania.
Brad says there has been a challenge in building a completely new marketing space.
"We had several major clients won over nine-to-ten-month conversations," Brad says.
"While the business looked like there may not be demand, we continued to refine our offering, chase every lead, and believed what we were building could truly make a difference in the global marketing scene."
A food item that changed your life?
Cheeseburger spring rolls.
—
Brigid Koenig
Sammy D Foundation / CEO
The Sammy D Foundation was formed in 2008 in response to the tragic death of Sam Davis from a one-punch assault, rallying around a purpose to end violence by connecting and empowering young people aged 10 to 25.
Driven leader Brigid Koenig, 37, faced immediate challenges when she was appointed as the foundation's CEO in 2018, with the organisation in need of significant funding and new partnerships.
"Morale was extremely low without new opportunities, but our staff were passionate; passionate to make a difference in the world, in reducing violence and supporting youth at risk," says Brigid.
Under Brigid's guidance, the organisation started to shift focus to build new long-term partnerships and refocus the foundation's mission, vision and values.
With all of the foundation's programs delivered face-to-face, the COVID lockdowns posed significant challenges, for which Brigid had to stand down some staff – "one of the hardest things I've ever had to do" – but worked to ensure zero per cent staff attrition.
"The more revenue we make and funds we raise, the greater impact we can have on the community," she says. "This is proven by the reach of our education programs, which has grown from around 7000 people when I started to nearly 30,000 in 2021."
Best piece of advice you've been given?
The regular saying is 'treat others how you would like to be treated', but I think it's more important to be really in-tune with everyone around you and treat others how they want to be treated – that's true inclusion.
—
Christopher Hoffman
Hex / Co-founder
A glass of single-vineyard Barossa shiraz helped inspire Chris to leave his native California and move to Adelaide in 2013.
Since joining Australian-based Hex in 2017 as co-founder and chief growth officer, the 38-year old has helped the award-winning ed-tech company deliver "seriously fun innovation programs for high school leavers, universities, corporates, and early-stage founders".
The 14-strong HEX team has built bespoke technology and significant partnerships across the Asia Pacific, North America, and UK, delivering services to more than 5000 students.
Chris and the team's innovation and resilience were put to the test when Australia's border closed in 2020, cancelling a plan to fly students overseas and prompting actions which increased exports, global reach and company growth.
In late 2021, Chris and HEX co-founder Jeanette Cheah raised $1.3m seed investment and launched the 'Innovation Gap Year', in partnership with Atlassian, for high school leavers and university deferrers globally.
"With my own studies spanning multiple continents, I am deeply passionate about the value of global experiences in education and have dedicated my career to helping students see more of the world – both literally and virtually," Chris says.
Words to live by?
Never stop learning.
—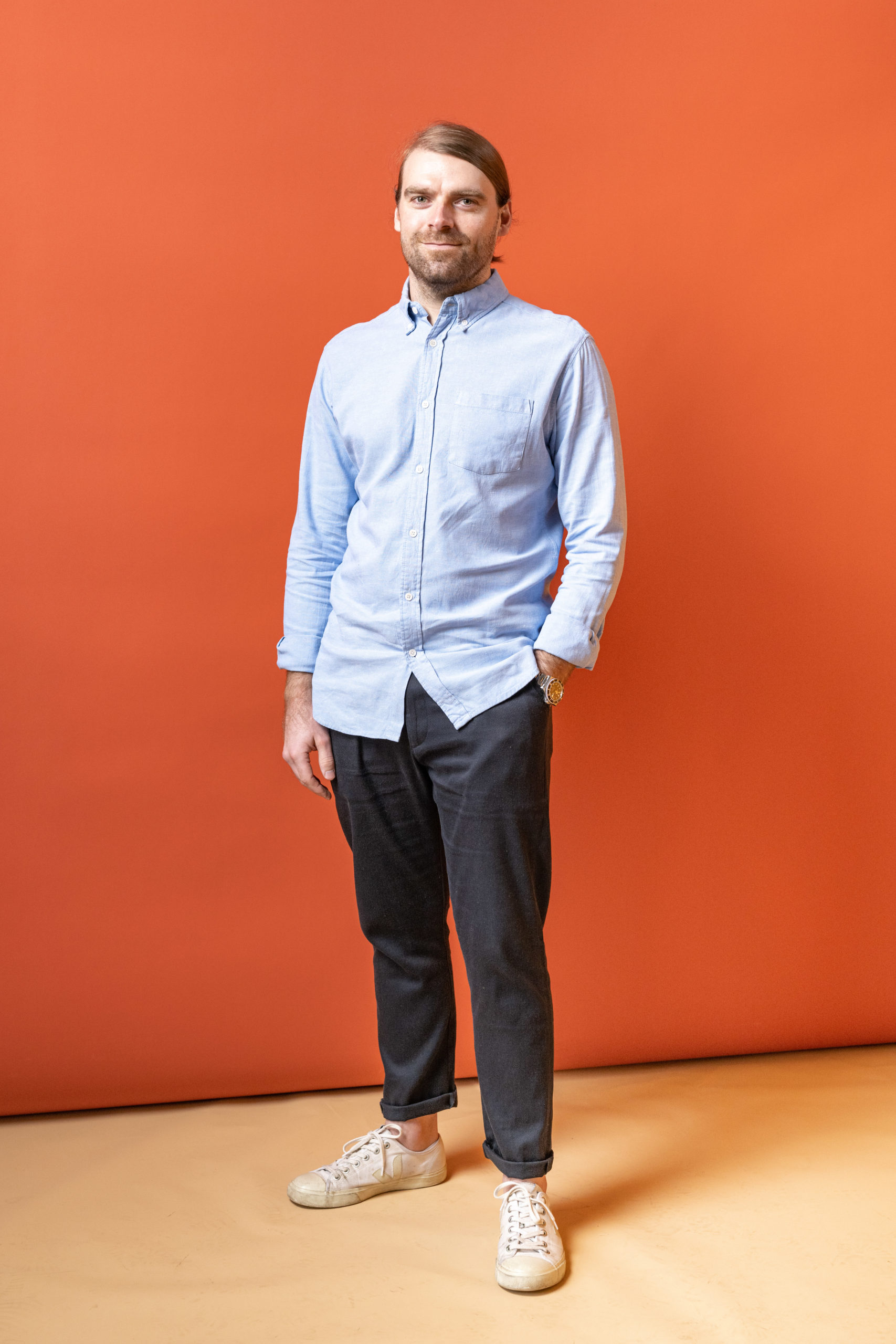 Chris Martin
Hemp Clothing Australia / Founder
Despite suffering two near-death experiences, 34-year-old Chris Martin has created change in South Australia's hemp sector as a retail advocate and founder of fashion brand, Hemp Clothing Australia.
Hemp Clothing Australia supplies national and international stockists and retailers' quality clothing made from the sustainable material, spanning dresses, shirts, tees, pants and other trend-repellent staples.
Recently, Hemp Clothing Australia started helping schools across the country transition from synthetic-made uniforms to those made from hemp.
Chris wrote in his application numerous school children's mothers contacted him directly saying the switch "helped their children".
"I mostly enjoy knowing school children using our products will be more comfortable at school, enhancing their productivity and learning outcomes as their uniforms no longer irritate them," he wrote.
Aside from his business work, Chris is also a committee member of the Industrial Hemp Association of South Australia – an organisation which supported Greens MLC Tammy Franks' 2017 legislative push allowing industrial hemp to be grown locally.
The entrepreneur estimates to have dedicated hundreds of unpaid hours promoting change for hemp, and voluntarily went broke "multiple times" starting his own business.
However, he would not change a thing. "Setbacks make you stronger," he says.
Best piece of advice you've been given?
Ready. Fire. Aim. (Sometimes you've got to take a shot whether your aim is on target or not.)
—
Dre Ngatokorua
Umeewarra Aboriginal Media Association / Broadcaster
A broadcaster, DJ and journalist, the 25-year-old First Nations man Dre Ngatokorua is making waves in many areas.  
Hailing from Port Augusta, with a background in mentoring young people and working and presenting at Umeewarra Radio, Dre's mission is to create opportunities for others living regionally who want to tell stories.
"From a young age, I have used my voice to speak up about issues that are important to me and my community," he says.
Dre runs numerous radio programs, including the Straight Out Show and Umeewarra Downtown, plus television program Umee NAIDOC TV, and sits on the board of First Nations Media Australia and the Community Media Training Organisation.
The Wangkangurru, Adnyamathanha, Cook Island and Maori man also mixes music under the moniker 'MoZzi', and has DJ'd for the Adelaide Fringe and the Art Gallery of South Australia with their youth-focussed Neo nights.
"I have always been on the front foot to get involved with community events, such as NAIDOC Week, and put my hand up to be involved in a range of projects," he says.
"With the help of local businesses and organisations, we can help build the community to where we want to see it."
What Adelaide restaurant do you know you're guaranteed a good time in?
Remy's.
—
Geoffrey Steele
Steele Build / Founder
From a carpentry apprenticeship to operating a multi-million-dollar construction business by the age of 30, Geoffrey Steele's success comes from his commitment to developing his own skills as a leader and business operator.
Starting his career as a carpenter at Mott Group, Geoffrey took a keen interest in the oversight of construction projects. He was elevated to a contracts management and supervisor role at just 22, an experience which inspired him to start his own business.
Since founding Steele Build, Geoffrey, 30, has pursued leadership training and continues to grow his skills, currently undertaking a Masters in Business degree at the Australian Institute of Business.
Working as a sole trader, Geoffrey's business turned over $130,000 in its first year. Now, with 10 full-time employees and 22 contractors, Steele Build is expected to turn over $10 million by the end of the 2021-22 financial year.
"As we now have more than 20 projects per year, ranging from $50,000 to $3 million each, I've learnt I need to step back and elevate other employees to project management roles," says Geoffrey.
With two young children and another on the way, Geoffrey understands the need to balance career commitments with family time.
"Time with them is the most important thing to me, and balancing my career aspirations with my role as a father has only furthered my desire to succeed," he says.
What album or musician have you consistently listened to the longest?
The Foo Fighters.
—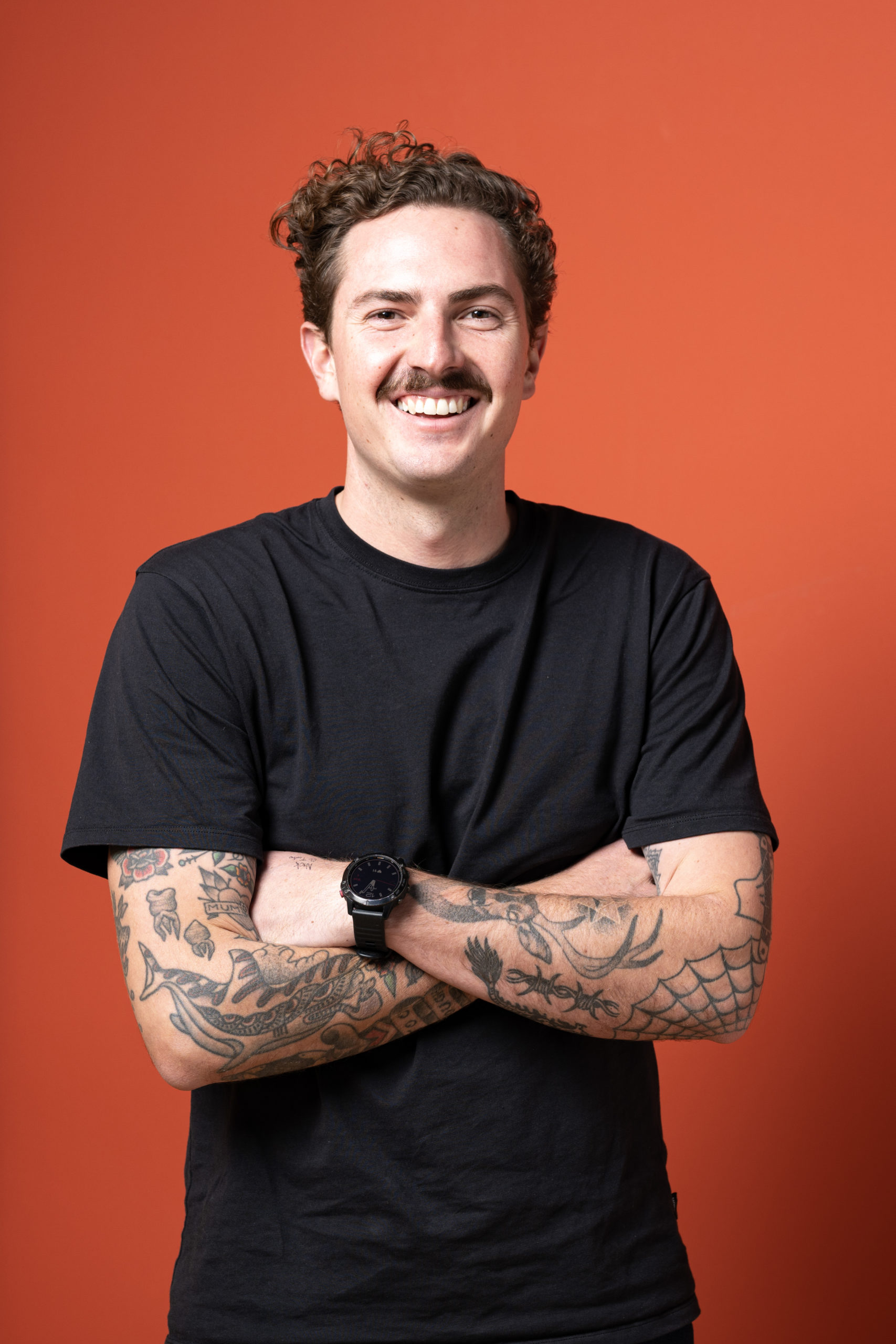 Hugo Pedler
Penny Hospitality / Managing Director
Hospitality entrepreneur Hugo Pedler viewed COVID-19 as an opportunity, managing to grow his business through difficult times.
Hugo is the managing director of Penny Hospitality, which operates a diverse collection of venues in Adelaide, including Two Pot Screamer, West Oak Hotel, Joe's Henley Beach, Super Bueno and Lion Arts Factory.
He's not stopping there, planning launches this year of a marketing agency dedicated to food, beverage and hospitality work, and a new cycling accessories and apparel brand.
An accomplished competitive cyclist, Hugo's hospitality management experience began only a few years after finishing school, including positions with the Little Miss Group and Royal Croquet Club.
In 2015, he founded Penny Hospitality, which grew quickly from one venue into a multi-faceted hospitality company running multiple venues and events.
"COVID, for our team, is looked upon as an opportunity, not a setback," he says. "We have worked so hard to pivot our business to survive, learn to give back more to the community and better our offering and service.
"Never underestimate the power of the determined and passionate youth."
A meal or food item that changed your life?
The humble schnitzel.
—
Jake Kellie
Arhké / Co-owner
"Opening Arkhé has made me more sure than ever that I am right where I need to be and that South Australia is well and truly the rising star in this space," wrote chef Jake Kellie in his 40 Under 40 application.
You won't find gas or electricity at The Parade's open-flame restaurant, Arkhé, which opened in late 2021 to wild acclaim.
It's run by industry stalwarts Palmer Hospitality Group and Jake, a rising 32-year-old star in the state's food scene, who originally hails from New South Wales but relocated to Adelaide in 2019.
Prior to opening Arkhé, the TAFE-certified commercial cook travelled internationally and worked with renowned chefs, such as Dave Pynt (Burnt Ends), Scott Pickett (Estelle Northcote) and Gordon Ramsay.
While Jake was employed as head chef of modern Australian barbeque restaurant Burnt Ends in Singapore from 2017—2019, the business rose in the ranks of 'best of' lists and received a Michelin star, with Jake personally receiving numerous gongs for his culinary skills.
Jake wrote his latest Adelaide venture, Arkhé, is an homage to his international past.
"Arkhé signals a commitment to reinvigorating the hospitality industry and is also home to over 50 staff consisting of some of the most celebrated talent in the state," he says.
What album or musician have you consistently listened to the longest?
Queen – never gets old.
—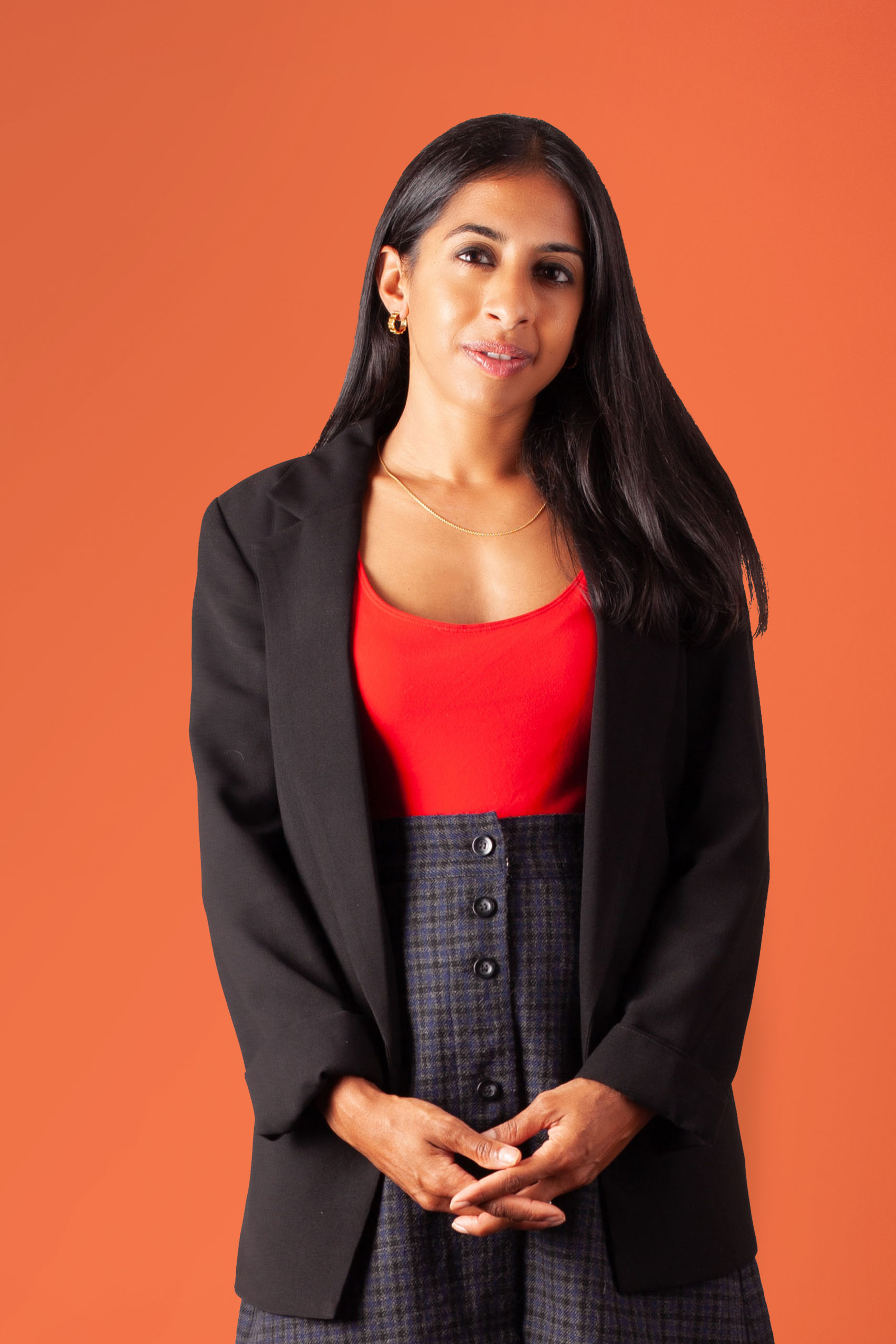 Joanna Howe
University of Adelaide / Associate Professor in Law
Joanna Howe is an expert on labour migration who is keen to inform both public opinion and policy on a vital economic and social issue.
The 39-year-old Adelaide Law School Associate Professor, Rhodes Scholar and PhD is a prolific published author and media commentator who has also advised governments and influenced labour market policy.
"As an immigrant myself, I understand the power of immigration done well," she says.
"I know first-hand the myriad opportunities Australia can provide. But too often, immigration is used as a political tool and poorly designed immigration policies lead to unintended consequences – bottlenecks and shortages for employers and exploitation and vulnerability for workers. The success of a state like South Australia hinges upon an effective immigration program."
Joanna says her research has directly influenced the immigration policy of three successive federal governments, the development of the National Agriculture Workforce Strategy, and the piece rates decision by the Fair Work Commission.
"My academic career has been driven by two key commitments: first, to the pursuit of justice for vulnerable workers, and second, to applied and high-impact socio-legal research that addresses regulatory challenges arising from temporary labour migration, and makes it easier and simpler for employers to access overseas labour."
Rule to live by?
Real integrity is doing the right thing, knowing that nobody's going to know whether you did it or not.
—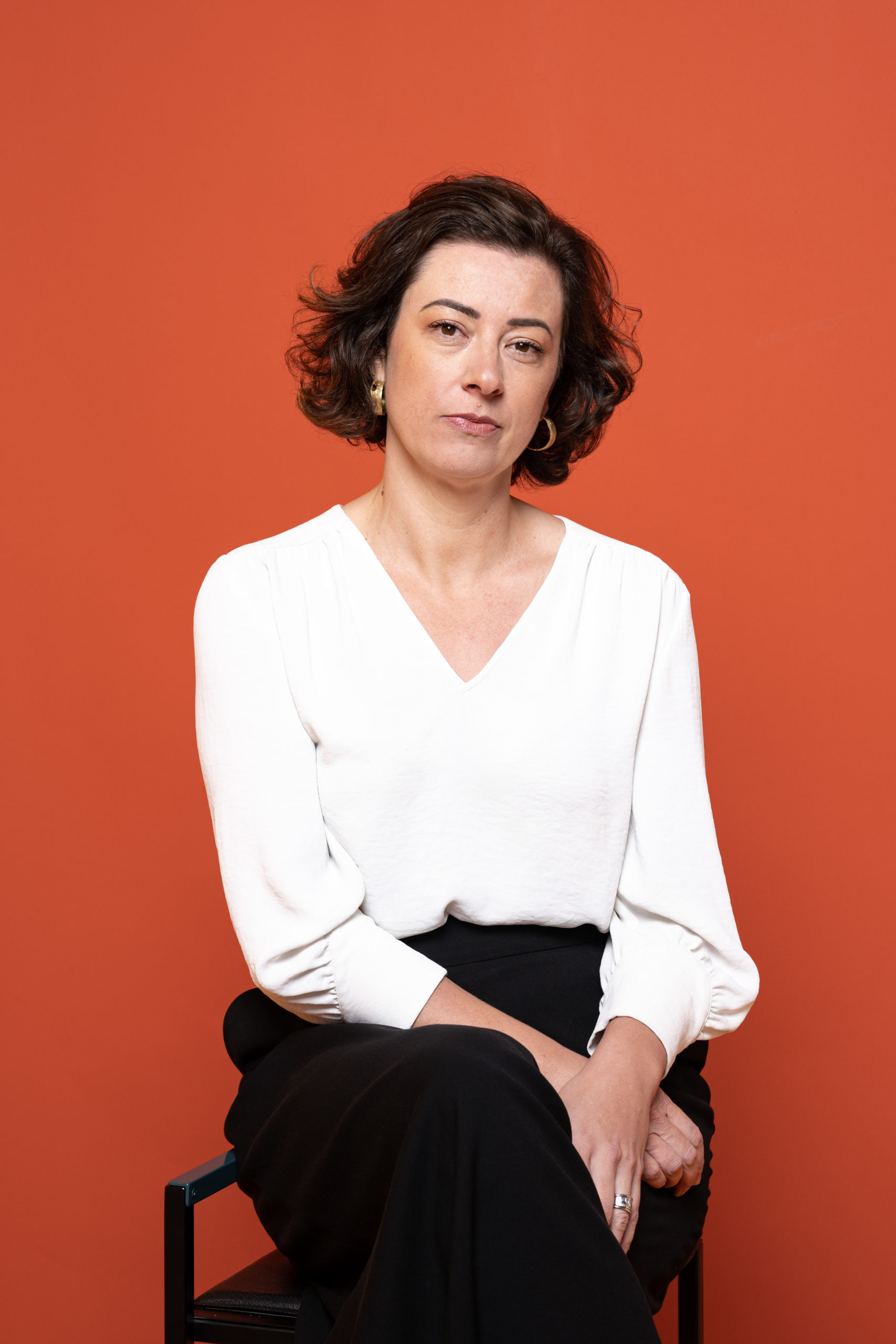 Lauren Whiting
Lift Cancer Care Services / Founder
Following the cancer diagnosis of a good friend, Lauren Whiting conceived Lift Cancer Care Services four years ago to provide cancer patients with evidence-based allied health treatments to improve their health outcomes.
The centre is staffed by clinicians with experience in oncology, and the services they offer are designed to support them along the continuum of their cancer experience.
Lift provides exercise specifically for people undergoing active cancer therapies, which can help to manage common side effects of cancer drugs and improve overall survival.
Lauren, 39, is an oncology physiotherapist who has experienced firsthand how disjointed cancer services can be.
"We have brought together the allied health services these patients need in one location," Lauren says.
"Improving physical function was important, but they also needed help with areas such as nutrition, lymphoedema and mental health.
"Disrupting a traditional and conservative industry has been and will continue to be difficult. Having the unwavering belief that my vision is achievable and refusing to give up is why Lift is still operating and growing."
Looking to the future, Lauren plans on a second site in SA and also to take Lift interstate – her dream is to have one in every state and territory.
Last series you binged?
Why Women Kill.
—
Nathan Freeman
Bungala Aboriginal Corporation / Catering and Training Manager
In the past four years, Nathan Freeman has established and grown Bungala's Food Services Program from a canteen with two staff to a 16-employee operation, providing 520 meals per week to vulnerable people in Port Augusta, Whyalla, Quorn, Coober Pedy and Oodnadatta.
The food service also works in conjunction with aged care providers to supply meals through Commonwealth Home Support Program and Aged Care Packages.
But beyond its role as a service provider, the program also facilitates employment and training opportunities to long-term unemployed people and has a strong reputation as an employer of Aboriginal people in Port Augusta and the wider region.
Bungala currently has 10 staff and 6 trainees – all Aboriginal women – who work in the kitchen.
Through high-level stakeholder engagement with the Bungala board, government agencies and funding bodies, Nathan, 32, has helped transform the program from a small operation to a successful self-sustaining social enterprise.
"Establishing Bungala's Food Services Program was difficult – it took a long time to be accepted in the Aboriginal community," Nathan wrote in his 40 Under 40 application.
"It was also a challenge professionally, transitioning from a chef to a manager in education, training and social services.
"Initially, the program wasn't financially viable – we made a loss and there was a real threat that funding would be cut. I was given a year to turn it around and I did."
Favourite pastime/activity that isn't related to your work?
Coaching Judo and training at my local CrossFit gym
—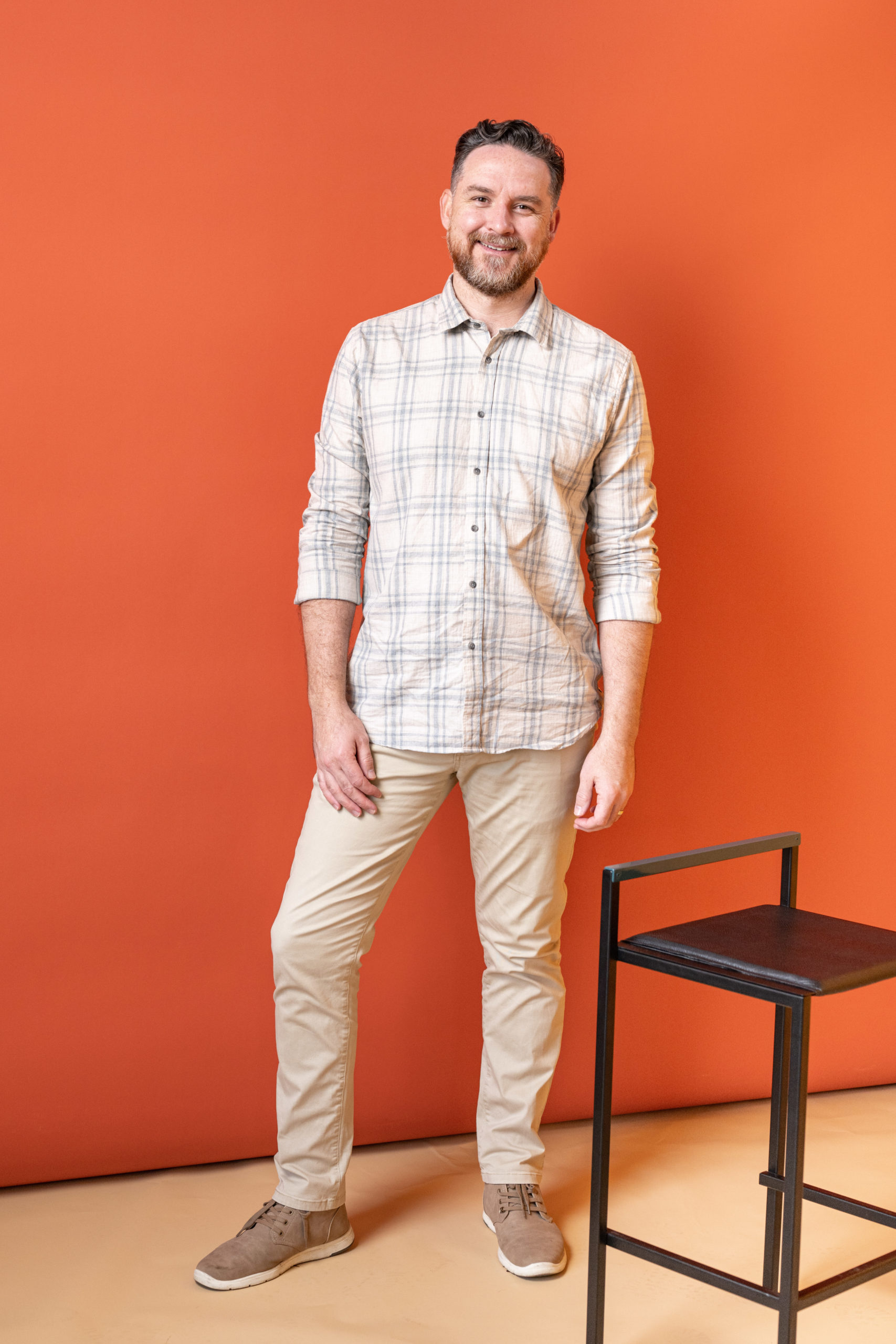 Niall Fay
Fay Fuller Foundation / CEO
With a broad vision to support the health and wellbeing of South Australians, the Fay Fuller Foundation was established in 2003, funding nearly $25 million into community health in the state.
Today, the foundation's CEO, Niall Fay, works to bring together individuals to address complex problems facing the community.
"The philanthropic sector has an immense capacity to create space and support change for social good, and it's been my privilege over the last three years to build a foundation that puts community as part of its purpose, its mission, its values and its operational heart," Niall says.
In 2021, the foundation won a Better Philanthropy Award for Our Town, which is a regional, long-term mental health and wellbeing initiative.
"We have also been acknowledged as leaders in the decolonisation of philanthropy, in supporting self-determination for Indigenous peoples in the health space, and generally championing community-led preventative mental health programs."
The 39-year-old says an important part of what he and his team do is to shift funding into community hands to reshape the way mental health and wellbeing is seen and addressed.
Niall also chairs the board of Adelaide-based tech company NQRY Pty Ltd and co-developed a program, STEMfooty, which uses sport to engage middle-school-aged children in STEM principles.
Favourite podcast?
The Blindboy Podcast.
—
Nilan Mihindukulasooriya
Firehouse Technology / Founder
Nilan Mihindukulasooriya immigrated to Adelaide three years ago, helped found software and technology platforms during a pandemic, and already has set his eyes on going global.
The 31-year-old Sri-Lankan-born software engineer had the aim of "democratising technology" to help small to medium businesses deal with and continue to trade under the devastating impact of COVID-19 lockdowns and restrictions.
One analytics product "is a revolutionary platform that combines a customer data platform with programmatic advertising that delivers enterprise-level tech to SMEs at an affordable price," he says.
Another product delivered a livestock trading platform for overseas farmer whose livestock markets were shut down, with a version set to be introduced back home.
Besides securing the funding to build products and businesses operating in Adelaide and overseas, Nilan found overcoming staff resourcing in a pandemic the greatest challenge.
"We had to improvise and find remote team members, part-time members, third-party companies who work for a commission, etc," he says.
"We have tried every approach in the book, and some not in the book. A few were successful and many were not. However, you only have to find the best way once."
Best advice you've ever given?
Nobody does great things – you do slightly better every day and greatness comes from it. This took a huge pressure off me on how I thought about technology innovation and personal improvement.
—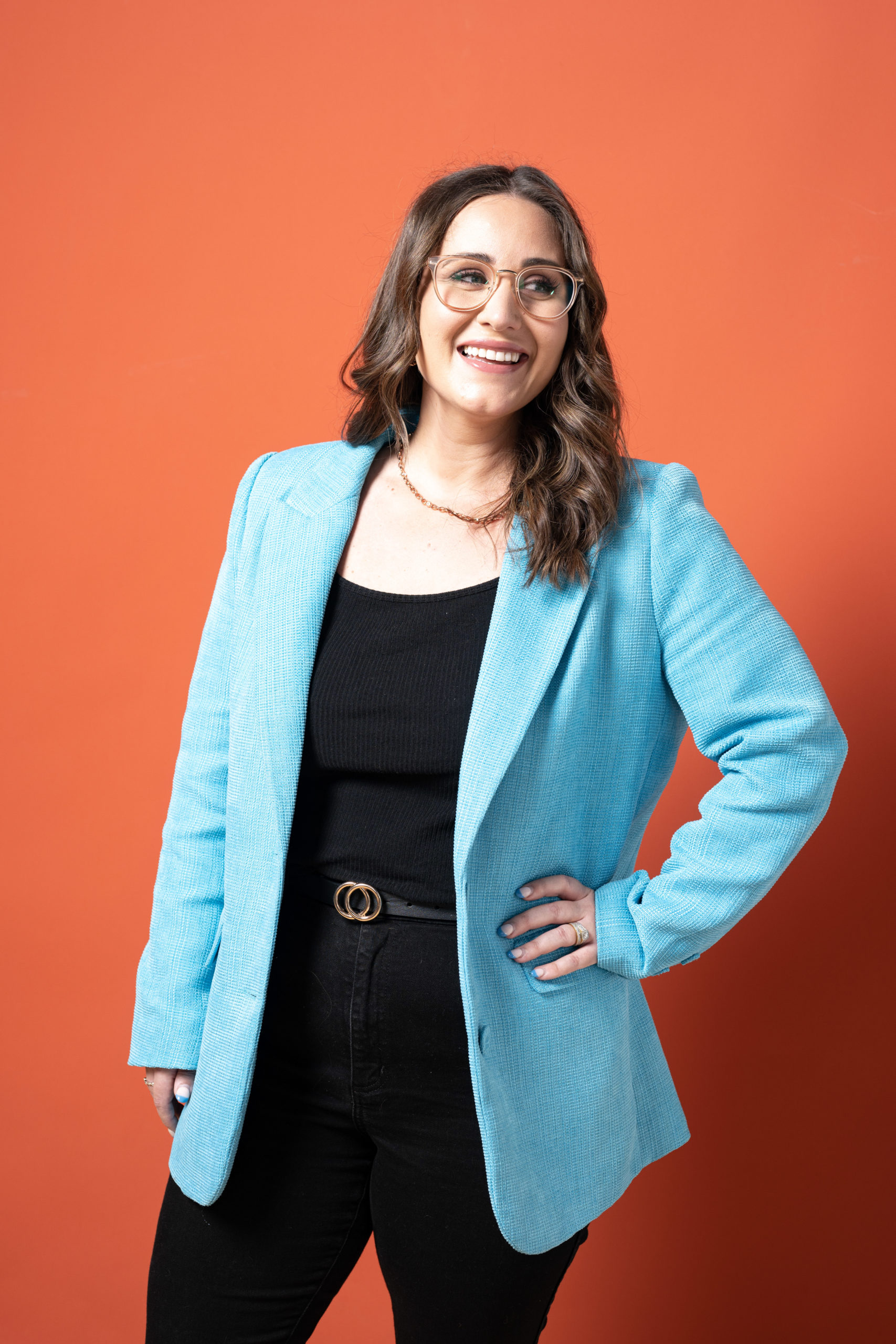 Rebecca Bendikov
Lumination / Head of Education Programs
Marketer Rebecca Bendikov has helped local start-up Lumination grow quickly in its cutting-edge field of immersive technology.
The company started in a garage in Semaphore with two employees, with the goal of disrupting the conventional classroom way of doing things.
It now employs 40 people and works with defence, government and enterprise, as well as schools.
Rebecca joined the team in 2019 as head of marketing, but now leads the company's education programs, working to introduce artificial intelligence, virtual reality and augmented reality to learning environments.
"In my career so far, I've been able to break down the barriers of the traditional classroom with schools who have proven to be early adopters," she says.
"However, the broad application of VR, AR and AI technology in the commercial sector, including defence, mining, manufacturing and health care, is obvious and extensive."
Rebecca, a board member of the Spence Club, a networking group for young SA women, says the technology presents a "huge growth opportunity" with the potential to have an enormous impact on industry in South Australia.
Favourite pastime/activity that isn't related to your work?
I absolutely love pub trivia! So much so that after many years of playing at pubs, my husband and I have started writing and delivering our own quiz nights
—
Sam Watkins
Watkins Family Wine / Winemaking Director
Winemaker Sam Watkins worked vintages in six regions across three continents before he turned 30.
Now 34, Sam has teamed up with his brother Ben and sister Jo to run the largest production winery in the Adelaide Hills wine region at Chandlers Hill.
In addition to the 5000-tonne capacity winery, the family business includes a 140-hectare premium vineyard in Langhorne Creek and a strong contract processing division.
With Sam as Winemaking Director, the siblings launched their own Watkins Family Wine brand in October 2020 and have quickly grown sales to more than 10,000 cases per year.
"We've bottled 30 different wines, have our wines in roughly 100 different venues across South Australia, and have won a number of awards in wine shows all over the country and internationally," Sam says.
Becoming an accredited judge on the South Australian wine show circuit at the age of just 25, Sam has also volunteered as Chair of the Langhorne Creek Winemaking Committee for the past five years.
During his tenure as Chair, the team created 'Project 5255', an initiative that gifts two tonnes of Langhorne Creek fruit each to three young winemakers each year from different regions across Australia to make their own wine.
Project 5255 has gained national and international attention, with winemakers in Austria, France and Italy looking to copy the program in their countries.
What Adelaide restaurant do you know you're guaranteed a good time in?
Bar Lune – great wines and food.
—
Scott Penfold
Australian Bragg Centre for Proton Therapy and Research / Lead Medical Physicist
Dr Scott Penfold is playing a leading role in the development of the first dedicated proton therapy cancer centre in the Southern Hemisphere.
Scott is the lead Medical Physicist for the Australian Bragg Centre for Proton Therapy and Research at SAHMRI.
When it starts seeing patients in 2024/25, the centre will bring a new form of therapy to cancer patients to Adelaide.
Proton therapy is an advanced form of radiation therapy that is typically used for the treatment of tumours in paediatrics, adolescents and young adults and rare adult cancers close to critical organs.
Scott was the first employee of the centre in 2020 and has since seen the team grow to 10 employees.
"I have had the responsibility of performing unique radiation shielding calculations for this one-of-a-kind facility, securing EPA Radiation Facility licensing, and working with the vendor of the proton therapy equipment to define technical specifications," he says.
As well as bringing his considerable physics expertise to his job, he has also worked on financial modelling, securing revenue, including philanthropic grant funding, and general project management.
He has recently been appointed an Affiliate Associate Professor with the Department of Physics at the University of Adelaide.
"As a father of two young boys, I want to make sure that our younger Australians diagnosed with cancer receive the best possible care and the most accurate treatment possible."
Last series you binged?
Ted Lasso.
—
Stewart Wesson
Part Time Lover / Owner
At the age of 34, young gun chef Stewart Wesson has already opened five businesses in five years.
He is the group executive chef overseeing the staff, menu and kitchen operations of buzzing city restaurant Part Time Lover, café staple Whistle & Flute, sandwich and coffee shop Just Down the Road, children's entertainment venue Funtopia Prospect, and Port Adelaide gastropub the Port Admiral Hotel.
Aside from his successful cheffing career, working in kitchens such as The Flinders Street Project and Public Café, Stewart also has a passion for mental health.
Last year he launched a local charity called Spot Your Mate, which is aimed at bolstering men's mental health and links back in with his passion for the hospitality industry.
"Spot Your Mate is about reaching out to your mates and breaking down the stigma that's it's not ok to talk about how you are feeling," he says.
"It's focussing on fitness and movement as a tool to help clear your mind and help stimulate the release of happy endorphins… [and] based in the fitness industry but overlaps into the hospitality industry so much with our high stress industry."
The sky is the limit for Stewart, who has plans on opening other businesses outside of food and venturing into sports, nutrition and fitness.
—
Tameka Francis
Hutt St Centre / Aspire Program Manager
Since she was a young child, Tameka has never liked being told what to do or taking "no" for an answer.
Today, the 32-year-old attributes her success in the field of social work to her determination in overcoming the challenges and obstacles that stand in the way of her goals.
"I will find a way around it and make it work if it is something I really believe in and that it can make a positive difference in someone's life," says Tameka.
After completing her Social Work degree, Tameka began her career in 2014 as a Support Worker with Hutt St Centre.
Having put her hand up for roles of greater responsibility at the centre over the past eight years, Tameka now spearheads Australia's first program of its kind focussed on supporting people experiencing persistent homelessness.
In her role as the Aspire Program Manager at Hutt Street Centre, Tameka has challenged the conventional ways of funding homelessness programs and the way services are provided.
"We are making steps towards ending people's experiences of homelessness, supporting people into employment, study, long-term housing and reconnecting people with loved ones," she says.
"I am privileged to do something I genuinely love as a job. I have been able to walk alongside some of our states most vulnerable people, supporting people to make significant changes in their lives from re-connecting with loved ones to putting the key in the front door of their new home."
Favourite winery of the last 12 months and why?
Alpha Box & Dice, because of the relaxed atmosphere – the bed pans used as spittoons and the delicious prosecco that we picked to serve at our wedding.
—
Tessa Leon
Human.Kind / Owner
Tessa Leon has to be flexible as a yoga instructor, but COVID-19 forced the 39-year-old co-owner of yoga studio Human.Kind (formerly Power Living) to bend to the changing needs of her clients and pandemic restrictions.
To ensure the 26 staff working at the two businesses' locations – which offer yoga, Pilates and cardio classes – still had money coming during 2020-2021 lockdowns, Human.Kind pivoted to streaming exercises online.
"With incredible foresight, we very quickly put all our classes broadcast on livestream, with high quality AV equipment," Tessa wrote in her application.
"This not only meant that our business could stay operational, it provided thousands of people with access to yoga, meditation and fitness classes at a time when they needed that support the most," she says.
The change has since become a core part of the Human.Kind business model.
Money is not the sole driver of Human.Kind, however, as the business uses a pay-what-you-can membership for those experiencing financial hardship; work in exchange for studio time; and free memberships for Aboriginal Australians as a 'pay the rent' initiative.
The city studio is also powered by 110 solar panels, meaning they produce zero carbon emissions, and employs a zero waste to landfill goal, which they are getting closer to "every month".
"Spiritual activism is the connection to both wisdom and compassion," Tessa wrote.
Adelaide's best kept secret?
Himeji Japanese Garden.
—
Tullio Rossi
Animate Your Science / Founder
Scientist Tullio Rossi ditched a career in marine biology to develop quirky animations to help academics explain their research and find broader audiences for their work.
"I used to be a PhD student in climate science trying to communicate my vital findings to the public," the 35-year-old says.
"However, my work was mainly ignored, and I learned the hard way that most research is just boring to the public because the life-changing discoveries are hidden behind a wall of jargon."
This realisation inspired Tullio to communicate research in a more inspiring way, transforming dry facts into animated videos.
He started Animate Your Science in 2017, which has become a global success with more than 300 clients from 32 countries.
The business is this year on track to reach $500,000 in revenue.
An award-winning science communicator and graphic designer, Tullio has also trained 166,000 researchers internationally through workshops, courses and blogs on how to improve communication skills to unleash research impact.
"From Adelaide, we empower scientists from around the world to create life-changing impact by producing animated videos and compelling graphics that demystify science," he says.
Favourite pastime/activity that isn't related to your work?
Salsa dancing and scuba diving.
—