Adelaide to the world
Introducing Joshua Miels
The Adelaide artist reaching the world (including Drew Barrymore) through an innovative online business model.
In the last six months, Adelaide artist Joshua Miels has shipped paintings to Germany, Singapore, the Netherlands, the USA, and across Australia.
But these sales and commissions don't come through the traditional avenues of gallery representation or relationships with art dealers. While Josh has previously had several major solo exhibitions in galleries, much of his work comes through Instagram.
Josh has built his art practice over the last five years while working in his own graphic design business. He was initially using painting as a side avenue for creative expression, but as followers on the social media platform began to take more notice it became something else entirely.
"What started to happen was, when I'd post detail shots of the eyes I was painting, because they were so unique in style, then other arts sites would post them and some of those art sites would have a million followers," says Josh.
"Some days I would look and I would have another 2,000 followers.
"Basically the way that my following has grown has been purely based on other people sharing my work and drawing the audience back to me."
Just last night, some work of Josh's was reposted by Drew Barrymore – netting him thousands more fans and taking his account beyond the 100,000-follower mark.
By accepting commissions and using his base to drive sales of his work, Josh has been able to monetise this following and turn it into a sustainable art business.
He has also begun using social media to collaborate with other artists. His most recent series, Social Disconnect, which depicts isolated people using public transport, incorporates paintings based upon the work of photographers Josh connects with online.
"I've also used social media to team up with photographers from around the world," says Josh. "I've basically been given permission to use their photo as the basis of my work and then I give credit back to them and reference them – so it gives me a great database of imagery I can call upon.
"It's collaborating with people I'll never meet and never speak to."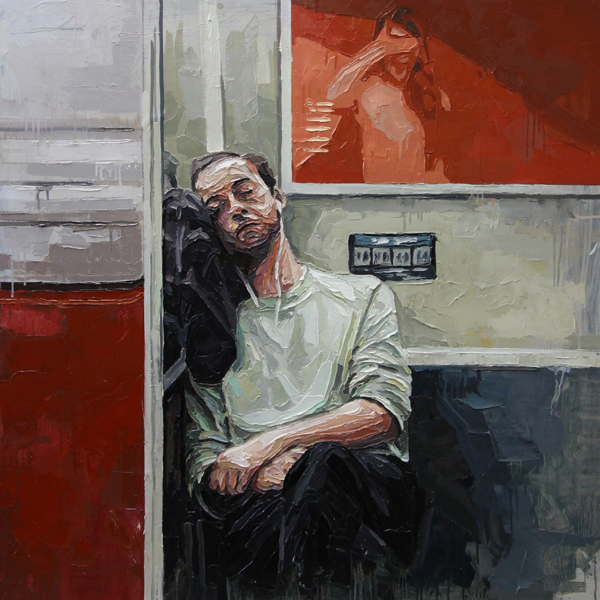 While this collaboration has allowed Josh to broaden the scope of his work, he says it also speaks to one of the downsides of working as an artist through the internet.
"That's a drawback of social media – it is a very isolating way of working. I don't like the lack of verbal or face to face communication," he says.
"That's partly why I decided to do a subway series. The work is based on the fact that even thought you're surrounded by hundreds of people in public spaces you can still be very isolated. And that comes back to my feelings of isolation working externally and alone in my studio."
Capturing feelings like a sense of isolation has always been at the heart of Josh's work, even before he began this series.
Many of his paintings, which are created by thickly applying paint with a palette knife, address the disconnect between the exterior personality people present and their interior worlds.
"I try to translate what people feel into my pieces and that is one of the reasons I like to keep the face expressions out of it," he says. "Just because someone is happy and smiling doesn't mean everything is ok.
"I want to just paint people for who they are and let the real person shine through."
More than any number of re-posts on Instagram, it's this ability to reveal something about his subjects that will keep Josh's work globally relevant for many years to come.