Culture
Words: Angela Skujins
Pictures: Morgan Sette
Morgan Sette usually photographs car crashes and bushfires for the AAP.
But since finishing up with the newswire service last week, she started documenting the realities of her friends in isolation, most of whom are dealing with the economic fallout of the coronavirus from within their homes.
There are now-familiar scenes that will come to define the COVID-19 pandemic in retrospective news reports: humans hooked up to ventilators, medical staff clad head-to-toe in personal protective equipment, and politicians fronting press conferences.
But there are more intimate human stories playing out across society, hidden away in people's homes.
More than a million people have lost jobs following government efforts to restrict the spread of COVID-19. From front-of-house hospo staff to marketing gurus, a large swath of the population has been laid off.
They each now wait at home, quietly weathering the storm, unsure what the future will bring.
Morgan Sette wondered about her friends in the creative industries, and how, with her skillset, she might give assistance during this time. Could a photo help?
She put a call out on Facebook to see if anyone needed a commercial headshot to kick-start their career and was inundated with requests. She has so far documented over 20 home-bound creatives thrown into unemployment. And while photographing them, she found they're more hopeful than she had thought.
"Most of these people are more or less in creative fields," Morgan explains.
"I think we're used to things constantly being so volatile. Even though we've had our work taken away from us, we've settled into it. Mostly everyone seemed to be actually enjoying some home time."
Morgan shares some of their stories below.
"Julie Sayasane (pictured above with the yoga mat) wanted some imagery for her website because she hasn't been able to do it for a while," Morgan says.
"She's from Toronto and was supposed to move to Copenhagen, but that's just completely at a standstill. I think she needs to sort out some visa stuff because now she had to stay here.
"[Below] is Isobella Caruso. Isobella was explaining she's got the [Robert Stigwood Fellowship Grant] for launching her own publicity business in music, and says she's finally got the time to actually knuckle down and think about it.
"But what she's been doing to work on herself and help out people around her is offering marketing for small businesses completely for free.
"This is so she can learn about it, but also because she says, 'I have time, I'm not stressed financially, I'm going just use this time productively.'
"It's really cool how absolutely different everyone's story was. There was not really a similar thing that bound them."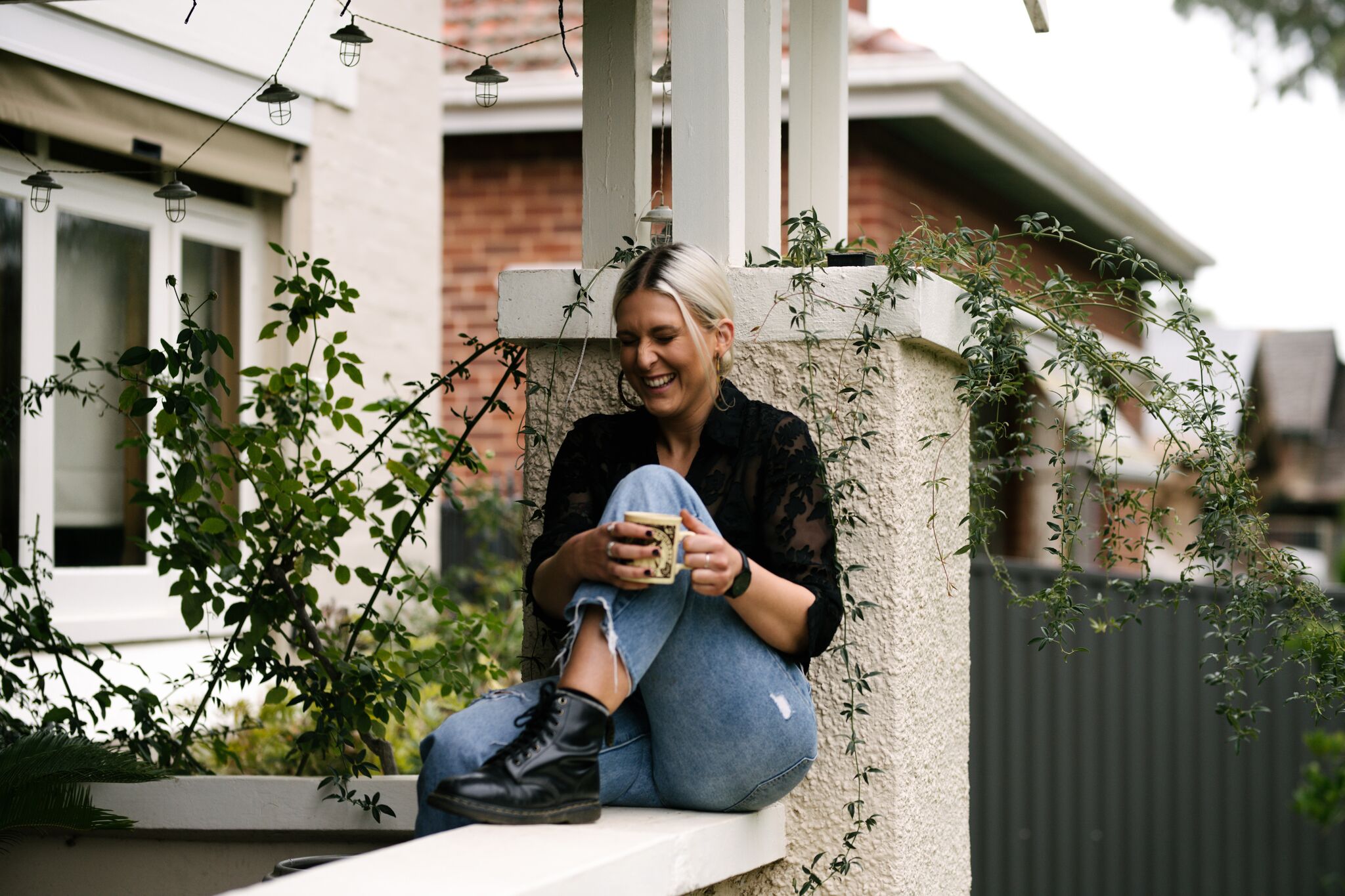 "The couple in the black (above), they work in marketing and social media.
"[At the beginning of COVID-19] Lewis and Frances Whittenbury were on their honeymoon, so they were on an eight-month-long trip. But because of all this they had to come home and were both desperately looking for work.
"It seemed to be a really general feeling, that a lot of people were looking for work and a lot of people weren't finding it.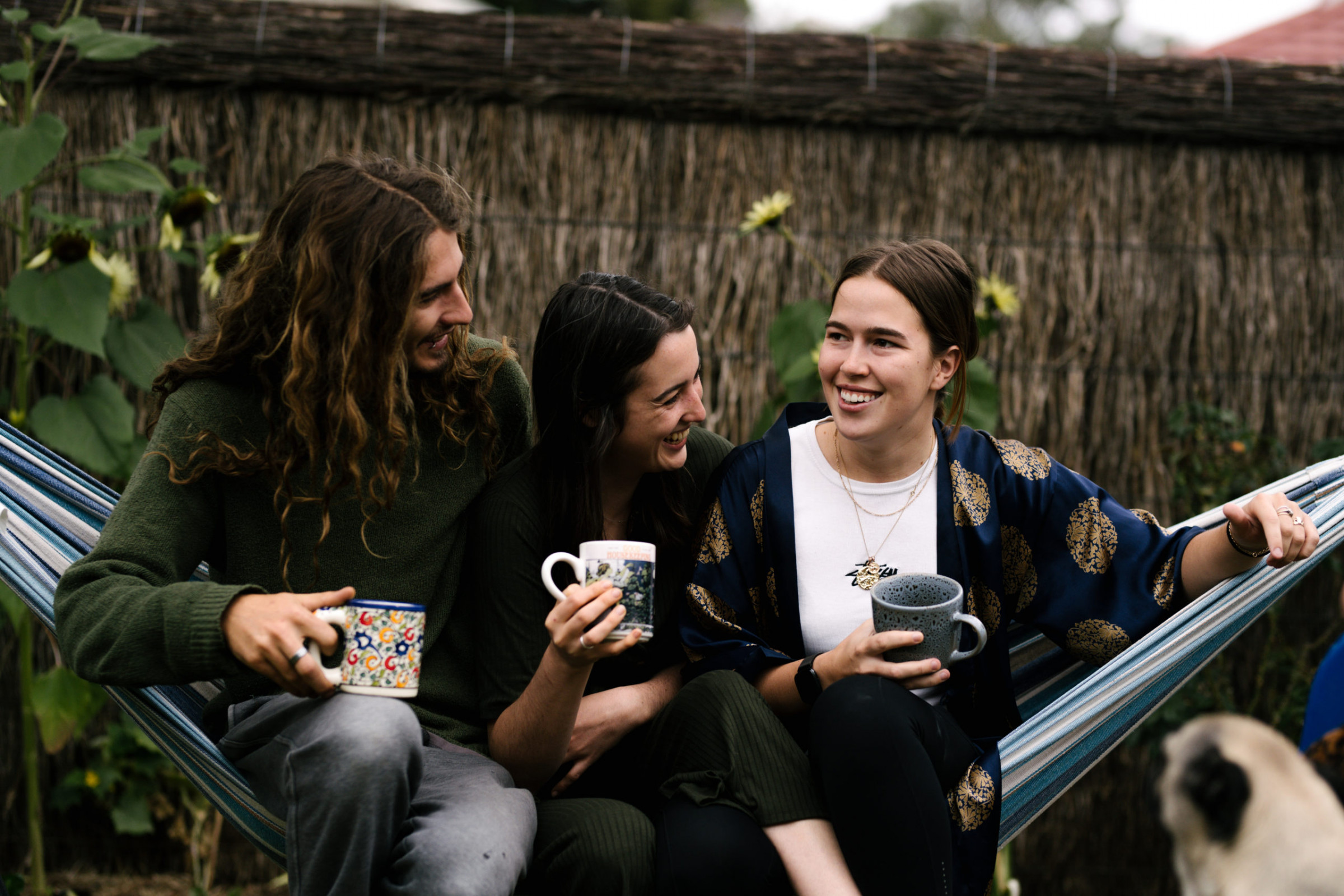 "Sapphire Snow [below] is a burlesque and cabaret dancer, and her partner (Eric Santucci) owns a motorbike and is a full-time musician. The two of them are just just chilling.
"In the last few years she's been pursuing dancing a lot more and always posts about how she's found it a really positive experience. She's really loving learning about that whole industry.
"I also got a photo of her all dolled up and taking out the bins, but she didn't like it as much because it hid her outfit.
"She was really excited and spent I think four hours getting ready for a 20 minute shoot."
"[This] is Laura Desmond (above); she was supposed to go over to Melbourne Comedy Festival and then to Edinburgh Fringe, which obviously, like so many people in the arts, is at a complete standstill.
"But she's in Adelaide paying too much rent because she lives by herself.
"Because she's hilarious, the photo ended up being her smoking a dart with no pants on North Terrace, so I'm not sure if she can use that for her work things, but actually she probably can because she does comedy.
"Ashleigh Knott (pictured below) works in the film industry.
"She was about to do this huge contract for about eight months and was devastated when it was postponed.
"[Although] she's super happy in that photo… it was one of those things where you can tell someone's been dealt a really big blow.
"But then she was like, 'I put makeup on. I'm wearing my favourite dress, and I'm really excited for this photo."
"It's funny, Naomi Keyte (right) made a really good insight.
"She said, 'I feel like so many of us were on the verge of a breakdown without realising.' It's true – that so many of us are all the time in the creative industry, and it's that whole burnout phenomenon.
"Most people's sentiment reflected the same sort of thing. And they welcomed this sort of stillness that we don't actually get a chance to usually experience.
"I realised I'm way more of a workaholic than I thought I would have ever ended up being."
As Morgan has wrapped up with AAP, she's looking forward to taking on more freelance work and tells CityMag she's not worried about the future. Like those she documented in the creative industries, Morgan has never experienced job security.
But that doesn't mean she's lost hope for the future.
"This is the first time in five years that… I haven't had this stress of things hanging over me. It's a welcome change."