Travel series: Travelling without moving
November 21, 2019
SouthAustralia.com
Partnership
Summer isn't for standing still – the city's bitumen is too hot for that. Escape the city's heat island effect and head straight for the river with our publisher who's discovered an idyllic place to stay while the river rolls by and brings you everything you never knew existed out here.
The French have a word – you might have heard it before, or maybe blushed after using it yourself – terroir.
I'm engaged, but I still call my fiancé "my girlfriend" because I am definitely not okay with saying fiancé out loud. However, terroir is a beautiful word that means a lot more than, "the dirt that's flavouring the grapes you've got crushed and fermented in your glass."
By the French reckoning, terroir doesn't just speak to the geology of a place, but its people and their customs, too. Terroir is as much 'how' as it is 'what' goes into making a certain place distinct from another.
On my trip to Mount Gambier, Deep Creek and McLaren Vale I encountered the idea of place through taste, sight, smell and conversation with local storytellers along the way. These storytellers weren't writers or filmmakers but baristas, restaurateurs, teenage boys and, of course, winemakers. The story each told about their place in the world was as timeless as a Penguin Classic.
Heading to Renmark this time, I packed a Penguin Classic – The Adventures of Huckleberry Finn – and not much else. Two nights away in summer is as easy as a pair of boardshorts and a change of shirt. Fun's changed, and travelling light is a new kind of delight for me.
In any case, I'd decided this trip was going to be different. The travel time was less and the itinerary minimal. The photographer and I had only one destination– the Pike River Luxury Villas – and that was it.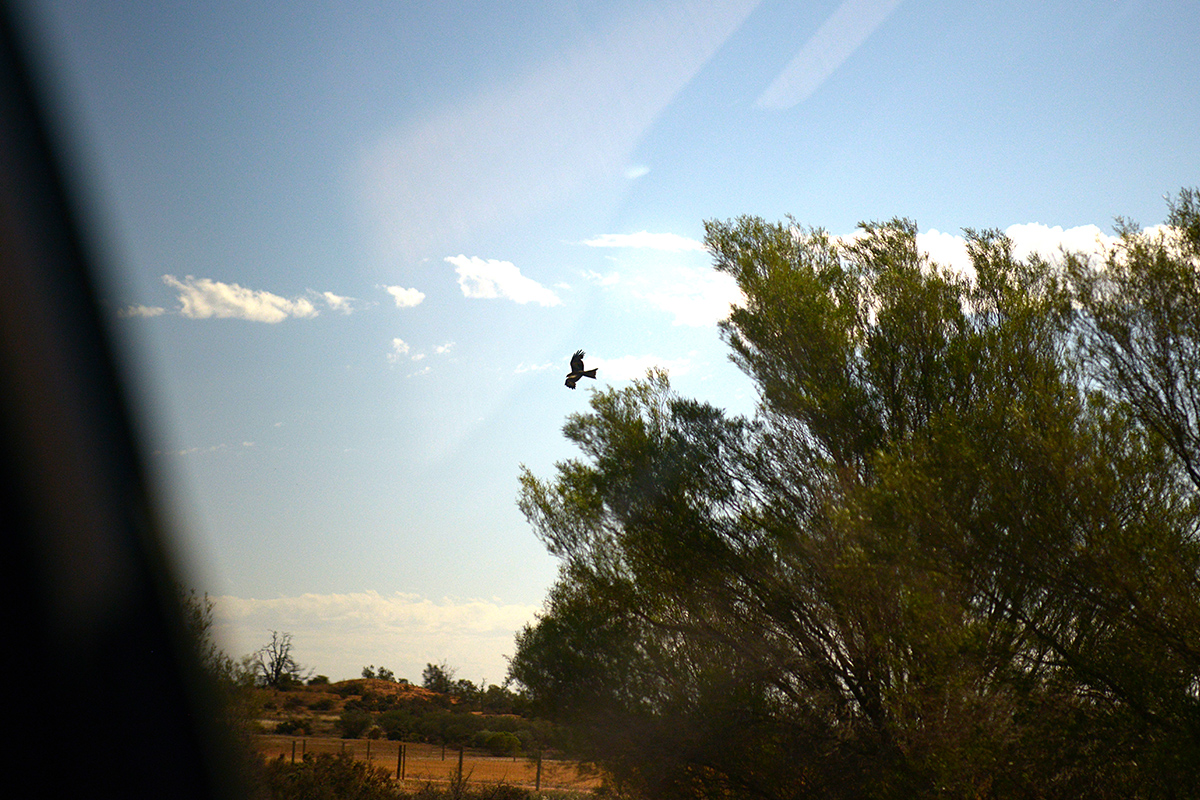 We arrived outside of Lyrup at 4:37PM. Andrew Caire of the Pike River Luxury Villas was expecting us at 4:30, but we took a detour down through Loxton because the photographer and I got to saying the name of the town with a Jamaican accent and, well, after 10 minutes or so of reggae/dance hall inspired Loxton riffs, the town had turned into a must-see destination.
A road trip is fun like that. With a full tank of petrol and the sun still high in the sky, we turned off the A20 onto Kingston Road (hello Jamaica!) and fanged it past Moorook and Moorook South towards Loxton, all while the mighty, slow-flowing River Murray sat pretty in our peripheral vision.
Probably the best indicator of South Australian terroir is the local bakery's pie and pasty selection. Loxton Country Bakehouse scored a solid 7.5/10 with cheerful banter from the ladies behind the pie-warmer and a weirdly delicious spinach, pumpkin, cheese and ginger take on a vegetable pasty. I also got the last pepper steak pie, much to the dismay of the photographer who was next in line.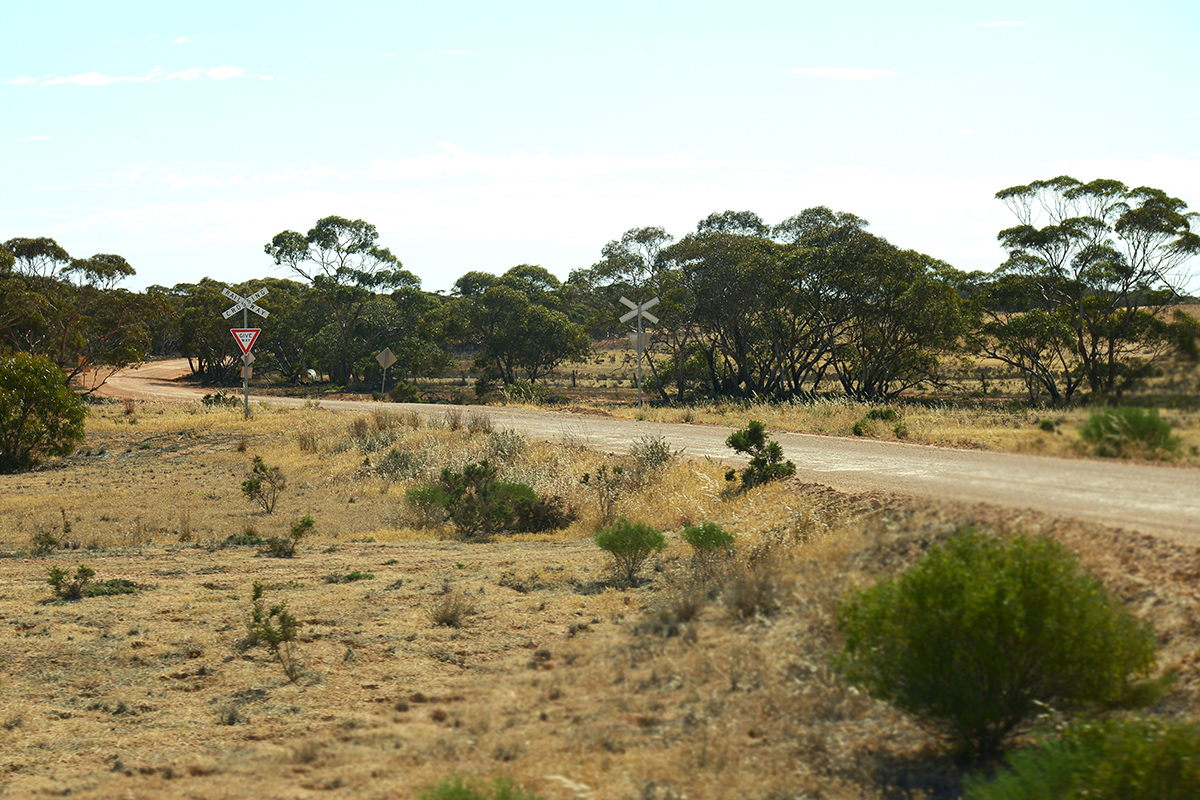 Getting out of the car at Pike River Luxury Villas, I'd barely closed the door before I spotted Andrew striding across the dusty car park with hand outstretched in a manner so welcoming it instantly dissolved the inhospitable feeling of the hot and dry environment.
I mentioned to Andrew about our experiences of the South Australian climate; about the Mediterranean sea haze down in Deep Creek, and the lush, aquifer-fed pastures around Mount Gambier, and how unexpectedly arid it was up here, like…
"Africa," Andrew interrupted.
"I've always thought this place looked a bit like Kenya or somewhere like that. But come and have a look at the river, you haven't seen the view yet."
Out the side door Andrew led us and, just a few steps clear of the Wine Centre, we discovered the precipice of a tall ridge that looked out over the vast floodplain of the Pike and Murray rivers. You can see for hundreds of kilometres over the natural Murray landscape, and it is spectacular.
"It's dry, but it is a beautiful spot," said Andrew. We agreed.
Andrew invited us to hop back in our car so he could take us for a quick tour of the eco villas he and Bronny have slowly added to their property over the years. There was Stone, Ibis, Redgum, Dusk and Water villas. Each was separated by a generous amount of space and privacy. Every villa had a spa bath, and every villa had an open plan shower off the bedroom featuring natural stone tiles that reminded me of the onsen I stayed in at Gala Yuzawa. Fun's changed in the Riverland.
"I hated the thought of cleaning the glass every time a guest left," Andrew explained about the bathroom set up. "Sure, the water gets splashed around a little bit, but it's not a problem.
"Really, most of our guests come here for the weekend – we get a lot of couples celebrating anniversaries and things like that – and they bring everything they need, each villa is fully self-contained, and we don't see them leave the property again until it's time to check out."
This trip was all about forgetting the time and indulging in the act of staying still.
On the river you travel without moving, like you're on a giant conveyor belt bringing you the world while you float above. The Pike River Luxury Villas are the perfect place to spend all day reading a book on your deck, or going for a paddle in a kayak, or watching TV in your bedroom while taking a shower… because you can.
Day two
Thanks to the products Andrew and Bronny had placed on the shelves of their Riverland Wine Centre, we had earmarked a couple of nearby places to explore if our Millennial minds became too agitated by the act of staying still.
"The Lyrup ferry operates 24 hours a day and it's free," Andrew had told us. If we were going to leave Pike River and head to Renmark during our stay, it was well worth taking the short ferry trip across the Murray at Lyrup.
In those early pages of Mark Twain's novel, Huckleberry Finn had gotten on and off the river and dodged in and around rafts and ferries innumerable times. So while I had gotten along in the book, and loved doing nothing but reading and watching the sun move across the sky, while I lay on the king-sized bed – there was also a call to adventure being fostered by the book in my hands.
But it was actually the little-known author Corey Roberts that eventually persuaded me out of my motionless state, with his ringing endorsement of the Wilkadene Woolshed Brewery.
"Worth taken a look grate place the serenity is amazing I could of purch up there all day,"
— Corey Roberts' four-star review of Woolshed Brewery near Murtho Rock about 20 minutes north of Renmark.
If bakeries are part of the terroir in South Australian regions then so too are renovated and repurposed woolsheds.
Pike River Luxury Villas' entire business was founded on them first converting an old woolshed on their property into a bed and breakfast. Similarly at Murtho Rock, the old Wilkadene woolshed has been transformed into a brewery. I'm not going to compare beer drinking with the back-breaking labour of sheep shearing but I reckon they're having a bit more fun now at Wilkadene with their very own craft brewery.
While there, I got to talking with Sledgy – a brewer's assistant – about the Woolshed Brewery operation.
Sledgy was definitely part of the terroir around here and had nothing but praise for the Freeman family who saw the need to diversify their sheep grazing operation when they launched the brewery back in 2009.
"Since the tourism boom about five or so years ago, things have really taken off," said Sledgy. "Some tourism board or something shot an ad out here and they even hired us as actors – and we got paid. That was alright," he said, laughing.
Wilkadene Woolshed Brewery is an icon of the region. Their brewery is supported by 100,000 litres of rain water storage and is zero waste, with all by-product being used to feed livestock or maintain the Wilkadene property's extensive garden. The place is an oasis and the beer is bloody good. I was driving, so didn't try them all, but the photographer said you should try their Hard Lemonade and Rude Ruby for sure.
Due to my penchant for packing light and preparing as little as possible, we didn't have food to cook back at Pike River. So, after a couple of hours and a couple of beers by the river, we took off to find a restaurant in Renmark.
Travelling with a photographer is a unique experience. The way they look at the world is different to, say, the driver of a car.
"Pull over here, there's a good view of the river!" the photographer would yell.
I'm driving at 110 kmp/h and there's no shoulder to pull off on and a solid white line preventing a U-turn. But each time we would double back and find the spot, it would always be worth it. On this particular night in the Riverland the sunset covered the sky in purple haze and deep vermilion. It was very pretty.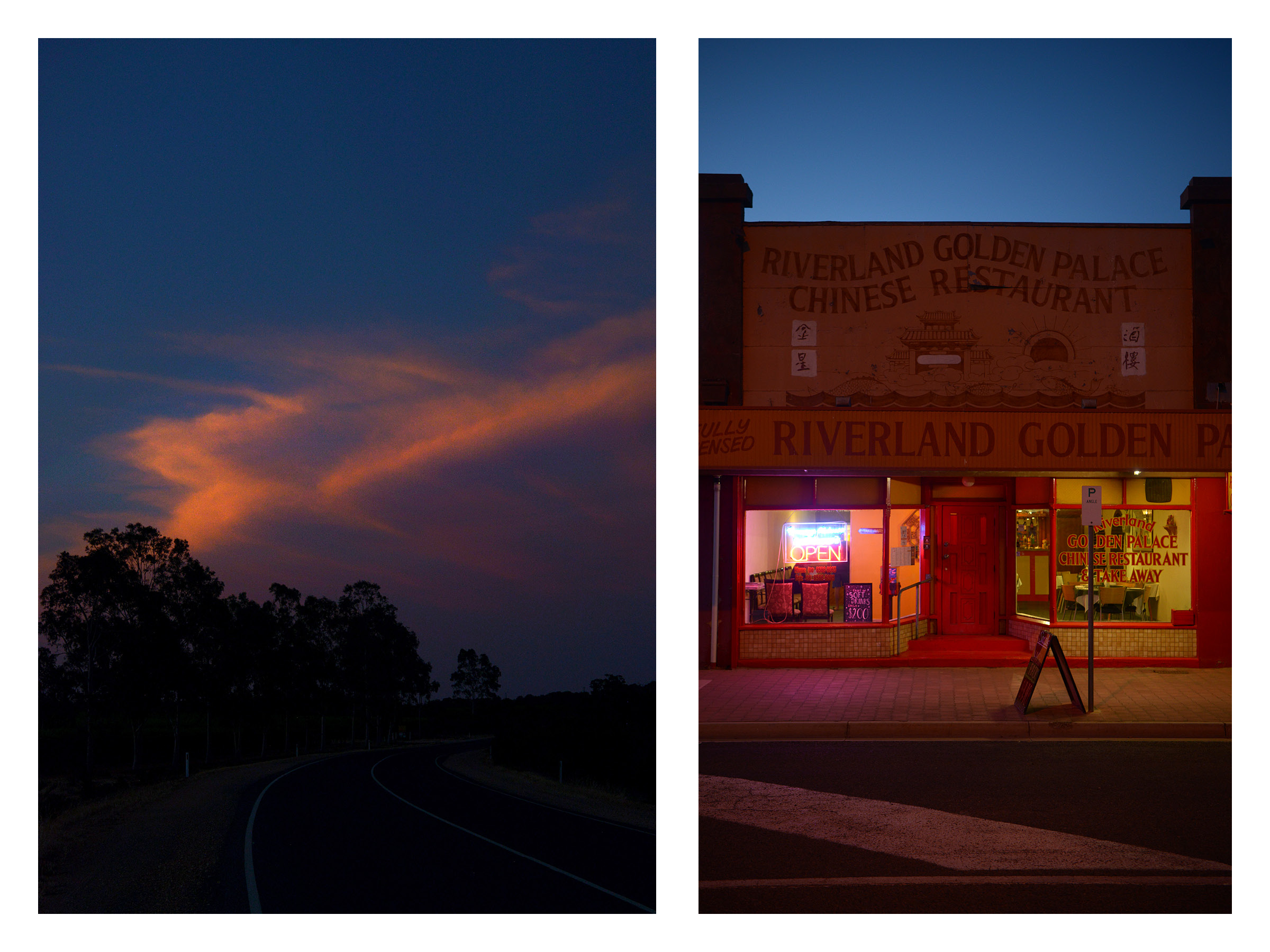 By the time we'd finished chasing the sun's plum fingers over the horizon, it was dark in Renmark.
"Stop. Go back," said the photographer in the manner he'd become accustomed.
He'd spotted an epic Chinese restaurant on the main street and wanted to get a photo. Regional towns have these restaurants, there was one – Golden Chopsticks – in Mount Gambier, near Cosmos Pizza too that we were tempted to dine at. They're the sort of place you'd buy the souvenir t-shirt from if they had one for sale.
The photographer and I discussed the relative merits of funding a photo book about Australian regional Chinese restaurants over a succulent dinner at Riverland Golden Palace Chinese Restaurant.
Fun's changed in Renmark, and while I'm sure we could have sought out a degustation-style meal here, it felt so much more authentic to tuck into a sizzling beef and black pepper udon, and the complete revelation to me that was shrimp toast.
These restaurants – their aesthetic, menu, and service – are the meme generators of my generation.
While Millennials in Adelaide overrun fine dining across the city and throw out tablecloths, while charging $34 for chicken and chips, it's places like Golden Palace that emerge in our regions like glowing temples of a simpler time when the theatre and decoration of a restaurant were an earnest rather than ironic attempt to recreate a cultural experience.
Pike River Luxury Villas and Wilkadene Brewery demonstrate how much Renmark and its surrounds have updated their offering for the casual visitor, while Riverland Golden Palace Chinese Restaurant gives you the chance to indulge in something that's remained unchanged for decades.
Day three
After five showers in two days, it was time to bid adieu to the bed-shower situation I'd become so enamoured with at Pike River Luxury Villas.
The hot, arid landscape outdoors that originally drove me to seek extended soaks inside had softened in my eyes. It had become increasingly beautiful with the time I had taken to do nothing but watch how the sun changed the colour of the land, the river, the tree husks and waterbirds as it rose and fell in a day.
I'd reached chapter 14 of Huckleberry Finn, the point at which Huck and Jim climb aboard a wrecked paddleboat only to discover some "murderous thieves."
I'd gone a couple of days without coffee and I felt like I could murder one myself.
We packed the car and looked for Andrew and Bronny before we departed. The doors to the Riverland Wine Centre were open, but I couldn't find anyone inside. I sent Andrew a text message to thank him again and we headed off to find a good coffee in Renmark.
Arrosto Coffee is in the old fire station on 152 Eighteenth Street and the three girls behind the counter were about as good ambassadors for Renmark as you could ask for.
I ordered what – from the packaging and displays – looked to be the house special: cold drip. The photographer ordered a half latte. When I mentioned we were going to be taking photos of our coffee and please don't hold that against us, the girl behind the machine gave us Arrosto Coffee's history in dot points rather than the eye roll I'd normally get in Adelaide.
The building was bought by local builder Callum Benda at a government auction when he was 19 years old. He turned the fire station into a house. Callum married Lauren Benda (nee Scott) and over the last eight years they had built up a wholesale coffee roasting business that serviced the entire Riverland.
"Callum's out the back roasting this morning," said the barrista who – it turned out – was the Hannah Ferguson "Head Trainer / sales" that appeared on the Arrosto business card I'd just picked up.
"You're welcome to go down there," said Hannah pointing at a small building at the back of the property. "Callum'd be happy to have a chat."
Yep. Everyone is that friendly, informative and laid back in Renmark. I remember thinking at the time, "I love Renmark."
The photographer and I drank our coffee out the back of Arrosto in their expansive backyard. Come to think of it, I don't know a single café in Adelaide with a backyard like this. You've got to take a look at the place for yourself.
It was 8:30AM and Arrosto was doing a roaring trade. A group of high school seniors all had variations of coffee with ice in it. Tradies were in and out and two young mums had congregated under one of the trees on the lawn, with a throw rug, some toys, a baby and a coffee each.
We found Callum – earphones in – roasting coffee. The smell was amazing.
"Twenty eleven," is when Arrosto started roasting coffee Callum told us. "We opened the shop in twenty seventeen."
Callum is one of those natural business brains. He knows the local market well and he's not pushing a hipster agenda out here. The cold brew Arrosto is famous for is made as a concentrate so that locals can add milk. "They have to be able to add milk," Callum told us and smiled.
But that concentrate coffee has also been transformed into Firewater Coffee Liqueur in collaboration with a local distiller and Arrosto has a beer, too. Firehouse Coffee Stout is made in collaboration with Callum's mates at the Woolshed Brewery. Fun's changed in Renmark since Callum and Lauren set up shop here.
"I think the really unique thing about being in the country, as far as tourism and business goes, is, well, there might be 20 coffee roasters in Adelaide, but do a lot of people know about those roasters?" Callum asked rhetorically.
"I'd say no. If we were in town – in the middle of that concrete jungle – we'd probably end up being hidden away. But out here, you're gonna find us if you like good coffee."
And it's true. We came to Renmark with no more plans than to read a good book and watch the river drift by.
What the photographer and I found were people and products entirely of their place. The culture of the Riverland is distinct from the South East. Renmark has changed with new additions like Arrosto, Woolshed and the gin distillery on 23rd Street. But it's also stayed golden, as evidenced by the lilt of a more laidback accent on the locals' tongues and the existence of quality food served without irony in a gilded palace with blue neon signs in the window.
Fun's changed with access to five star accommodation at Pike River and so too has the economy out here. Everywhere we drove we saw solar panels connected to farm buildings and it's the same at Pike River, who accidentally ended up building the state's first private solar farm to power their eco villas in the arid terrain above the big ol' brown river that snakes through our state.
Back in Adelaide I hear South Australia described as a city-state all the time. The inference is that the towns on our capital city's periphery have no significant impact on our economy or state. It's always people in suits who take to repeating this phrase, people who I presume have not been out to our regions and experienced the girth and full gamut of people and places that punctuate our state's broad and laconic character. They're people who talk about the economy as though it's not fundamentally connected to forestry or grapes or wheat or tourism.
It's those same people, who will tell you all about terroir too, and how it speaks to the mineralogy of the earth as an expression of flavour in your glass, while missing the point that terroir is just as much about the people above ground giving a place and its produce its unique flavour as it is the earth below.
When you take another look at Renmark, and you get to talking with Sledgy, or Callum, or Hannah, or Andrew, or Bronny, you'll hear a different story about this state and our economy. These are salt of the earth people.
Take another look at Renmark and Loxton and Berri and beyond, because there's more to South Australia than four terraces and the Adelaide Oval, some small bars and an innovation hub. Fun's changed in South Australia's regions and there's plenty of room in our state's narrative for you to write your own chapter out there.
---
This article was produced in partnership with the South Australian Tourism Commission.
See how fun's changed in Renmark, visit SouthAustralia.com to take another look and find everything you need to book your summer holiday in one of our great regions.