November 14, 2017
Partnership
Partnership
City Gift Guide 2017
Buy your Christmas gifts locally this year, and get some beautiful things made and sold by Adelaide makers and movers.
When it's Christmas in Adelaide, people flock to a shopping centre. It's what your mum and dad did, and it's probably what their mum and dad did too.
This year, we plan to look beyond the confines of a retail megaplex for things with a distinctly Adelaide feel. We'll be looking into the nooks of Adelaide's CBD, in order to lay our hands on something a little more local.
CityMag is celebrating Adelaide's small business success stories in partnership with the City of Adelaide, who helped bring this story to life.
The below list is filled with 12 things that we're planning to pop under the Christmas tree this year. If you need a plant for your nan, socks for your dad, and a cute bag for your 17 year old niece, we've sourced them. Adelaide makers have your back.
Pillowcases by Weft Textiles from Ensemble Studios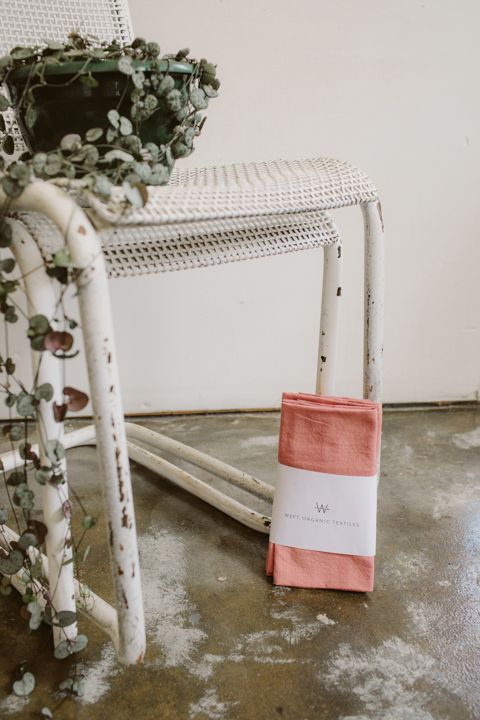 Our Auntie told us not to get her anything this year, or last year, and the million years before that. But we love her, and we love to enable a healthy appreciation for good interior design. Pick up these Weft Textiles organic French flax cushion covers from Ensemble on Gilles Street to win some points with said Auntie. She'll appreciate the raw feel of the fabric, and the fact that you remembered all those conversations over wine and arancini about why buying organic leads to a more enriched, fulfilling life.
$59.99
Ensemble Studios
94 Gilles Street, Adelaide
SHIRT by Samurai from RHD Store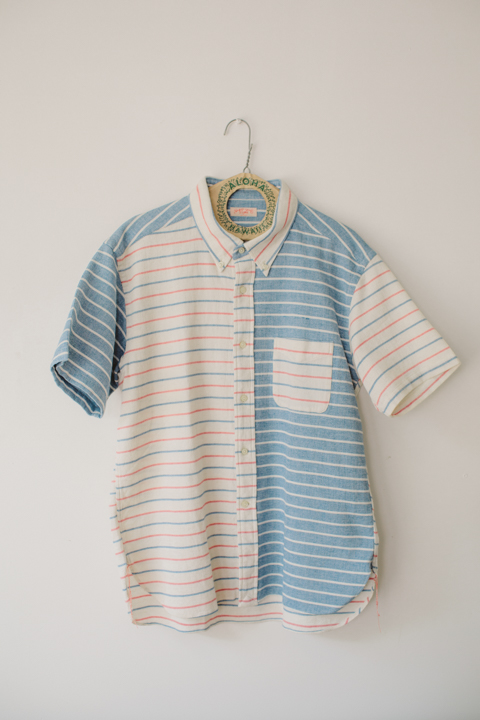 Something with a bit of style and substance for the boys? We could see this Sun Surf shirt on our 20 year old brother, and we could see this on our Pop. Made in Japan of 88% cotton and 12% linen, this guy will ensure a man's not hot.
$225
Right Hand Distribution
83a Hindley Street, Adelaide
LEATHER BELT by BB Shoemaker from Ensemble Studios
For a person who has it all, but still appreciates the beauty of a well made, functional object with a sartorial slant: a sleek leather belt, made by a talented shoemaker named Beccy Bromilow in the heart of our state.
$99.95
Ensemble Studios
94 Gilles Street, Adelaide
SOCKS by Chup from RHD Store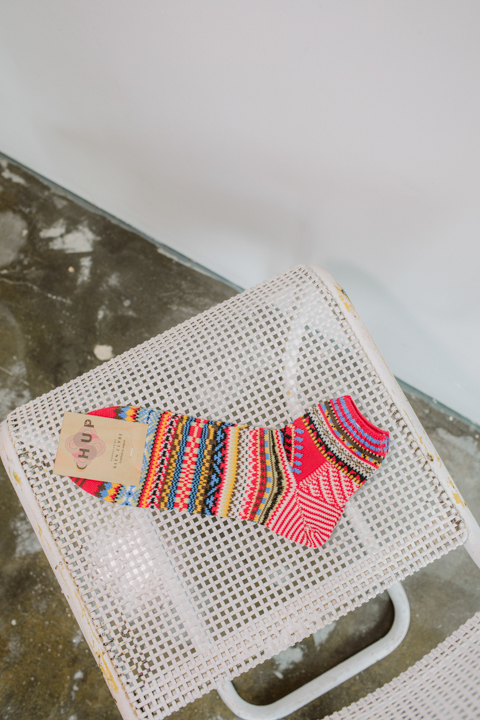 Socks and jocks for your dad? Genius. This time, leave the Bonds multi pack at HS, and opt for some thicker, brighter CHUP socks from RHD. Produced by Glen Clyde in Japan, these little guys will do great under a pair of Birks; a guaranteed conversation starter for the happy sock enthusiast.
$36
Right Hand Distribution
83a Hindley Street, Adelaide
TWO PIECE BATHERS by Good Studios at Ensemble
Imagine this scene: your sister spends a weekend down at Second Valley, she's rock hopping, she's having a good time, she's wearing these bathers and feeling real confident about it because, not only does she feel great in them, she knows their purchase has done some good in the world. All of Good Studios' Swim Good collection is made in Adelaide using up-cycled nylon from salvaged fishing nets, and, with every online purchase, the label plants a native tree.
Swim Good Bralette $109, and Swim Good High Waisted Brief $89
Ensemble Studios
94 Gilles Street, Adelaide
NATURAL WINES by Yangarra and Ngeringa from East End Cellars
Doesn't matter if you drop $75 or $23, either of these wines will impress. Just drop in a wave of truth too and you're set. For the Yangarra, tell your Uncle he's now the owner of a rare specimen – there are only 94 cases of the kind in existence. And then tell your other Uncle that his J.E Syrah is a brand new label under Ngeringa.
Ngeringa 'JE' Syrah 2013 $23, and Yangarra Roux Beaute Roussane 2014 $75
East End Cellars
25 Vardon Avenue, Adelaide
PLANTS from Fleur & Brew
It's hard to be disappointed by plant presents – plants literally make humans happier and, apparently, smarter. Pick some up when you next pop into Fleur & Brew for a coffee and donut. A gift for your mate; a treat for you.
Prices vary, head in store to see what's available
Fleur & Brew
53 Gilbert Street, Adelaide
Jack Purcell Pro SNEAKERS by Converse from Twenty Fifty Two
We're pretty sure there's no way one can be anything but stoked at the prospect of being given a pair of Jack Purcell Cons. They're a little different than your normal Converse – though the classic silhouette remains, these guys were originally designed in 1935 by world champion and undefeated Badminton player, Jack Purcell.
$130
Twenty Fifty Two
Basement, ​83B Hindley Street, Adelaide
EARRINGS by Olivia Kathigitis from Ensemble
For the woman or man who appreciates the beauty in things that aren't perfect. These hand made earrings are by local artist, Olivia Kathigitis. She sells them in a few places, but, within the CBD, she sells them at Ensemble.
$55.00
Ensemble Studios
94 Gilles Street, Adelaide
LEATHER BACKPACK by Martine Van Reesema from Naomi Murrell store
Pretty sure our 17 year old niece would be just as happy to unwrap this bag as our 81 year old grandma – we guess that's the sign of a damn good product. This bag is crafted by hand from vegetable tanned kangaroo hide, is unlined, and can be made to any specifications should said specifications be wanted or needed.
$470
Naomi Murrell Flagship Store
Shop 5 Ebenezer Place, Adelaide 
NECKLACES by Naomi Murrell at Naomi Murrell store
Yeah, unwrapping surfboard-sized presents is fun, but wouldn't unwrapping a Naomi Murrell necklace-sized present be cute? Oh yeah. Set one of these in your stocking and everything's coming up Milhouse!
Starlight Charm Gold Plate (outer) $125, Pinball Necklace Gold Plate (middle) $220, and Starlight Necklace Gold Plate (inner) $220
Naomi Murrell Flagship Store
Shop 5 Ebenezer Place, Adelaide 
CERAMICS by Damon Moon from Jam Factory
We strongly believe that good ceramics should be enjoyed by all. We also strongly believe that good food should be enjoyed by all. So, putting good food in good ceramics and throwing a good dinner party is always number one on the CityMag agenda. Let these ceramics be the catalyst for a feast within your inner circle.
Thrown Dinner Plate $49.95, Thrown Side Plate $35, Thrown Pasta Bowl $39.95, and Thrown Desert Bowl $29.95.
JamFactory Craft and Design
19 Morphett St, Adelaide
STRUCTURAL SLIDES by Ana Terra Handmade from The Mill
Why buy someone normal shoes when you could buy them these. They're sure to be the talking point of literally any outfit, so be sure to gift them to a person who loves a chat with randoms. Fun fact: they were designed in collaboration with our fashion director, Sharmonie, and made especially for Slow Fashion Festival – that cool fashion festival we partnered with this October.
$100 samples, or $310 custom
The Mill, by appointment
mateaglu@gmail.com
154 Angas St, Adelaide 
COFFEE BEANS from Monday's Coffee Store
For the coffee lover, this one is a good'un. These beans have a bit of a floral taste, and are from Dika Gabe, which is a co-operative washing station in the Oromia region of east Ethiopia. Try a cup when you head in to buy the beans, and maybe stay for some smashed avo too – because you and Bernard Salt know you're not buying that house anytime soon.
$18
Monday's
7/38 Gawler Place, Adelaide