Plate and Cup
Introducing The Festival at Basket Range
You are cordially invited to the best that Basket Range has to offer.
Late on a Thursday afternoon, as Peel Street began to fill with the after-work crowd, The Basket Range descended upon the city.
The Festival at Basket Range will take place on April 8 at the Basket Range Oval. Tickets for The Festival are on sale now.
"It's like herding cats. I can't believe we're going to try to keep these people together through the city. Some of them are not even at the bar they're supposed to be at," says Sarah Carlson, one of the organisers of The Festival at Basket Range, which will happen for the first time this year.
It's a rare sight to see so many winemakers outside of their natural habitat, but it's all in the name of celebration.
Not only were the gaggle of producers planning to go on from Clever Little Tailor to La Buvette, East End Cellars, Mother Vine, and Africola to say thank you to the venues that have supported them, they were also intent on extending an invitation to a Festival Sarah hopes will collect together the largest group of talent ever to be seen in Basket Range.
"Basket Range really is kind of the heart of what's going on at the moment wine-wise, and it's by far the most innovative winemakers around," Sarah says.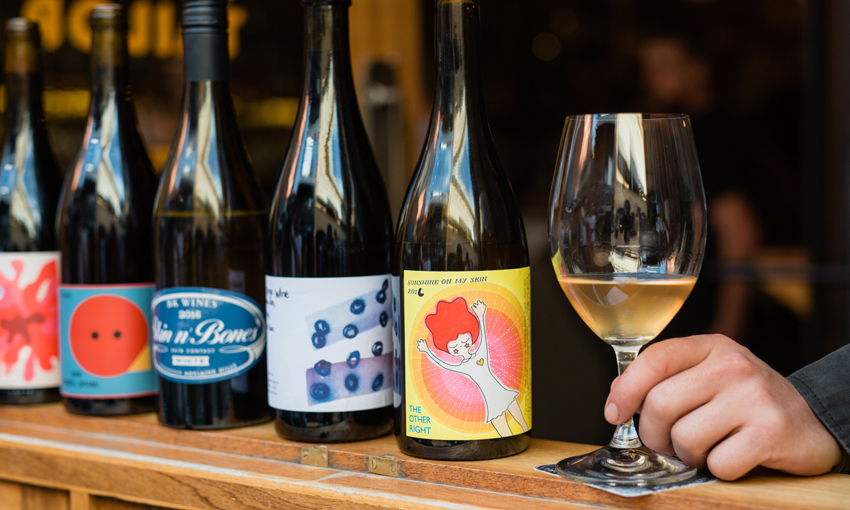 The Festival will take place on April 8, when the region's winemakers will come together with Basket Range's most hyped restaurants, including The Summertown Aristologist, Lost in a Forest, and The Uraidla Hotel, to host a vintage party on the Basket Range Oval.
"When you stand on the oval, there's a certain temperature that you can only get from being up high. There's a certain kind of crispness to the air," Commune of Button's Sophie Button says.
"It's picturesque and beautiful and you do feel like you're in a totally different place and on top of a mountain."
For the winemakers in the area, as much as it's about bringing people to the Basket Range, it's also an opportunity to spend time with their friends, neighbours, and colleagues.
"We don't really do many events a year because we've got a young family and all of that kind of stuff," says Brendon Keys of BK Wines.
"But this is just awesome. It's a group of wines I love with a group of people I love; it's just an awesome day."
"So many wine events are like hard work, and it's all about the wrong thing, whereas this is just cool people, good day, awesome music. My expectations are fucking high."
"It's all to do with our beautiful little community," Ochota Barrels' Taras Ochota adds.
"Trying to involve other people and cook beautiful food, and drink lovely wines, and have some amazing entertainment, because there's so many creative souls in this little community, you know… all of those beautiful creatures just all getting together and having a little creative outlet."
Tickets for The Festival at Basket Range are on sale now.
Keep an eye on their Facebook page for further details.