Habits
CityMag's most-read stories of 2020
Take a look back at 2020 through the CityMag stories you clicked on most.
To write about the future has been a fraught exercise in 2020.
Writing about the past in a year as tumultuous as the one we've just lived through feels similarly fraught: the usually sweet hit of nostalgia we seek in these year-in-review pieces is going to feel different this year.
But there is positivity to be found in looking back at 2020. We have lived through an incredible amount of hardship in South Australia, and, as a populace, we've reacted (mostly) sensibly, considerately and with heart.
When we were forced into a harsh lockdown under false pretences, we, for the most part, took it in stride and strove to do what was right for the good health of our neighbours and the speedy recovery of our economy.
The difficult times are not over for many South Australian businesses and business owners – some of whom have been forced into closure. And March still looms as the month in which the shaky scaffolding keeping people either employed or paid will be removed.
Through all this though, Adelaide has continued to be Adelaide; hospitality ventures opened at an alarming rate, entrepreneurial artists found new ways to connect with audiences while stages were off-limits, and a piece of relatively inoffensive public art – the geometric pigeon called Pigeon – raised the ire of Adelaide's social media set.
(A poll CityMag took on Instagram showed 69 per cent favourability toward Pigeon the pigeon, for whatever that's worth.)
So as the year now draws to a close, we hope you'll take a look back your favourite stories from CityMag's 2020 (according to our Google Analytics readership report) and feel proud to have been part of a community that became stronger through an immensely challenging year.
Thank you, as always, for reading, and we'll see you again soon in 2021.
---
10. Meet Adelaide's newest pastry player Mascavado Café Patisserie
It was about midway through April when we at CityMag decided the only thing that could possibly cheer us up at our newly established work-from-home desks would be some delicious, finely crafted pastries.
At this point, pâtissier Lea Chairesa had not long opened her new shop, Mascavado, on Hutt Street, designed by Sans-Arc and with graphic identity by Peculiar Familia, answering our pandemic prayers.
In the months since, we have consumed probably too many of Lea's baked goods, but we regret nothing. From the almond whisky knot, the variety of Danishes, chai blondies, miso cookies – even the standard croissant is a masterful blending of crispy and buttery textures – there is always a new opportunity for temptation and no good reason to ever say no.
---
9. Goodwood barbecue joint Sneaky Pickle has closed
We lost some long-time favourite eateries in Adelaide's food scene over the last 12 months, sometimes directly due to the pandemic and sometimes indirectly.
Sneaky Pickle, the food truck founded in 2012 – a peak era for mobile food vendors in Adelaide – decided to call it quits because founders Amanda and Jeff Griffiths had reached the point of exhaustion.
"We're burnt out. We're absolutely cooked," Amanda told us back in August.
It can't have been an easy decision, but, more than ever before, the feeling of being at the end of one's tether is now widely understood, and Amanda voiced how a lot of us have been feeling these last few months.
Adelaide's food community would be a far less interesting place if it weren't for people like Amanda and Jeff seeing how far their food truck could take them. Eight years is not a bad run. All the best, guys.
---
8. Seafood restaurant Fishbank opens at the old Jamie's Italian
There is a sense of security in knowing, irrespective of global economic circumstances, there will always be a new restaurant in the works somewhere in Adelaide. It felt meaningful for a project at the scale of Fishbank – which fitted out the old Jamie's Italian on King William Street – to be able to go ahead in 2020.
Fishbank has made much better use of the space than the previous tenants, creating a brighter and more open restaurant. In the brief conversation we had with founding executive chef Tony Carroll (formerly of Jolleys Boathouse), we witnessed a high level of passion for producing quality and considerate seafood dishes. The restaurant is well worth a visit.
---
7. The King's Head's long, slow goodbye
Another loss to Adelaide's hospitality scene, the King's Head was founded in 2008 as a South Australian-focussed pub, at a time before the South Australian Eat Local movement had become established.
Parochialism has since become standard operating procedure in kitchens and across the beer fonts of Adelaide front bars, and for this we are immensely thankful.
The pub was placed into liquidation in April, but by August a new ownership group had shown interest in taking the venue on. A transfer of licence to Cucci Investments was granted on 16 November, and The King's Head has since reopened. We've not had the opportunity to sit down with the owners as yet, but we look forward to meeting them in the new year.
---
6. South Australia will introduce QR code check-in from December 1
The last year has taken a lot of getting used to – from learning workplace Slack etiquette, finding the best-lit corner of your house for Zoom meetings, to mediating the mid-morning routines of your housemates and pets so as not to unnecessarily expose them via said Zoom meetings.
The advent of QR codes, comparatively, has been pretty easy to deal with.
There were some hiccups – Apple users weren't delivered the mySA Gov app update immediately, but, again, compared to moving an office workstation into your spare room or trying to find alternatives to toilet paper back in April, this was a small-fry problem.
Questions around privacy and the protection of information recorded by the app have fallen silent since QR code check-in has become a norm. I guess we have, with pandemic-weary apathy, collectively decided to wait until a data breach occurs before asking legislative protection of our monthly check-ins.
Data taken by the app is automatically encrypted and kept on a secure server for 28 days, after which the information is deleted. Access to the data is only granted to SA Health for the purposes of contact tracing.
You can read more about how the information is used at mySA Gov's Terms of Use page here. There are a couple of lines about contact tracing at the bottom of the page.
If you haven't once been in public since 1 December and need a primer on how the QR check-in system works, we've made a guide for you.
---
5. Tenth-floor Modern Japanese restaurant Koomo to open this November
Koomo launched in November as Adelaide's highest restaurant – a covetable title that will surely not last long, as our city continues its slow inching towards high-density living.
Chef Patrick Chung has created a Japanese-inspired menu (Koomo being a play on the Japanese word Kumo, meaning cloud), with ramen, katsu sandwiches, and a selection of dishes from other countries across Asia.
The restaurant's elevation does make it the best place in the CBD from which to watch the daylight fade against the Adelaide Hills, and there is a unique perspective on Rundle Street to be found from the southern balcony.
A hot tip: if it's gusty out and you plan to enjoy the outdoor drinking and dining options, bring a windbreaker.
CityMag's favourite aspect of this story, though, was that of food and beverage manager Lucy Blanch, who, after moving to Adelaide to establish this project on behalf of the InterContinental Hotels Group, found such comfort in our beautiful city that she went out and purchased a house here.
We're always happy to hear we're not the only ones singing from this songbook.
---
4. Adelaide's best hot chips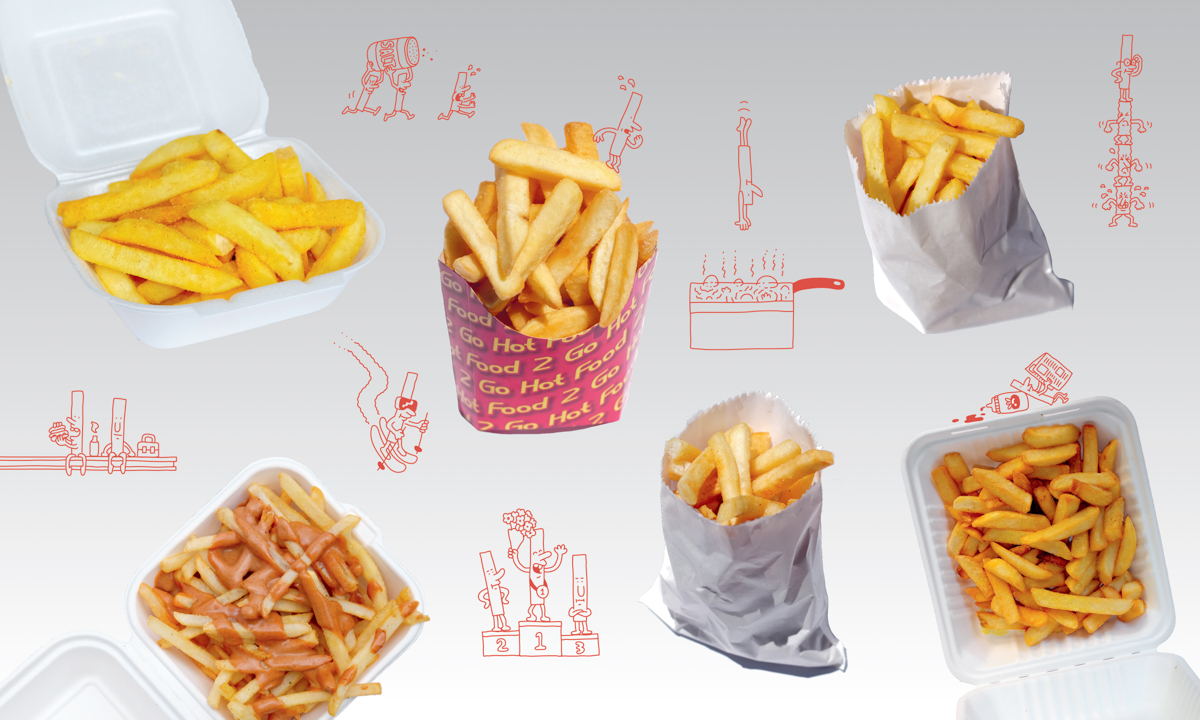 It warms our hearts to know our exploration of the everyone's favourite low-culture foodstuff found an appropriately large audience amongst our readership.
Every good hot chip experience will carry the eater (that's you and me) back into memories of summers spent by the beach, drying off after a swim, dipping into a torn-open pack of salty, steaming hot chips. Or whatever your favourite hot chip memory may be.
This is because there are only two hot chip experiences: the bad – sweaty, soggy and cold – and the euphoric. There is no in-between.
We hope we've made it easier for you to find a bit of euphoria in your work day.
---
3. Vale Joff Chappel: Co-founder of the 'Empire Records of Adelaide'
The East End lost an influential presence in April – Joff Chappel, who was a co-owner of Miss Gladys Sym Choon.
There is not a lot more that can be said about the man than what we published at the time, so we urge you to read more on Joff and his influence and legacy at the link.
---
2. Blow after blow after blow: Josh Baker recounts the 10 days that all but erased 10 years of hard work
The early days of the pandemic felt a bit like a panic attack – heart racing and mind cycling between a dozen individual pieces of stress and anxiety. To step into the mind of Josh Baker and recount his initial 10 days of the March shutdown was to realise that none of us were alone in our fear and sense of uncertainty at that time.
The story is also worth remembering for its ongoing relevance throughout the pandemic, as the hospitality industry faced several iterations of restrictions – even to this day.
As we head into the holidays and prepare to check out as much as we can for a couple of weeks, remember to keep supporting our friends in hospitality. Don't leave your local hanging.
---
1. Baker's Dozen: Thirteen bakeries worth driving to
And it is with little to no surprise that our most-read story for the year is a guide to getting fed.
Over summer last year, we headed out to find bakeries we reckon are worth the trip, and the story is as relevant now as it was then.
---
We at CityMag hope you enjoy the break (if you get one), and wish you a very merry summer of pies, sausage rolls and donuts with pink icing and sprinkles.
See you in 2021.