Partnership
Step inside Johnny Slicks
Barbershop Johnny Slicks combines tradition with modern artistic flair on The Parade in Norwood.
It was MJ Casalbore's innate creativity that made the 38-year-old pick up the scissors and follow in his father's footsteps.
"I was very artistic," MJ says.
"If I ever got any A's in school it was for art. I then realised how artistic the barbering and hairdressing trade was, and how much I enjoyed the start and end result: servicing people and making people happy.
"I just also really liked the old-school traditional barber thing. The smells, the very masculine type of environment, and I found out pretty quickly that you make very good friendships and a lot of contacts, and you meet a lot of different people."
It's the connection with the customer that MJ loves.
Every morning, opening the doors of his bustling Norwood barbershop Johnny Slicks provides him with a batch of talkative customers, ranging in age from 5 to 90.
The shop, which opened at the top end of the Parade six months ago, is a tribute to the age-old trade. It carefully combines elements of a traditional barbershop with a new-age hair salon.
MJ, the shop's manager, Vanessa Codispoti and the greater Johnny Slicks team, do everything from old school hot towel face shaves to colours and modern day skin fades.
On the wall behind some carefully stocked hair and beard products is a shrine to his mentors – photos of celebrities such as Clint Eastwood and Arnold Schwarzenegger and some of his family.
MJ says these people have made him who he is today.
"Over the years, I'd always wanted to open a traditional barbershop, and all of a sudden these barbershops have become a huge thing," he says.
MJ says his goal was to bring a level of professionalism back into the industry, and to make people feel like a million dollars.
"These were places where men could go to treat themselves, and I wanted to open a place that would embody that traditionalism," he says.
"This goes back to the 1970s, when guys would have their hair coloured and they would have to go to a hair salon for that. Whereas the barbershop was for your military-style look.
"My idea was to do it all in the one place and let the man be surrounded by men and be more comfortable in the process."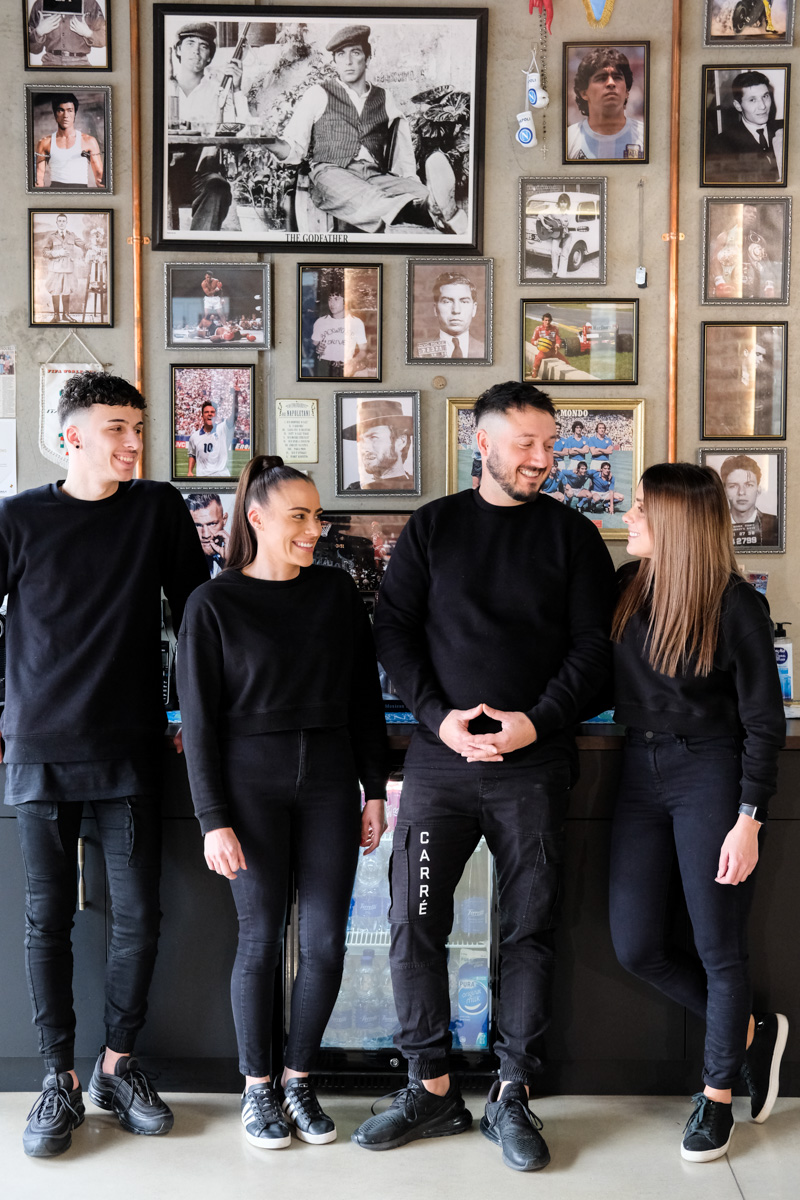 MJ started cutting hair at 16 at a large salon with a dozen other stylists. He was taught by a traditional barber.
After owning his own salon for a period, he spent 10 years perfecting his barbering skills under the guidance of his father, John, who's business HBJ Stylists is a staple along East Terrace.
"Going to work for my Dad, I learned a whole new way of doing things again. Even though he was trained by the same person as my mentor, he learned his own style as well."
After being open just 3 months, the business won the 2021 Eastside Business Award in the Best Hair and Beauty Salon category.
The win, which MJ says "blew me away", was testament to their focus on the customer.
"We really pride ourselves on customer service" MJ says.
"We're not rushing to get to the next client. We are making sure you are happy in the chair. The consultation is everything, and the end result is everything."